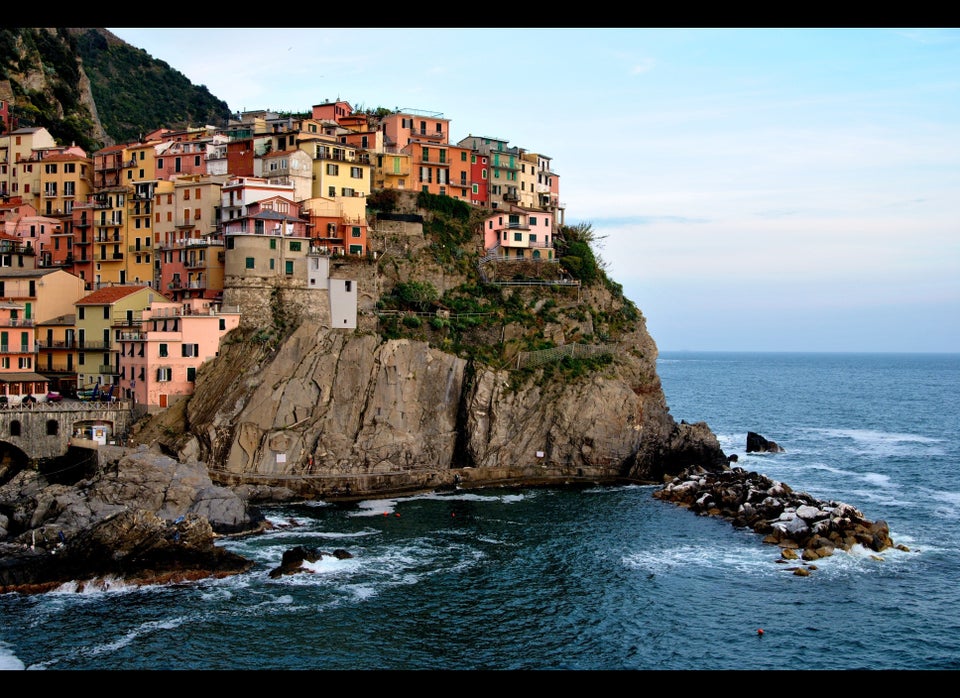 Exploring Italy's Cinque Terre
The "five lands" of Italy's Cinque Terre, perched on the Ligurian Coast, seem to be drawn for a storybook, with stacks of candy-colored houses nestled between green mountains, trains that tunnel in and out of cliffs, and hiking paths through terraced vineyards overlooking the Mediterranean Sea.
Cinque Terre is famous for the network of coastal paths that run between the five towns. On a recent trip, my companion and I hiked along Path #2, the most popular, and the only one for which you have to pay an entrance fee (a day pass costs 5 Euros). We began in Monterosso al Mare, the northernmost village, and climbed to Vernazza, passing vineyards planted on steep slopes. As we walked up stone stairways built into the mountains, we heard passersby speaking in French, Chinese, Japanese, German, and a couple having a universal argument in English: "But that's just not true," the man said. "But it's how I feel," the woman replied.
After an hour and a half of at times grueling exercise, we reached Vernazza, the second of the five towns, and the most picturesque. It was drizzling rain, and so we ducked inside a tiny pizzeria for a square of thick-crusted, doughy pizza, steeped in flavorful olive oil, topped with tomato sauce, melted mozzarella, and pesto. Still hungry and cold after finishing it, we sought refuge inside a warm restaurant, where we split a lasagna, the sheets of flat pasta swimming in pesto sauce. Pesto was created in the region, and most local restaurants offer several dishes seasoned with the fresh sauce -- one gelateria even offered a basil-flavored gelato.
When the rain subsided, we finished the trek, past olive groves and patches of wild flowers. In Riomaggiore, the last of the five towns, we found A Pié de Ma, an outdoor wine bar built atop the rocky, jagged cliffs that meet the ocean. The sun set over the crashing waves below as we tasted four local wines. Cinque Terre produces dry white wines, which were much more delicious than the written description -- "brackish aroma" - gave them credit for.
Exhausted after a long day of hiking, we took the train back to Monterosso, where we retired to the Hotel Villa Steno. (Local trains between the five towns run regularly.) Matteo and Carla, the friendly owners, welcome their guests with a glass of the local wine. Matteo gave us tips on where to go for dinner. Too tired to venture back to Vernazza to Belforte, a fancy romantic restaurant in an old watchtower overlooking the water, we opted for Gastronomia San Martino, an inexpensive restaurant run by a husband and wife team. The online reviews praised the food, with one reviewer noting, "Ignore the plastic cutlery." Dishes are cooked earlier in the day and served on plastic trays, cafeteria-style, but the friendly couple that runs the place gives it a charming feel. We brought our food and a bottle of wine to one of their outdoor tables, and were perfectly content.
The next day we slept in and enjoyed breakfast on the hotel's terrace, which looks down on the bright buildings of Monterosso and the sea beyond. After toast with lemon preserves made from the hotel's lemon grove, and several cappuccino, we walked up to the Church of San Francesco and its adjoining Convent of the Capuchin, built in the 17th century. Inside, a mass was in session, and the liturgy sounded so beautiful in Italian that we stayed, eyeing a painting on the wall thought to be by the Dutch painter Anthony van Dyck. In back of the church, ivy crawls up stone arches that frame an interior garden, and beyond, a balcony overlooks the convent's vineyard and the turquoise water of the ocean.
Though over an hour by foot, Vernazza is only a quick train ride away, and so we took the train there and explored. The main street, Via Roma, is lined with cafés and shops selling limoncello and olive oil. Most vehicle traffic is restricted, and so the town is not polluted by the sounds of automobiles. We ducked into the 14th-century Santa Margherita di Antiochia Church, whose octagonal bell tower dominates the town's skyline. The church was built on a rock on the water's edge, and its windows look out onto the harbor and ocean. In front of the church, in a tiny piazza decorated with a sun-shaped mosaic, old women sat on benches, watching young boys kick a soccer ball between them. Residents were stationed at their windows, framed by shutters, looking down at the tourists licking cones of gelato on the cobblestone streets below. Ready for our next snack, we caved and bought gelato cones of our own (one cinnamon, one custard flavored), walked along the dock and onto the rocks, and watched squealing children jump into the chilly water.
At the hotel's restaurant that night, on a terrace that affords panoramic views of the town and ocean, we enjoyed the fruit of the sea: octopus carpaccio -- psychedelic-looking slivers of white and purple -- with caramelized onions, sardines served four different ways, and a platter of fresh seafood. In the morning, after a glass of fresh blood orange juice, we were sad to leave this charming hotel, end our storybook adventure, and return to life.
If You Go:
Hotel Villa Steno, Via Roma 109; www.villasteno.com. 16 rooms, most of which have a balcony or private garden with a view of the old town and the ocean. Rooms start at 90 euros. Open March to mid-November.
Hotel Porto Roca, Via Corone 1; www.portoroca.it. Rooms start at 250 euros. Open late March to early November.
Enoteca Internazionale, Via Roma 62; www.enotecainternazionale.com.
Gastronomia San Martino, Via San Martino 3.
A Pié de Mà, Via dell'Amore 55, Riomaggiore; apiedema.com.
Convento dei Cappuccini, Salita Cappuccini, Monterosso; conventomonterosso.it.
Trail information and maps are available from the Cinque Terre National Park website (parconazionale5terre.it).
Getting There :
If you fly into Milan, Florence or Rome, you can take a Eurail train to La Spezia, and from there, you can switch to a regional train to one of the five villages (Riomaggiore, Manarola, Monterosso, Vernazza and Corniglia). The regional trains do not require a reservation, but some of the trains from Milan, Florence or Rome do require a reservation.
Related