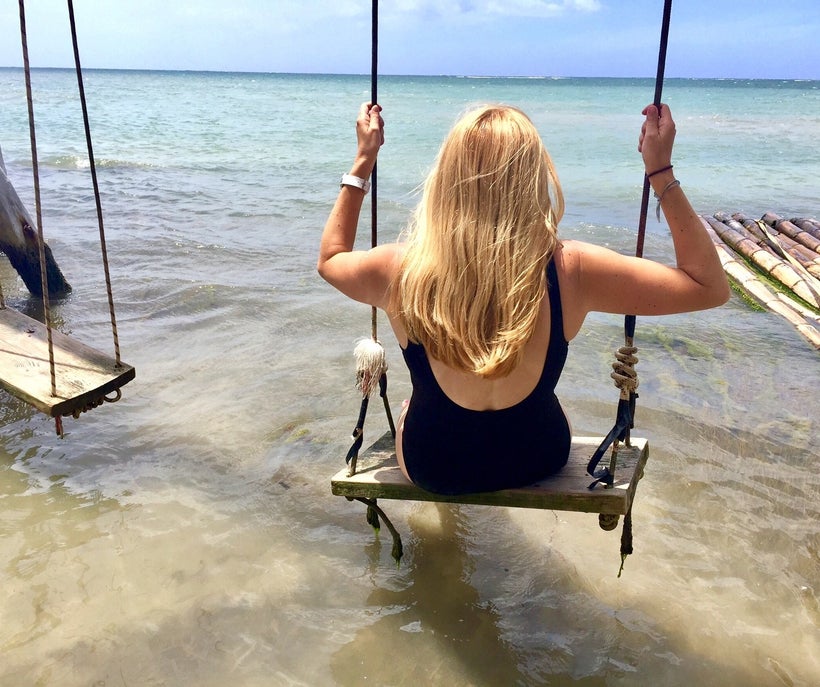 I have a travel confession to make. I visited Jamaica two times before, but barely left the paradise of the all-inclusive resorts. While an enjoyable vacation, I never really experienced the culture. This time, armed with recommendations from the Jamaica Tourist Board and Wilford (a driver from Paradise Travels), I explored more of what the country has to offer and made memories I'll never forget.
Where to Eat Off Resort in Jamaica:
Murphy's West End Restaurant - Not too far from Negril, Murphy's was my favorite culinary find from our stay, with great food in a cool place to relax and enjoy an ice-cold beer and savor some delicious Jamaican cuisine. Considering it's a roadside restaurant, I was expecting tasty, but not the creative presentation of how my garlic shrimp meal was plated. Using cucumbers and other edibles, my dish looked like a bouquet of stars and shapes. It was yummy too. Not one shrimp left behind. I even cleaned out the tiny pieces of meat found in the tails, but not for me - for the cute cats under the table. Yes, during my trip I saw a lot of feral cats, but the two that were here were quite loving and approachable. One pretty, yet heartbreakingly skinny kitty, even came up to cat nap on the bench next to me, resting his purring head on my lap. Plus, add in the fact that the young owner, Murphy, was friendly and offered us a tour of his kitchens, I will definitely be back.
Scotchies Jerk Kitchen - Many call this open-air jerk eatery the best in Jamaica serving genuine jerk—chicken, pork, fish, sausage, and more. Smoked over pimento wood, jerk dishes are served with fiery sauce and dry-rubbed with Jamaican jerk spice. Scotchie's has three locations on the island - Montego Bay, Ocho Rios and Kingston. TIP: Order a side of festival. I had no idea what it was, but our server said to get it and I did. It was like a sweet fried dough stick.
Rick's Café - Definitely a tourist spot, but one that's sure to please. Rick's Café is one of Jamaica's most famous hot spots. The bar and restaurant Located at the top of a 35-foot high cliff on the far west end of Jamaica (near Negril), it boasts some of the best, uninterrupted, sunsets in the world. Bring your swimsuit if you plan on jumping into the water. There are both high and low areas to jump, but even if you're not going in the water, seeing the real divers flip into the ocean is definitely social media photo worthy. There's also a stage with live reggae music playing and once the sun sets, the crowd dies down, which makes getting a table and drink much easier. We stayed almost to closing. Warning: the menu is expensive, but you can still visit without dining there.
Zimbali Retreats - For an organic, farm-to-table experience, head really off grid to Zimbali Retreats. They offer either lunch or dinner tours Monday- Saturday. Guests are greeted with freshly made fruit juice, then "Fudd" their farm manager leads a tour of the farm and up to the cooking studio for a demonstration and meal. TIP: Wednesday dinners are special as they have African drummers perform, but there is an upcharge for it.
Roadside Fruit Stands - Don't be afraid to stop at a roadside food stand to experience local fruits you can't find anywhere else. Also, Jamaican mangos are very different from what is available in the states, with different classifications and names. I loved tasting soursop and passion fruit too.
Jamaican Beef Patties & KFC - Real Jamaican beef patties are way better than what you'll find in the freezer aisle in America. Xavier Murphy, Founder & President of Jamaicans.com, recommends trying #1 Tastee #2 Mother's Patty and #3 Juici Beef. He also says to eat KFC, yes, the chicken chain. Apparently, it's quite different than in the States too. Who knew?
What to Do Off Resort in Jamaica:
There's so much to see and explore in Jamaica. Whatever your interest, this destination has something for everyone. The following activities will be sure to make for an even more memorable and brag-worthy trip.
Horseback Ride & Swim - I had heard of horseback riding on the beach, but this two hour trek includes swimming with horses! Your Chukka Sandy Bay adventure begins with a spectacular horseback ride through Jamaica's backcountry hills. You will pass farmland, the ruins of an 18th century sugar plantation and hear tales of Jamaica's colorful history. Our guide also kept giving us leaves to smell and taste including all-spice. Then experience an unparalleled, exhilarating bareback ride into the warmth of the Caribbean Sea atop your swimming horse. If horses aren't your thing though, they offer ATV rides too.
Mineral Spring Cliff Jumping - At Blue Hole in Brighton (6 miles southeast of Negril) you'll find a hidden oasis with a 10-room hotel, bar, restaurant, gardens, pool, natural mineral spring and roof top views of the ocean in the distance. After two tries, I finally took the plunge and jumped off the 25 foot cliff into the cool refreshing waters. You can also take the steep ladder down. After, scoop up the minerals from the limestone cavern and spread over your body for a healthy, natural scrub or book a mineral massage! Local artists have hand-crafted every room in the resort into a piece of art with bright murals. I'm dreaming of going back and renting out the 5-story hotel with family and friends. TIP: It wasn't easy to find, so would recommend having a driver take you, but it's worth the trip.
Swim with Dolphins, Sting Rays & Sharks - Dolphin Cove is a marine park allowing visitors to swim with dolphins and snorkel with other aquatic life in their natural environment. We did the dolphin encounter, which allowed our toddlers to participate by kissing and petting the mammals in shallow waters. There is a small petting zoo area, water slides, a beach and live shark shows for guests to enjoy too.
Discover history & nature - Green Grotto Caves are said to have provided shelter for Jamaica's first inhabitants, a haven for 'runaway slaves' in the 18th Century and used by smugglers running arms to Cuba and in more recent times, sections of the Caves were used as a rum storehouse. A tour of the Green Grotto Caves provides an inside look at this natural wonder and into Jamaica's history.
Hiking- Blue Mountain Peak is the highest on the island rising to a height of 7,402 feet. The 14-mile Peak trail up and down the misty Blue Mountain tops takes about seven hours or 2 to 3 hours from the Portland Gap rest stop. The lushness of this tropical paradise is a feast for the eyes, waterfalls everywhere, brightly colored flowers along the way. Don't miss this!
Tour a Coffee Estate - The Blue Mountains aren't just for hikers and bikers, but also the source of the world famous and fragrant Blue Mountain Coffee. The Old Tavern Coffee Estate treats guests to a lesson on coffee growing and production as well as a tasting session. TIP: Add honey for an even more amazing taste.
Visit Appleton Rum Factory Tour - For a real taste of old Jamaica, travel through scenic interior and countryside to the south coast and experience the magic of the Appleton Estates. Guests are briefed and go on a guide tour of the estate during which you will not only learn how the rum is made, but taste many different blends and get a complimentary bottle of the famous Appleton Jamaican rum. TIP: The factory is currently under construction, so check to see if it's open again before heading there.
Go on a reading road trip - The Sandals Foundation and Island Routes Caribbean Adventures gives guests the chance to visit a local school, where you'll be paired with a small group of young students. This experience is only two hours out of your day, but you'll take home humbling memories from the heart and leave behind a lasting impact on the lives of local children. The cost is only $25.
Calling all HuffPost superfans!
Sign up for membership to become a founding member and help shape HuffPost's next chapter
This post was published on the now-closed HuffPost Contributor platform. Contributors control their own work and posted freely to our site. If you need to flag this entry as abusive,
send us an email
.