Nestled between historic Portsmouth, N.H., and York, Maine is Maine's oldest town of Kittery (settled 1623) which for most folks from "away" as Mainers call visitors, is nothing but a two-mile stretch of brand name outlets. But for the year-round residents of this nearly 10,000 populated town, Kittery is a gem of historic sites, cozy cafés, art galleries, gift shops, performance centers, ethnic restaurants and "gourmet mile" spotted with organic offerings -- the side of town many tourists are not privy to. Not to mention a tight community of creative, socially and politically conscious residents from all over the country who choose to call Kittery home.
Inquisitive travelers to Kittery can wonder beyond the bargain traps of the Outlets, and veer off to the less traveled Haley Road squeezed between Yummies Candy & Nuts and Dunkin Donut shops. As the road snakes through Kittery's farmlands now bearing modern homes savoring their Americana look, it winds down at the juncture of Pepperell Road where Kittery Point offers magnificent harbor views playing hide and seek in between homes that closely hug the narrowing road. Stop by the oldest family owned market (Frisbee's Market) now transformed into Enoteca convenience store perfect for quick sandwiches, coffee, wine tastings and more. Behind the shop Cajun Lobster offers ocean view dining where you can sit back and enjoy the water views spotted with high-end sailboats.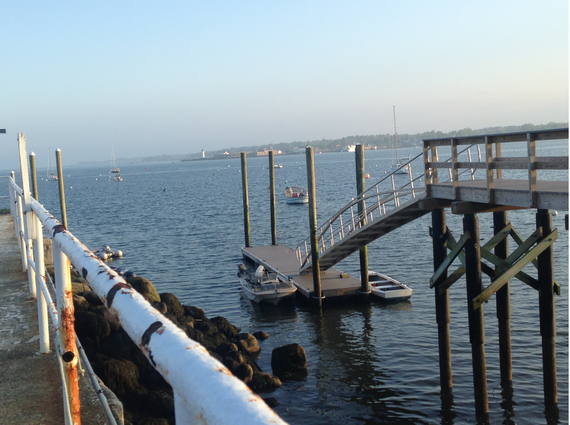 Meandering beyond, you'll see the entry gates to Fort McClary historic U.S. military defensive fortification that sits at the mouth of the Piscataqua River (Open: Memorial Day to Columbus Day). With breathtaking open harbor views spotted with rocking sailboats, the 19th century fort offers a 1844 blockhouse, now a museum, where you can climb up to imagine how soldiers lived and kept watch for the enemy ships from window slits. Looking across the water, the blinking conical (1830 constructed) Whaleback lighthouse guards the mouth of the Piscataqua River and Portsmouth harbor.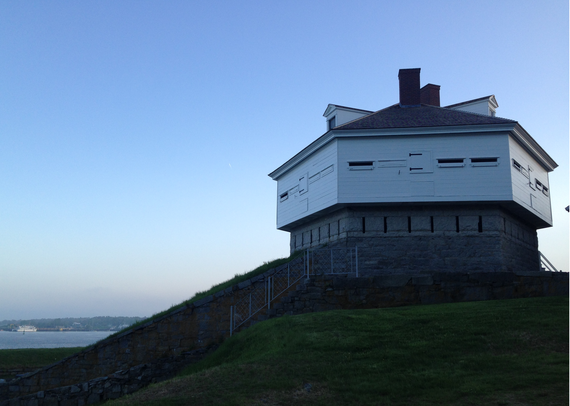 Follow Pepperell Road beyond Ft. McClary for a scenic harbor view drive that bends around the majestic, New England style Lady Pepperell House (Built: 1760-1765 for the widow of Sir William Pepperell). As the road continues through a row of homes, over a small bridge with more views of the harbor and the Kittery/Portsmouth Naval Shipyard, onto Rt. 236 you can bear left, pass Traip Academy high school and enter the town's "downtown" Foreside area for a surprising plethora of restaurants, galleries, quaint Cafés, ice-cream stops, juicery, local brewery, a butcher shop, an international market and more.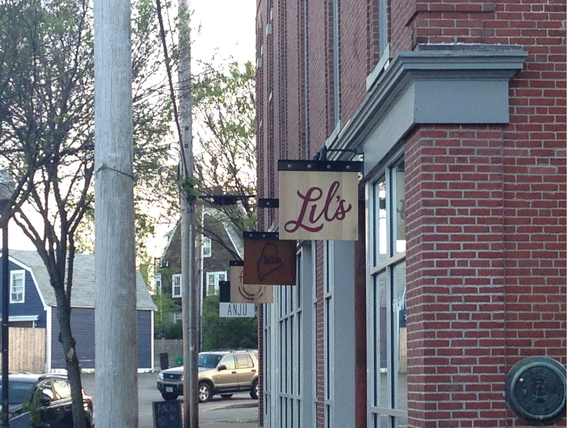 Hop across to Kittery's "gourmet mile" on Route 1 for a selection of organic markets, and scrumptious artisanal bread, baked goods, good eats at Beach Pea Bakery, or grab a take-out home meal from Terra Cotta Pasta Co. Satisfy your sweet tooth with a taste and aroma of Byrne and Carlson Chocolatier's European flare and seasonal chocolate treats -- my favorite is their fish shaped chocolate wrapped in pastel colors during Easter season. Continuing on Route 1, stop at The Fabulous Find for a bit of consignment shopping with a flare.
And you can plan a perfect evening in downtown Kittery starting with dinner at one of the restaurants -- Locos (Mexican), Tulsi (Indian), Anju (Korean noodle shop) Anneke Jans and many others. After or before dinner catch a play, a movie, or a performance at the Dance Hall -- from international jazz festivals, to African drumming, to one-act plays to tap dancing and more -- or at Kittery Community Center's Star Theatre.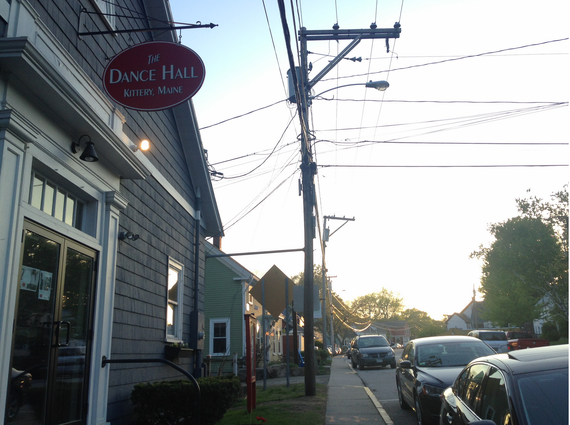 Top off your evening with ice cream or Gelato at Stella's Sweet Café and savor your Kittery memories that well extend the typical tourist trips to the Outlets.
[Photos by Anais DerSimonian]