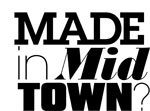 Last month the runway models, paparazzi, designers, and celebrities who populate New York's Fashion Week bid farewell to the tents at Bryant Park. That glorious urban spectacle is now permanently over, but there's every reason to expect that the shows' new Lincoln Center venue will provide its own swanky drama next September. The move is big news, but anyone who cares about American fashion should know that even bigger changes are afoot. Right now, the City of New York is considering a proposal to change the zoning in the Garment District that protects manufacturing uses, and to move some existing businesses into a single building.
My organization, the Design Trust for Public Space, a nonprofit devoted to improving New York City's public realm, has partnered with the Council of Fashion Designers of America to create Made in Midtown, a study of the fashion industry in New York and the Garment District. We've put together a team that includes a journalist, filmmaker, graphic designer, and urban planners and architects who are documenting how the industry works and why it's an integral part of the City's economy, identity, and sense of place.
Along the way, we've met button suppliers and seamstresses, financiers and fabric importers, famous designers and recent fashion school graduates working out of their living rooms. We've visited factories overflowing with mannequins, lace, and sewing machines, places where people who've spent their lives making clothes practice a rare craft that is virtually invisible to the general public - event those who haunt sample sales and follow Project Runway religiously.
Ultimately, this story is about much more than fashion. It's about one of the last neighborhoods in Manhattan that has not yet been remade by recent waves of new development. It's about jobs and immigrant workers. It's about the decisions City officials make to support certain kinds of businesses and land-use development, whether it's baseball stadiums, high-rise condominiums, or factories. Made in Midtown is about what kind of City we want New York to be--we think it should continue to be a place that values and promotes creative industries of all kinds, including fashion.
Over the next month, our journalist Tom Vanderbilt will provide regular updates about Made in Midtown. In May, the Design Trust will launch a full project website, with video clips, profiles, maps, and infographics that allow users to navigate through the fashion industry ecosystem. A preview of that site, madeinmidtown.org, is now live, and includes clips of our interviews with designers Diane von Furstenberg and Yeohlee Teng. We hope you'll follow along, and we invite you to share your ideas about the future of New York's creative industries.
REAL LIFE. REAL NEWS. REAL VOICES.
Help us tell more of the stories that matter from voices that too often remain unheard.