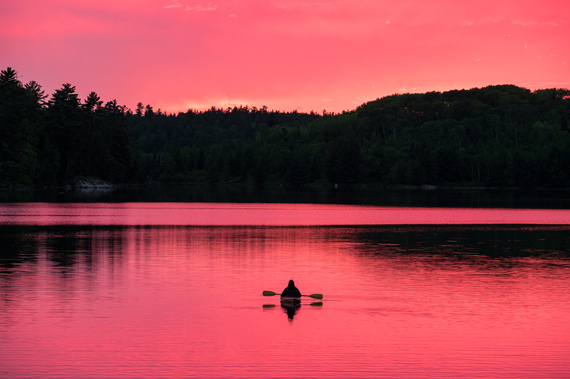 Exploring Voyageurs National Park in Minnesota under a technicolor sky. Photo credit: Jonathan Irish
A boatman employed by the fur companies in transporting goods and passengers to and from trading posts. Originally from French, literally 'voyager', from voyager 'to travel'. -- Oxford Dictionary
Just five hours of quiet driving on country roads north of the Twin Cities in Minnesota resides Voyageurs National Park, one of only three national parks in the American Midwest. The theme of this park is water - 84,000 acres of freshwater highways that enfold nearly 900 islands and shore off the north woods. In the 18th and 19th centuries, voyageurs--French-Canadian fur traders who traveled by canoe--careened the interconnected waterways of the Great Lakes into the interior country, opening up trade routes with Native American tribes. The voyageurs sought highly fashionable beaver hats that were at the time coveted by Europeans; in support, native peoples set them up with food, clothing, medicine, and guidance while they muscled the goods from the wildlands of North America back to Montréal.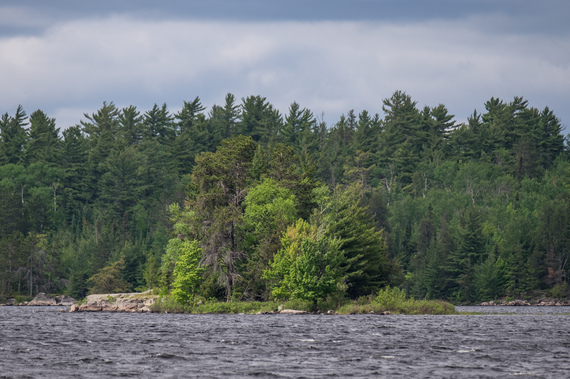 Voyageurs National Park is a wild waterland on the Minnesota/Canada border where anglers, campers, paddlers, and boaters from all over the world find solitude in the northern lakes region. Photo credit: Jonathan Irish
Today, the area is a water-lover's paradise frequented by anglers, boaters, and campers who want to enjoy their summer on the lake in the north country. 55 miles of Minnesota wilderness intertwines the U.S.-Canadian border, and the majority of the park (which is a third water) is comprised of four large interconnected lakes--Rainy, Sand Point, Kabetogama, and Namakan--the last of which we would spend our time exploring intensely...on a houseboat.
Most of the park is accessible only by water, an obvious factor in planning logistics; to see it, we needed to be on it. We'd thought about arranging a canoe camping trip, as canoes are a classic way to traverse the area, and we had a blast exploring Everglades National Park that way earlier this year. As we began making plans we started to notice two things: 1.) There are four main lake areas, vast and not at all close enough to one another to get a solid taste of each in the short amount of time that we had to visit (it was also hard to get a sense of which area was the most photogenic by what we found online); and 2.) Adventure packages for houseboating kept popping up left and right, piquing our interest. This is obviously a special thing to do in Voyageurs so we started calling around to price it out. By the end of the second call, we were all set to hop on a houseboat for four days to explore Voyageurs in a way that sounded totally unique and awesome.
From Minneapolis-St. Paul we drove 5 hours north until we were at the Voyagaire Lodge, the outfitter and jumping off point to the Crane Lake area of national park waters where we would live in our water-based home for four days. A quick stop at the grocery store on the way to address our eat/drink needs and we were ready to cruise into the national park. Houseboats only travel about 6 knots (7 miles) per hour, so we were cruising a little slowly, but that's what summer is for--lazy days. As we navigated the waters on the open top deck, it was immediately clear that renting a houseboat would be a super fun way to share a short vacation with family or with a group of friends. Designated tie-up spots marked by the National Park Service are located throughout the park, as are backcountry camping spots that have been carved out over the years by other visitors and locals. Most sites have a fire pit; all are first come first served, so expect to wander the water a bit while looking for an open spot, especially in the swell of summer when this area blows up with visitors. We saw a lot of really awesome shore-side camping spots, and we love camping, but never for one minute did we wonder if we had made the right choice to travel Voyageurs by houseboat--it felt special being that it was a new experience for the both of us, and at the same time it is really easy to get dialed and on the water without a lot of fuss. This experience is just awesome--and the best part of all is that it all exists within a pristine national park.
What you will find onboard*:
Several beds and sitting areas providing plenty of sleep/lounge space; linens (for an extra fee.)
Refrigerator/freezer, oven, sink, counter space--basically a full-kitchen setup including dishes (don't forget dish soap to clean those dishes before disembarking.)
A full-sized plumbed bathroom (hot water is on a limited-size tank so you won't want to go nuts indulging in a long shower.)
CB radio--so you can call in case of emergency (such as accidentally bottoming out while mistaking a ''rocks' buoy for a 'no wake' buoy [this may or may not have happened]); and to listen in on others' emergencies..."There's a squatch in the woods!"
An auxiliary outlet--so you can bump some tunes on the water.
A water slide that starts from the top of the boat sloping down into the lake. :)
Upper and lower deck steering wells.
Intermittent cellular service so you can post updates on Instagram and Facebook.
Bugs. These are water vessels and the moisture attracts insects, especially with doors open much of the time. Also, check for ticks--we found a few!
A motorized dingy, required per Coast Guard regulations.
*Amenities found on standard boats, there are various sizes and models available at different pricing.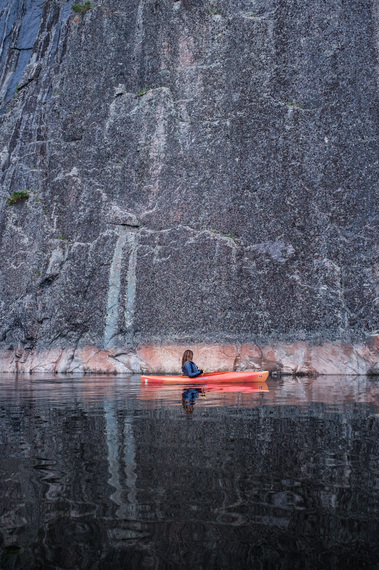 Having kayaks onboard the houseboat enabled us to scoot off at any time. Photo credit: Jonathan Irish
We had a pair of kayaks tied up to the back of the boat allowing us easy opportunities to untie and paddle out to explore remote falls, beaver lagoons, find access to overland hiking trails, and to take advantage of those special instances when the light was spectacular for taking photographs.
The Voyagaire team will meet you on the water for a small fee to restock your vessel with ice, food, beer; to remove trash, whatever. And you don't need to be an expert mariner equipped with GPS coordinates to help them find you--they know the waters like the backs of their hands and will pull on right up aside you for a rendezvous. Amazing!!
This article tells the story of park 27/59 on the Greatest American Road Trip -- an epic adventure to travel to and document all 59 of America's National Parks in 52 weeks during 2016. More at http://www.thegreatestroadtrip.com.