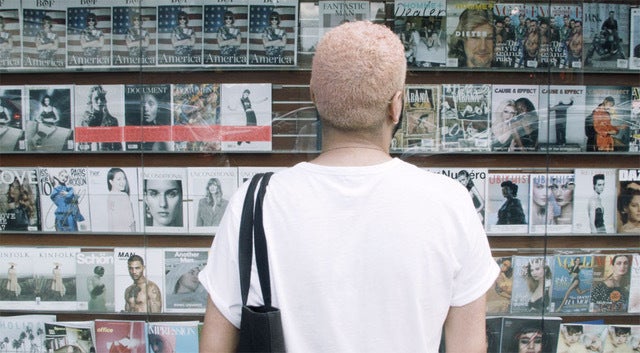 It's not an easy time to be young, queer, and brown. Especially in small town America. Growing up as queer men of color in communities that failed to embrace and celebrate our identity, led to a sort of crisis for me: never feeling brown enough, black enough, white enough or Mexican enough. Not to mention the exploration of our queerness. My friend Colby and I were always in-betweeners. So as the great gay cliche goes, we fled our Texas hometowns in search of something new. Colby from suburban Houston, and myself from the empty lands of West Texas.
Our paths led us to the same college, Texas State University, just outside of Austin. Before we met, our experience was unknowingly parallel to each other. We both understood that defining our identity would never be a simple "black and white" answer. It took time for me to understand that queerness and Latinx culture could co-exist, and for Colby to embrace being an effeminate black gay man in the South. Our identities are multidimensional and colorful as hell. But as we became more self-aware of our own queerness, the lack in presence of people who looked like us became increasingly more evident too, specifically the representation of people of color in queer-centric media.
After graduating, both Colby and I ended up in New York City. Though this time our migration wasn't for an escape. Instead, we packed our bags and went searching for opportunity. And less than a year ago, our awareness of the issues in our community shifted into action. Many other queers who looked and felt like us, were hungry for an opportunity to be heard. So we decided to create a new platform for queer POC to be their creative, queer, unapologetic selves, and we called it BRUNCH CLUB.
We wanted it to be a print publication, but we didn't know where to get started, so we reached out to Ryan Fitzgibbon, the founder of Hello Mr. magazine and someone we greatly admire. We shared our idea for BRUNCH CLUB with him in an email and asked if he could give us any advice. Ryan replied and graciously agreed to met with us on at his office in Williamsburg, Brooklyn. It was Saturday but he was there working on a secret project that he wanted to share with us.
Hello Mr. launched in 2012 as a place for emerging talent and unheard voices to tell their stories. This year, he told us, he would be introducing a magazine residency called "The Issues" to further expand their mission of more inclusive representation for LGBTQ people. By providing the resources and mentorship, The Issues would become an incubator to launch new ideas from queer voices like ours.
We walked into that meeting eager and armed with ideas; just two Texas queers with a dream. Something about our pitch (or the timing of it) worked, because we walked out as the first magazine-in-residence under "The Issues."
In the months since, we've been working covertly with our amazing mentors, Phillip Picardi, digital editorial director of Teen Vogue and Allure, Instagram PMM Jeffrey Gerson, and Graphic Designer Nijel Taylor.
Our first issue will feature queer poets, photographers and activists of color that are making our community shine through their visibility. We are just weeks away from sending our content off to print. We would be lying if we said that it hasn't been an overwhelming process, but the opportunity is too great for us not to give it our all. We are proud to be working with a team that encourages and celebrates our voices, and can't wait to show the fruits of our labor.
Learn more about the residency and how you can get involved (or apply to be next) here!
REAL LIFE. REAL NEWS. REAL VOICES.
Help us tell more of the stories that matter from voices that too often remain unheard.