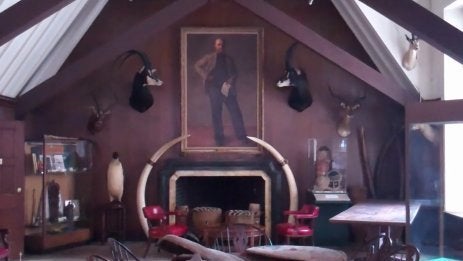 The "Members Only" sign sits on the steps between the second and third floor, which has all the aging pomp of the best private clubs and a few conversation pieces beside: A stuffed leopard contemplates the view of the Upper East Side skyline and a whale penis sits on the windowsill.
The elegant portrait above the fireplace - predictably surrounded by deep chairs and threadbare oriental rugs -depicts the Danish traveler Peter Freuchen, who famously survived one arctic adventure by cutting his way out of an iced-over tent with a knife made of his own frozen feces. (*SEE ORIGINAL VIDEO BELOW*)
The Explorers Club is at once very civilized and very not.
America's last great bastion of Pith-Helmet preppiness, the club has welcomed members like Teddy Roosevelt and Charles Lindbergh since the early 1900s while pointedly excluded almost any wanderer who could not plausibly be portrayed by Sean Connery in an a film of their implausible life. Edmund Hilary was a member, as was the pilot Chuck Yaeger and the mountaineer Bradford Washburn. The clubs flags flew on the Kontiki and the Moon (thanks to Buzz Aldrin, also a member.)
The club is normally closed to lesser mortals, but HuffPost Travel got a special tour last week as the club celebrated the unveiling of a newly restored facade, part of an effort to modernize and shore up the aging mansion, which was once owned by the heirs of the Singer sewing machine fortune. Club President Lorie Karnath spoke about the past and future of exploration.