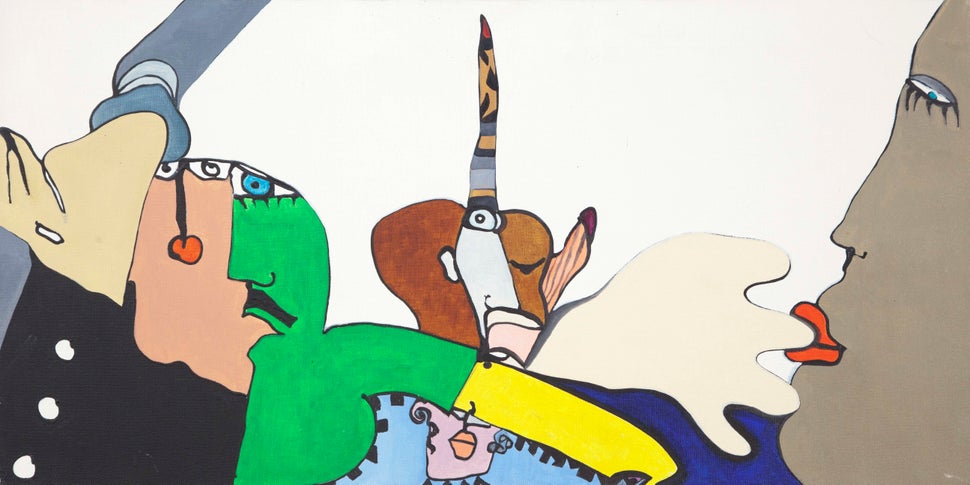 Lebanese artist Huguette Caland is a big fan of comfort. So after her father died in 1964, when she officially decided to pursue her longtime dream of becoming an artist, she resolved to overhaul her entire wardrobe. Having long felt uncomfortable in the traditional couture of the time, and the way they hung on her larger shape, she opted for loose, flowing caftans she decorated herself.
In the 1970s, Caland collaborated with designer Pierre Cardin on over 100 caftans she illustrated by hand. In "Mirror," featured below, Caland drew swooping outlines of a woman's nude form ― two half circles for breasts, a triangle of curly-cues between the legs ― representing a minimal, cartoon body whose features swallowed her own. Beneath the veil of her smocks, Caland's own shape was free to grow and shrink unnoticed, communicating a message her artwork so often did: that bodies are constantly in flux.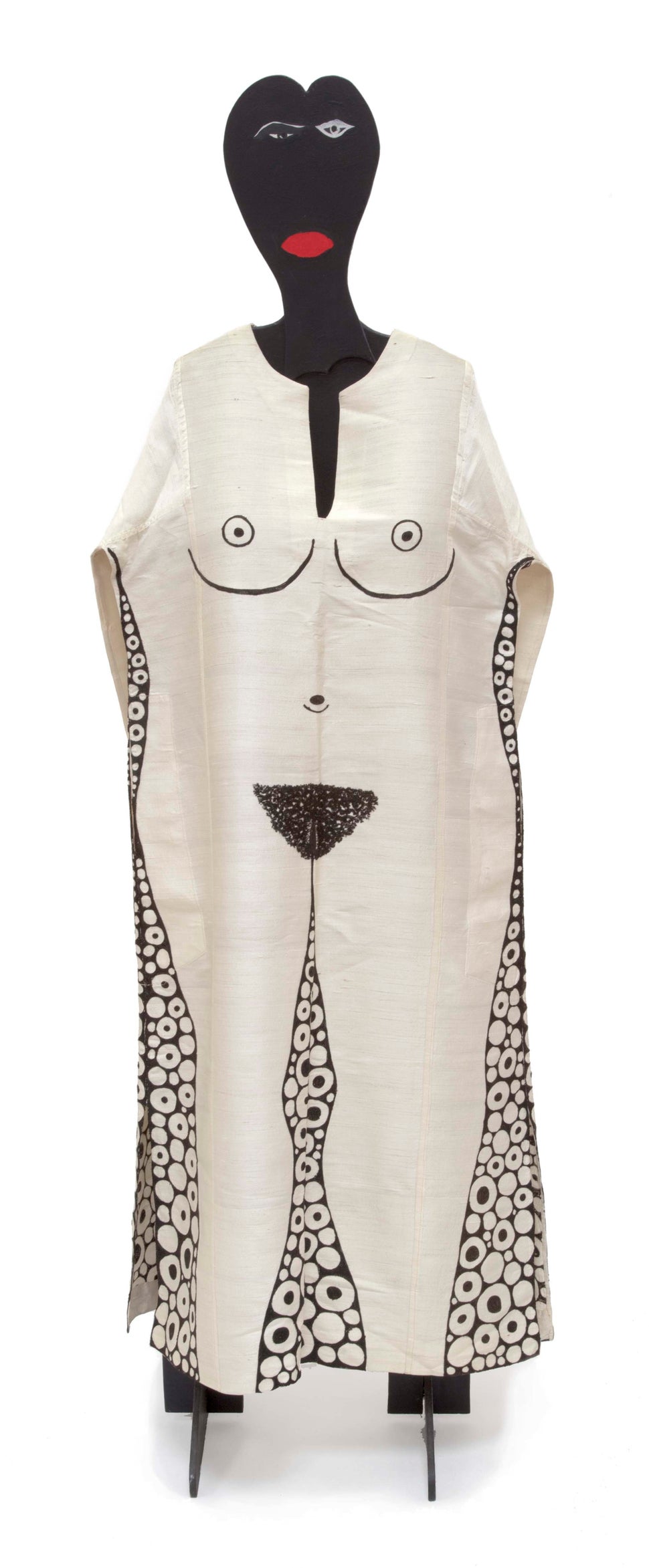 Caland was born in 1931, the daughter of Bechara El Khoury, the first president of independent Lebanon. She was raised in Beirut, a cosmopolitan hub for artists and intellectuals, during a political moment of tolerance, openness and free expression. Caland always knew she wanted to become a painter; however, life interfered, and she put the idea on hold to care for her father when he fell ill, get married and have children. 
Following the death of her father, Caland studied at the American University of Beirut before moving to Paris at 39 years old for the full bohemian artist experience, leaving her family in Lebanon. "I wanted to have my own identity," Caland said. "In Lebanon, I was the daughter of, wife of, mother of, sister of. It was such a freedom, to wake up all by myself in Paris. I needed to stretch."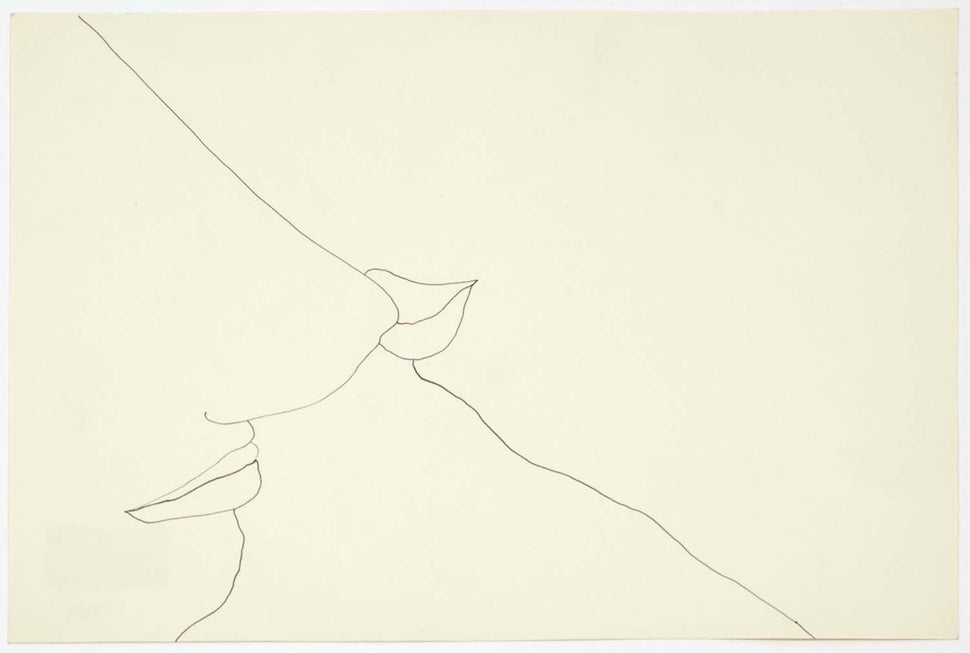 Caland's narrative diverges greatly from the ones we're often told about women in the Middle East. She was fiercely independent, passionate, naughty, silly and never sorry. "For a Middle Eastern woman she did everything that was unexpected," her daughter Brigitte told The Huffington Post in an interview. "I recently watched a Lebanese interview from 1974 where she said: 'You never ask for freedom, you just take it.' And she did. She took her freedom and just lived it."
Throughout much of Caland's long and wildly prolific career, she remained fixated on the feminine body, the ways it bulges and bends and rearranges itself topsy-turvy. In fine black-and-white ink drawings and lush oil paintings, Caland seemed endlessly transfixed by the ability of bodies to fit together. That a finger could pop so perfectly into a mouth or a belly button. That a chin from a particular angle could so precisely resemble a pointy nose.
Caland presents the body as a carnivalesque playground, a fleshy patchwork quilt, a soft landscape of openings, protrusions, points, dips and curves. "Sometimes it's just a line that says it all," Brigitte mused.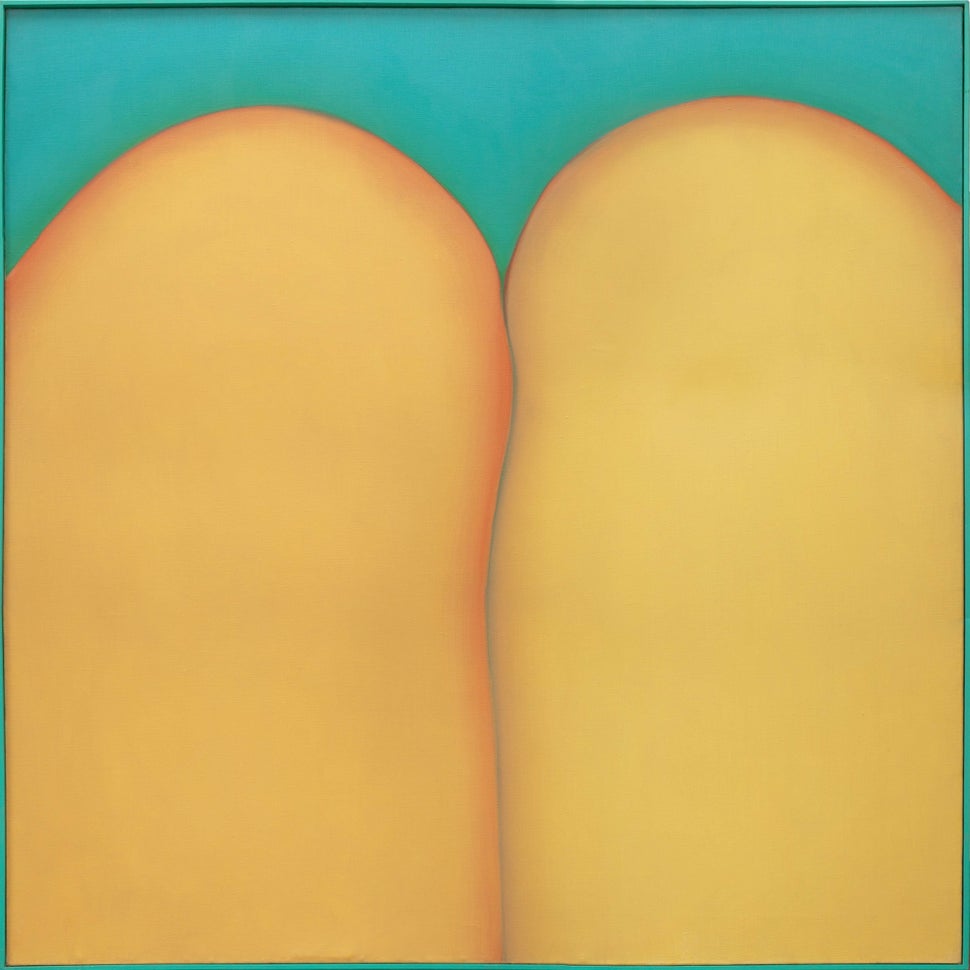 In 1973, Caland embarked on what's become her most well-known series, titled "Bribes de Corps," or "Body Bits." In these large-format oil paintings, bodies are appear as abstract color fields, buzzing pastel shapes that brush and bump up against one another with electric intensity.
Part Georgia O'Keeffe, part Ellsworth Kelly, the images employ minimal means to express unbridled sensuality. In the image above, two glowing, peach-colored lumps simultaneously allude to a pair of buttocks, a couple of bulging thighs. Caland rejects the common vocabulary of sexuality that both privileges and demonizes a handful of "private parts," revealing the erotic potential swelling beneath every square inch of human flesh. 
In 1987, Caland moved to California, setting up a studio in her Venice Beach home. "Before she built her studio in Venice, she would say that her name —Caland — was like 'California land,'" artist Sandy Lajer, a friend of Caland's, expressed in an interview included in a Hammer Museum catalogue. "She wanted to be here — the hills, the palisades — and the climate in Los Angeles is very similar to Lebanon's, so she felt at home here."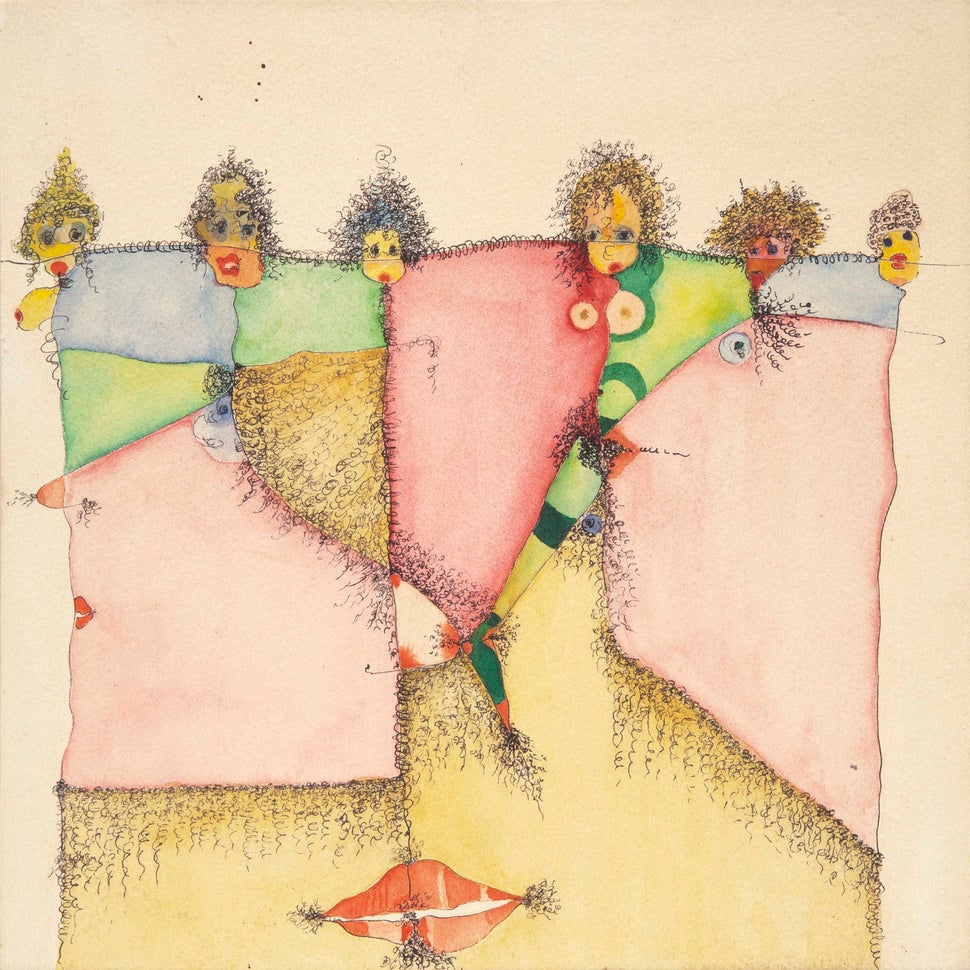 In Los Angeles, Caland's home became a salon-like hub for artists and intellectuals from around the world. According to her daughter, Caland was always cooking feasts, hosting guests, sharing ideas and collaborating on art. One of her most documented relationships is with L.A. artist Ed Moses, whose face Caland was somewhat enamored with before they even met. Caland painted his face, long and angular like a Modigliani in real life, many times from afar.
Eventually, in Los Angeles, the two grew close, though their relationship was at times contentious. Moses was convinced he had something to teach Caland, a burden too many women artists are made to bear. "She had a different point of view, which I thought was a little bourgeois," Moses said in an interview about Caland. "And so I gave her a bad time about that. I thought I was educating her so she would know what was happening. I don't know if it did any good or not."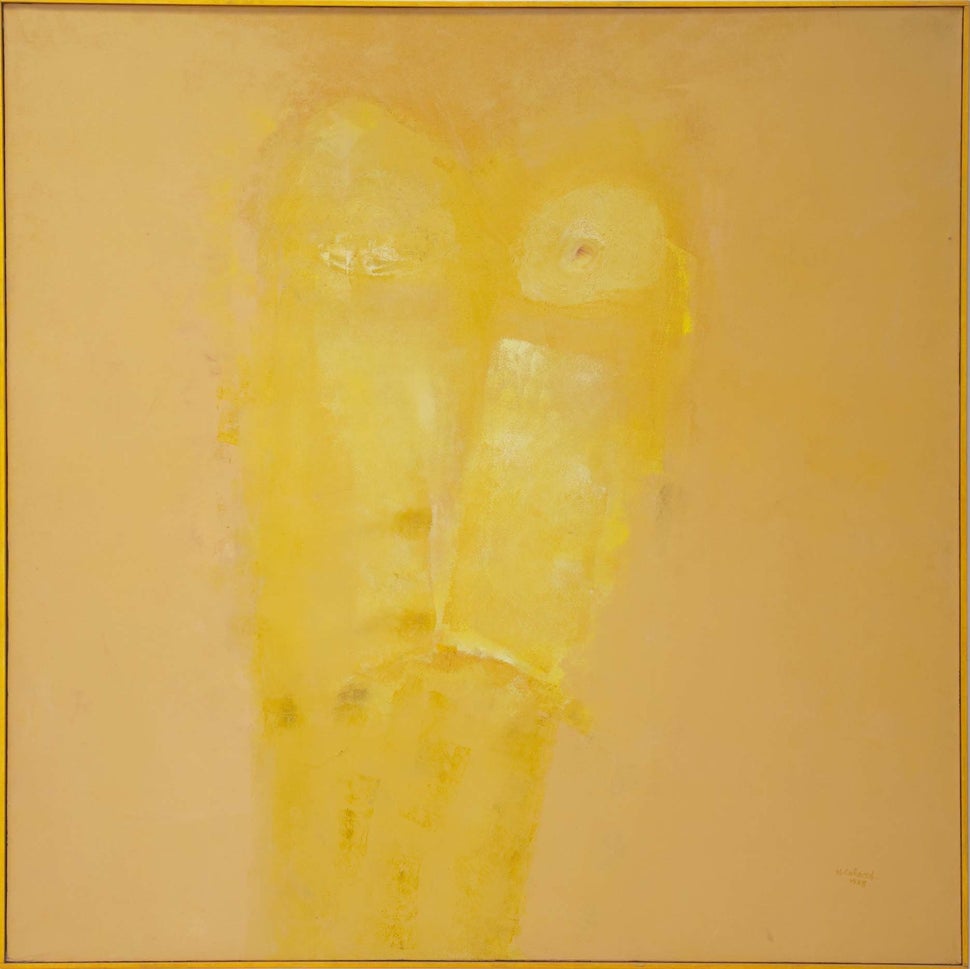 Regardless, Caland's commitment to her work and her vision was unwavering. "She always was extremely steady, very focused, very productive," Brigitte said. "She was a workaholic. I cannot remember my mother not working as long as I can think of her. She started working and she worked and worked and worked." 
Now, at 85 years old, Caland lives in her native Beirut. Her Los Angeles legacy lives on at the Hammer Museum biennale "Made in L.A. 2016," which features a survey of Caland's work, spanning the 1960s to the 2000s. 
"We wanted to represent the depth of her practice and all of the styles and turns that occurred over the course of her history," Hammer curator Aram Moshayedi told HuffPost. "It offers a sampling of every body of work that she produced, starting in 1967, with a self-portrait produced just after she studied in Beirut. It was a difficult thing to make the selections because she was quite prolific."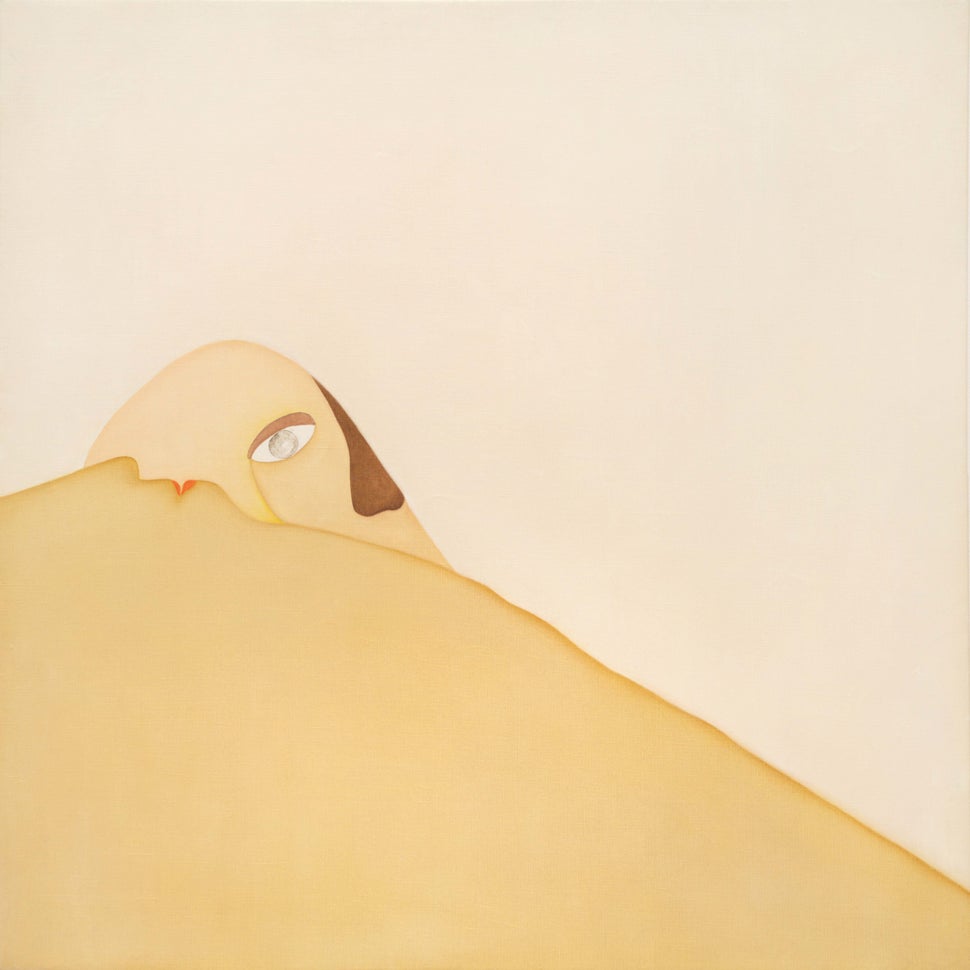 To a contemporary audience, Caland's works scream of the sex-positive feminism that permeates the work of many young, women artists. Brigitte explains though, that Caland was never much concerned with addressing feminist politics ― or any sort of politics, for that matter, in her work. "She lived feminism, but it was not something she thought of," Brigitte said. It was always her unconscious that guided her. As she always put it: 'My hand is independent to my spirit.'"
The things Caland was concerned with were the elemental joys of being in the world. Bodies, humor, love, play. These fundamental pleasures nourished Caland through times of hardship ― of exile and war and moving and starting over. "She alway was very happy," Brigitte said. "I never heard my mom complain or be angry. If she were she would get over it very quickly. It has been a lesson for all of us." 
REAL LIFE. REAL NEWS. REAL VOICES.
Help us tell more of the stories that matter from voices that too often remain unheard.