Introduction
If you would enjoy beautiful beaches on the Indian Ocean and the South China Sea, diverse cultures, magnificent temples over a thousand years old, orangutans and pygmy elephants in the wild, as well as a visit to a cosmopolitan city, you might consider a trip to Indonesia and Malaysia. I returned to Indonesia after 24 years. I also wanted to explore a country that I had not visited, and this was my first visit to Malaysia.
By going east through Frankfurt on Singapore Airlines to Denpasar, Bali and returning East from Kuala Lumpur on Japan Airlines, my wife, Marcia Jacobson and I circumnavigated the world. Singapore Airlines is one of the world's best airlines; in this case, all flights were on time and the flight attendants courteous and helpful.
There is no question that American tourism in Indonesia and Malaysia has been affected by the threat of terrorism and the notable air disasters involving the region's airlines: the disappearance of Malaysia Airlines flight 370 in March 2014, the Russian's shooting down of Malaysia flight 17 in July 2014, an Indonesia Air/Air Asia crash in Dec. 2014, as well as a 2015 Trigana Air Service crash in Indonesia.
Another factor affecting US tourism is that there are no direct flights from the US to Indonesia or Malaysia, which considerably extends the flight times by many hours. For example, from our New York City hotel to our Ubud, Bali hotel took 34 hours and our return from Kuala Lumpur to the same New York hotel took 30 ½ hours. Were there direct flights the times would have been much less because we would not have had to wait for connecting flights.
Indonesia: Bali
Indonesia is a former Dutch colony that became independent in 1945 and is the fourth most populous country in the world. Our trip began in Ubud, the cultural center of Bali. On our first full day we took a tour that included visits to three Hindu temples: Gunung Kawi, an 11th century temple complex; Pura Tirta Empul, dating back to 942 AD, notable for its legendary holy water; and Goa Gajah, dating to the 9th century, featuring a cave which contains a figure resembling a stone elephant but is the Hindu god Genesha. Goa Gajah actually has a joint Hindu and Buddhist heritage.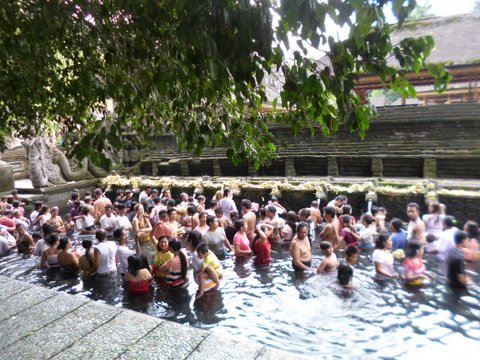 Bathers at the Holy Water Temple
We stopped to see the Batur Volcano at about 5000 feet in the Kintamani area; at the same stop, we saw other stunning scenic views, including the area's tiered rice terraces. We concluded the day with a visit to the Sacred Monkey Forest Sanctuary, which has hundreds of macaque monkeys within the environs of a Hindu temple complex.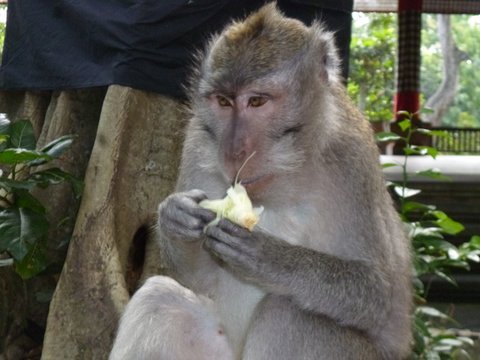 Macaque at the Sacred Monkey Forest
On another day we explored Ubud's local art. We had hoped to see the Balinese dance concert at the Ubud palace, but stormy weather intervened on the night we were scheduled to go. Although May is supposed to be the beginning of the dry season, in Ubud it rained all three early May afternoons that we were there.
Before leaving for our Samaya beach hotel at Seminyak, we took a long guided walk on a hot morning in the Ubud countryside and saw small-scale rice farming, village life, and the home of an extended family. This kind of excursion is at least as important as seeing major tourist sites.
Seminyak is a beautiful beach, part of a long stretch of ocean front beginning at Kuta and going north. But it is also the site of an unimposing generic resort town with lots of traffic, much of it from motor bikes, and a simple temple, Pura Petitenget, that we visited.
Because of the heat, while at Seminyak we awoke at 6 for a 90-minute beach walk before breakfast. I enjoy riding waves in the ocean, but the rough surf calls for caution, especially if you are either inexperienced and/or not so young.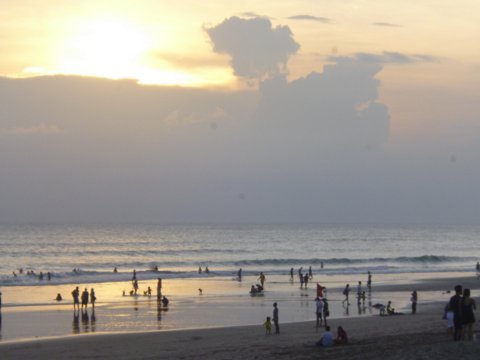 Seminyak Beach
While in Semanyak we visited the elegant Oberoi hotel, a few hundred yards away, and also on the beach. The Oberoi offered us a chance to experience a traditional Balinese Kecak opera-dance (with a narrative from a section of the Ramayana) as well as a gamelan concert.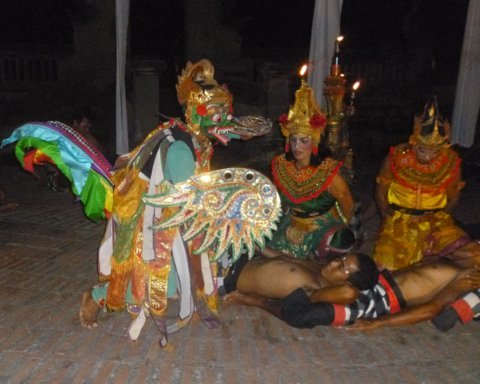 Dancers in Jave (the Garuda bird and the princess)
Bali Hotels
At both stops we stayed at the boutique Samaya hotels as part of a package I had arranged with the General Manager of both. At our quite splendid Samaya Ubud every villa has a different view; ours had beautiful hillside view.
If anything the Samaya Seminyak, overlooking the Indian ocean, is more luxurious than the smaller Samaya Ubud, but both hotels are five star plus and it is difficult to top manicured grounds of the Samaya Ubud. Each villa at both had private swimming pools. As is often the case in fine properties in Asia, the service is terrific. At both hotels, you have staff bringing fruit plates, high tea in the afternoon as well as ice tea, coconuts to sip, and other surprise treats.
Massages at the Samaya Saminyak spa relaxed the entire body. On my birthday, after our massages, we had a celebratory birthday dinner on the ocean; the hotel surprised me with a cake.
Bali Meals
Both Samaya hotels have fine restaurants that attract guests from other hotels and locals. The best dinner choices at the Samaya restaurants may be Indonesian cuisine, but all the hotel dinners had much to recommend. One night in Ubud we had a modified version of rijsttafel, an Indonesian meal with many small courses; another time a version of slow fried duck; a third evening, a magnificent presentation of three soft- shelled crabs with oyster sauce. At the Samaya Seminyak, I had an excellent Balinese seafood medley with a half lobster. Balinese presentation of chicken and fish at the Samaya Seminyak was innovative and meticulously prepared; Bali food is deliciously spicy.
Breakfasts at both Samaya hotels are ample if not world class. The fresh juice and fruit plate are the best ways to begin breakfast. Morning pastries and breads are more serviceable than remarkable, and we found this often the case throughout our entire trip where the humidity is a challenge to baking.
In town we did not have good luck at Republic 45, a pretentious restaurant that should be avoided. A duck dish on the menu described as half a duck turned out to be a duck leg and wing with little flesh on them.
Central Java
After seven nights in Bali, we flew to Yogyakarta, the ancient capital of Java, before being driven to our hotel near Borobudur, the stunningly elegant 9th cent. Buddhist temple. Our visit at sunrise confirmed my memory that this is truly one of world's great sites.
Dating back to the 9th century, Borobudur, the world's largest Buddhist temple, was rediscovered by the Dutch colonialists in the early 19 century after lying hidden for centuries in an abandoned area cover by volcanic ash and jungle growth. There is no written record of how and why it was built. In the early 20th century, scholars learned that three Buddhist temples in the region, Borobudur, Pawon, and Mendut, are positioned along a straight line--perhaps for some ritual reason that is now a subject of speculation--and we visited the other two temples.
Borobudur consists of nine platforms--six square at the bottom, then three circular--crowned by a central dome. The temple is decorated with 2,672 relief panels and 504 Buddha statues. The central dome is surrounded by 72 Buddha statues, each seated inside a perforated stupa. Friezes narrate classical and contemporary stories in which many nationalities play roles.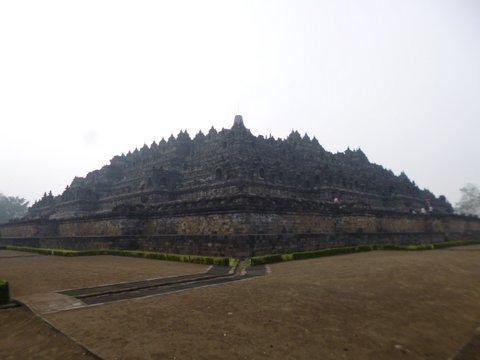 Borobudur
Another day we climbed to a small remote 8th century Hindu temple (Selogriyo) but real point of the hike was incredibly beautiful scenery on the drive and the ensuing hike. On that night we went to a fascinating traditional leather puppet show, complete with gamelan orchestra, after a mediocre dinner at a local restaurant. The show was not put on by professionals but by local people dedicated to preserving these traditional art forms.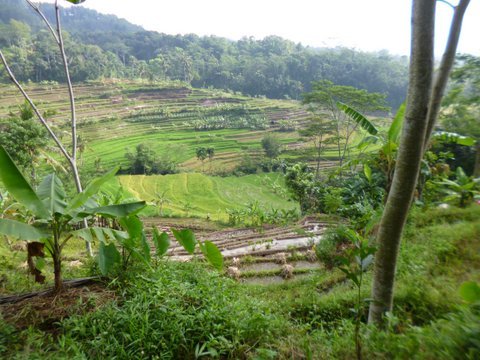 Rice Terraces in Central Java
On the morning we left Java, on the way to the Yogyakarta airport, we visited another of the world's great sites, the Hindu Temple complex Prambanan. We climbed all the three main temples--dedicated Shiva, Vishnu, and Brahma--to see the awe-inspiring statues within. We also visited the Nandi temple; Nandi is the bull that transports Shiva. The sculpted reliefs on these temples are impressive and require some time to examine.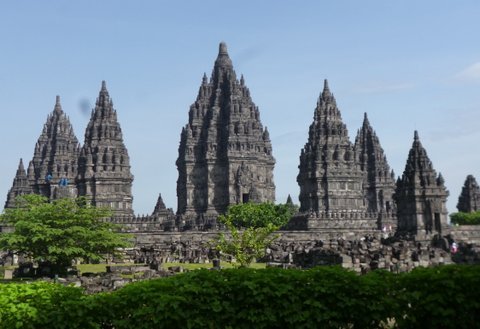 Prambanan
Borobudur Hotel
We stayed at the Amanjiwo, a wonderful boutique hotel built on the model of Borobudur. We had a room from which we could see the magnificent temple a few miles away. The hotel has excellent food. Javanese food is somewhat less spicy than Balinese but is equally interesting. The hotel makes every effort to please, including finding staff members with whom I played tennis one afternoon on a pretty basic concrete court. The deft and deep massages here transport the recipient to a different world.
Best of all, the hotel provided us a knowledgeable guide, Didit, for Borobudur and Prambanan as well as our hike. For an elegant world-class five star resort three things could be better: air conditioning, the wi-fi signal, and staff English.

Malaysia
After our visit to Prambanan we flew to Malaysia, since 1957 an independent country and since 1963 comprised of 13 states and three federal territories. We changed planes at Kuala Lumpur and then on to Kota Kinabalu, a city in the East Malaysian state of Sabah in Borneo; from that city we were driven to the Shangri-La Rasa Ria resort on the South China Sea beach.
Unfortunately we arrived late for our two-night stay--due to an AirAsia cancellation and a delay on the rebooked flight-- and only had one full beach day before flying to Lahad Datu airport and embarking on a 2 ½ hour drive into the Borneo rainforest. Had we stayed another day or two we could have driven to Mount Kinabalu (13,500 feet) or taken advantage of the resort's birding and nocturnal animal walks.
Kota Kinabalu Hotel
Our room in the Shangri-La had a splendid view of the ocean and a Jacuzzi on our deck. The hotel has a huge beach to itself, and the water is the warmest ocean water in which I have swum, easily 85 to 90 degrees F. We had a fine dinner at the hotel's Indian restaurant where the chef tailored a meal to our desire to taste small portions of several entrees.
The Borneo Rainforest
We flew from Kota Kinabalu, into the small airport of Lahad Datu and were met by the Borneo Rainforest Lodge driver who took us for a very brief stop at the lodge's registration office before continuing on the 2 ½ hour drive over bumpy roads to the lodge. The highlight of the drive was our seeing an eagle. The lodge is in one of the world's oldest rainforests and one that has never been logged, and the rainforest is really a jungle of densely populated by vegetation which made tracking animals, even with the excellent guide assigned to us, a challenge.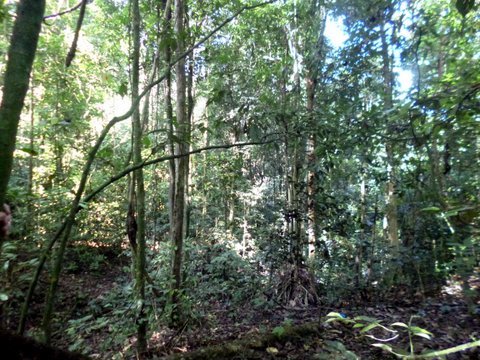 Borneo Rainforest
On our first 90 minute walk on the day of arrival, we saw a red leaf monkey, an orangutan with her baby, and a flying lemur (which was sleeping). Thus we had already met our first goal, namely seeing orangutans in the wild!
During our two full days we had three activities a day: a long walk in the morning beginning between 6:30 and 8, an afternoon walk at 3:30; and, in the evening, either a night walk or night ride. The second morning we saw an adult male orangutan in a tree and watched him for an hour. On our afternoon walk the same day, we saw another adult male orangutan, this one smaller and more active.
Over the next few days we saw a number of animals we had never seen in our nature travels which include four African safaris and the Amazon rainforest: a bearcat (binturong), a Malay civet, a civet cat, two Thompson (red) flying squirrels, a few sambars and other varieties of deer, a leopard cat, a slow loris, and a bearded pig (which was swimming!). We also saw a few indigenous birds, including another eagle, a fisher owl, and a bee-eater, although we had hoped to see more varieties of birds.
While there are very rare sightings of cloud leopards, there is a possibility of seeing pygmy elephants, but they were not in the area of our Lodge when we were there. Yet when we drove to the Lahad Datu airport at 4 a.m. on our departure day, were thrilled to see as many as 17 to 19 elephants, and that was a wonderful conclusion to our visit.
What You Should Know About the Rainforest Adventure
1) Because the guides use walkie-talkies to communicate and share sightings, your chances of seeing orangutans improve, but our guide told us only one in three visitors see them.
2) There is not much to do other than nature walks and the rooms are unpleasantly hot. One cannot predict what one will see, but if we knew we would see orangutans on first and second days, we might have done two nights rather than three only because the rooms are so uncomfortable. The heat also harmed my Mac computer that needed repair when I returned home.
3) One needs be reasonably fit for some of the walks, particularly the one to the highest lookout over 4000 feet up; we were quite proud to complete the walk.
4) You may be bitten by leeches. While you can buy anti-leech socks ($5 at lodge), they will only protect your feet and lower legs. I was bitten on my chest by a tiger leach; while not pleasant, these bites are relatively harmless if cleansed with alcohol and antiseptics.
The Borneo Rainforest Lodge as Hotel
We stayed three nights and were upgraded from a so-called deluxe cabin (their second best category of three residential categories) to a nice villa (their best lodging category) with a small plunge pool. The buffet lunch and dinner were much better than I expected; breakfast, despite fresh juices was more perfunctory. The lodge is quite expensive, and the lodge charged us extra because we wanted to choose our arrival and departure time. From what I heard, a number of guests paid extra charges for services that could have been included, such as drives outside the lodge area and bush breakfasts.
Kuala Lumpur
After the rain forest we flew from to Kuala Lumpur via Kota Kinabulu for our last of six stops.
A highlight of our Kuala Lumpur city tour was the National Museum, which presents an informative history of Malaysia since 1400; less information is provided about the presence of India before 1400, but the section on early mankind is fascinating. Even if there is an element of shaping the story to fit the current regime's version of history, this is an excellent introduction to Malaysian history and culture. We were very fortunate that our volunteer guide was a knowledgeable local physician whose English was impeccable. We also visited the National Monument, Independence Square and, the railway station dating back to the British colonial period. We also saw from the outside the King's Palace., which is not open to tourists.
We took an interesting all day tour to Malacca, leaving at nine and returning at five, with four of those hours used for driving back and forth. At various times, the Portuguese, Dutch, and Britain had a colonial presence here. We examined what each of these cultures left as well as visiting Chinatown. Our guide, a Malaysian of Chinese ancestry and a Taoist, stressed the Chinese influence. The excessive heat made the two-hour leisurely walk from noon to 2:30 a challenge.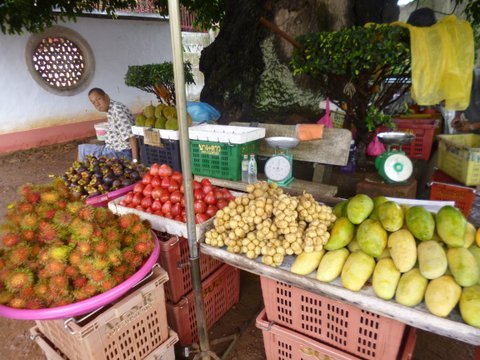 Malacca Market with Tropical Fruit
Kuala Lumpur Hotel
We stayed at the comfortable Renaissance; with our access to the Club Floor as Platinum members of the Marriott chain, we had a pleasurable stay with fine service and amenities, including a nice pool and gym.
Kuala Lumpur Meals
Chinese food is special in Malaysia. Dinner at the Dynast, the Renaissance Hotel's own Chinese restaurant, was quite fine. I highly recommend the roast duck with plum sauce and the Szechuan hot and sour soup is a treat if you can handle very spicy food. Within the city, Restorant Oversea is a moderately priced family restaurant -and part of a chain--serving innovative and tasty Chinese food.
Afterthoughts
Be advised that in Indonesia and Malaysia much of the hotel staffs speak virtually no English, and out of politeness or fear of losing their jobs, may pretend to understand you when they don't really understand.
Be aware that at 1330 rupiah to a dollar, Indonesian currency is not easy to deal with.
While there are exceptions, do not expect American pancakes or eggs over easy to meet your ideals if you are fussy. It might be best to choose Indonesian and Malaysian breakfasts.
Hotel rates vary greatly by season; while we were there luxury hotels were far from full occupancy. Consequently there are online sales as well as the possibility of direct negotiations with hotels. Indonesia has far more hotel rooms, particularly in the high-end category, than they need and that creates opportunities for the consumer. Both countries are anxious to increase tourism in the US market.
Mayflower Tours was our travel agent for the Borneo Rainforest Lodge because, unlike my dealings with most hotels, the Lodge did not respond to my emails. I also hired Mayflower for transport back and forth to the Kuala Lumpur airport as well as for two tours in Kuala Lumpur.
I found Mayflower somewhat difficult to deal with and would not recommend them.
Conclusion
This was one of our great trips in a lifetime of travel, but I do need to stress that this six venue trip does take some planning and endurance because standard tours won't put together the same itinerary. But the trip research and considerable times on airplanes were well the effort.
Author of numerous travel articles as well as seventeen books, including the recently published How to Succeed in College and Beyond; The Art of Learning (Wiley, 2016) and the well-received 2012 book Endtimes? Crises and Turmoil at the New York Times (Excelsior Editions of SUNY Press; 2014, a new paperback edition). Daniel R. Schwarz is Frederic J. Whiton Professor of English and Stephen H. Weiss Presidential Fellow at Cornell University. His prior published travel articles can be found here. He can be reached at drs6@cornell.edu and followed on twitter at www.twitter.com/danRSchwarz or on facebook at https://www.facebook.com/SchwarzEndtimes
Related