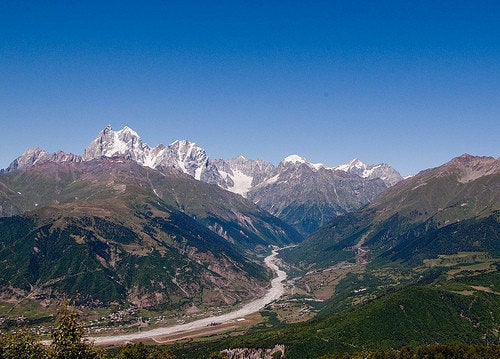 Over a series of Lavazza cappuccinos in the austere and achingly trendy "Cafe Literaturuli" -- one of the most successful iterations of Tbilisi's bizarre attempts at arty-chic -- my Georgian friend L. attempts to explain to me the mystique of Georgia's mountain regions. She tells me the story -- characteristic, perhaps, in its very implausibility -- of a friend of a cousin's sister's uncle, born in the remote mountain region of Svaneti, who returned from Tbilisi to his ancestral homeland to find that his grandfather had taken to drinking moonshine out of empty grenade containers. Her husband regales me with another like folk hero, the groom who was threatened at gunpoint by a cousin of his new bride to down shot after shot of bitter cha cha to prove his mountainous masculinity. Together, my friend and her husband run down their litany of myths: bride-kidnappings, savage blood feuds that necessitated the construction of Svaneti's myriad Medieval defensive towers, hidden treasures cloistered in the crypts of locked churches.
Neither of them has been to Svaneti (this is true of most Georgians I know); nevertheless, Svaneti, the most famous and far-flung of Georgia's mountain provinces, has come to represent an idolized version of what is typically Georgian: a land of folk-heroes and strange mists, of crumbling towers and sacrificed goats, of atonal pandauri melodies and sequestered icons, one of the few places in Georgia to maintain a vestige of cultural purity against the onslaught of Ottoman, Mongol, Arab, Persian and Russian invasions that has come to define the splendid cosmopolis of Tbilisi. Svans are mysterious, I am told; my guidebook ominously declares that the mountain pass is "now safe" from bandits. The road to Svaneti is all but impassable at the best of times, requiring a four-wheel drive and a death wish; in the winter, even Mestia -- Svaneti's tiny capital -- must fend for itself. This is "untouched Georgia," I am told, where even Kubla Khan and Stalin could not assert their power. (*SEE PHOTOS BELOW*)
The following summer, scrambling for space in a rickety marshrutka with two Israelis, two Brits, a Dutch woman, a German man and several backpack-laded Americans, all lured by enterprising touts off the night-train from Zugdidi, I find myself wondering whether Kubla Khan and Stalin really tried all that hard. The road from Zugdidi to Mestia has been repaved and fitted with barriers; the journey barely takes three hours (Mestia's airport now also receives near-daily flights from Tbilisi). Mestia, newly rebuilt with sprightly facades and clapboard chalets, clouds of construction dust still mushrooming from newly-paved streets, less resembles the fairy-tale castles of L.'s cultural imagination than a film set for a spaghetti Western. The local ski resort -- a pet project of Georgia's ever tone-deaf tourism board -- has managed to transform the dramatic peaks of Greater Caucasus into a pale and pine-dotted imitation of the Alps.
But a 15-minute walk out of Mestia's centre, I find the expectations L. has instilled in me, if not realized, then nevertheless given new promise. Out of sight of the garish refurbishments that have transformed Mestia into the set of A Fistful of Lari, the mountain slopes, blanketed with wildflowers, give up their beauty. Even in the absence of blood feuds, the stone towers, imposing even in their decay, hint at old strength. The sky is crisp and clear; the silence and the breeze are overwhelming. Wild pigs suckle at the mouths of brooks; white horses race across the horizon. My initial disappointment has given way to a new sense of tranquility. The half-day hike to the Mestia Cross, winding through flower-fields and cow pastures along a shale track, is all but solitary; its serenity, at sundown, is more dramatic in its stillness than a hundred fictional blood feuds.
More beautiful still is Ushguli, the highest village in Europe, a rather more death-defying three-hour jeep drive up from Mestia -- confirming my conviction that the beauty of most of Georgia's tourist sites is inversely proportional to their accessibility -- past the nearly as scenic villages of Adishi and Ipari. Nestled at the foot an intensely, almost blindingly green valley, Ushguli's ruined towers and sprawling fortresses embody, perhaps better than anywhere else in Svaneti, the wild beauty and mythic appeal of the Greater Caucasus (only Shatili, in Khevsureti, comes close).
Svaneti may be somewhat less dramatically remote than the guidebooks suggest (and will be less remote still when the new road between Mestia and Ushguli is completed), but for those willing to leave behind the cloying comforts of Mestia, it still offers insight into the vanished beauty of a dying age and into the world of Georgia's myths.
Practicalities
Flights depart Tbilisi for Mestia (and vice versa) five times a week and cost 75 GEL; book in advance. Alternatively, take the daily night train (15 GEL) from Tbilisi to Zugdidi; three-hour (15 GEL) marshrutka vans co-ordinate their departures with the arrivals. A single and thoroughly uncomfortable eight-hour marshrutka (30 GEL) also leaves Tbilisi for Mestia before dawn.
Private jeeps from Mestia to Ushguli can seat four to six and cost 200 GEL for a return trip. The walk from Mestia to Ushguli takes two or three days; home-stay accommodation is available in a number of villages (all less developed than Mestia, and highly recommended) between the two.
Avoid Mestia's overpriced faux-chalets and head to the edge of town, across the bridge, to the genial homestay of Irma Khergiani (+995) 598-977-238, overlooking the Mestia Cross. 35 GEL, including three hearty meals.