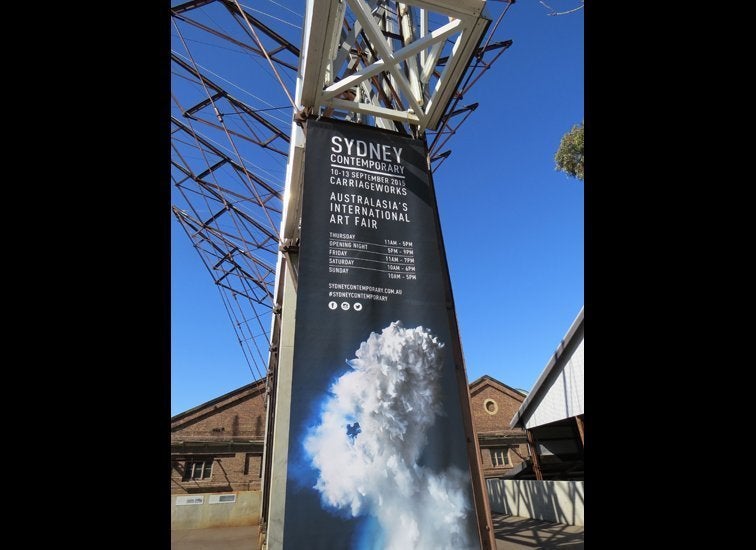 Sydney Contemporary Art Fair 2015
A large red cloud greets us as we enter the airy atrium of the historic Carriageways building, temporary home to the four-day Sydney Contemporary international art fair. Once used as a maintenance warehouse for rail engines, the large brick structure has been restored to maintain its original character and repurposed as a multi-arts center.
Inside the 87,000 sq ft space more than 90 galleries represent 14 countries. Alongside the gallery booths are 18 large-scale installations curated by Sydney-based The Curators' Department and a moving image program curated by the Australian Center for the Moving Image. The performance art program includes works by 110 percent, Matthew Couper, Rosie Deacon and James Nguyen with curation by Connie Anthes and Emma Price. Also taking place over the course of the fair is a series of artist talks and panel discussions covering a range of topics including appropriation, post-internet art and the relevance of gender.
I'm able to schedule attendance to the Fashion Forum: Contemporary Trends hosted by Vogue Australia. Sophie Tedmanson, Australian Vogue Deputy Editor initiates discussion on the current fusion of art and fashion, in the context of the art-dominated 2014 Spring/Summer collections and the rising practice of fashion houses creating their own art museums.
Designers Luke Sales and Anna Plunket of Australian label Romance is Born describe their philosophy of collaborating with artists for their fabric prints. They list mutual respect as a key ingredient for success, with the artists allowing them free reign in the use of their work. Plunket sees art as creating a fantasy world that transports the viewer and this was the aim of their 'Cooee Couture' show at the Art Gallery of New South Wales where they featured handmade Australiana-themed clothes in a tableau-like performance.
Alison Kubler acknowledges the popularity of fashion-themed exhibitions currently curated in public art institutions, with Alexander McQueen's 'Savage Beauty' show being one of the most highly attended exhibitions at the Victoria & Albert Museum in London with 493,043 people viewing it during its 21-week run.
Melbourne-based artist Rhys Lee shares his perspective on the collaborative process he undertook with designer Lisa Gorman in 2012. He describes his process of providing Gorman with a large pre-existing painting along with commissioned ink patterns on paper which she transferred to computer, then digitally printed images onto fabric and created colorful jumpsuits and other designs. Following that successful project, Lee is now working with Californian surfing brand RVCA on a clothing range and other products to be released in 2016.
Sydney fashion is known for it's monochromatic palette and sculptural silhouettes. However, I note a strong, colorful, graphic trend in the attire of many fairgoers that complements the splashes of dramatic color in booths throughout the fair. There is almost too much art to experience and there are many works I would love to spend more time with. The vitality of the fair is seductive and it's hard to leave at the end of the night. But as I head out into the indigo darkness, I carry the image of the towering red cloud with me. Sydney Contemporary has left an indelible mark.