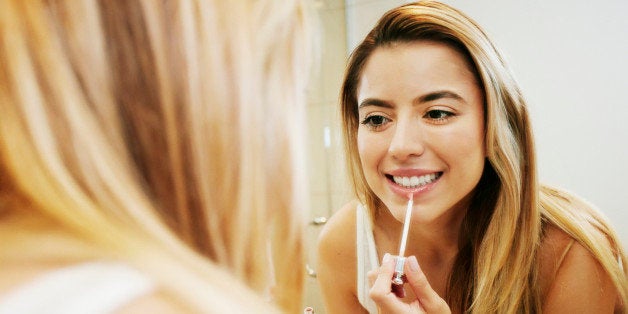 Sometimes, as we all know, the whole world is very, very bad, and life-things are too much to even attempt to deal with. Sometimes the crippling pressure of being a person mounts and you feel trapped and alone and, quite simply, sad. Everyone sometimes feels that coping as a human being is extremely difficult (and for me, perhaps even more often than that). And when one starts to feel panicky, or sad, or stressed, or anything, we would file under the general category of no-thanks-not-for-me-thank-you, there are "strategies" we put in place -- deep breaths, go to bed, eat the entire contents of the fridge, etc. But for me, something which reliably alleviates the sads is makeup, and I have been wasting some time recently thinking about why.
Well, firstly, when you're drifting around a makeup store, it's a rare time in life when you don't really have to think. It's almost like being in a pleasant hallucination, with bright lights, mirrors, pleasant scents and soft, inoffensive music. You can just drift aimlessly around, touching things and sniffing things and squeezing things without any annoying cognitive input. It's almost like a temporary lobotomy; you can fall into a type of comfortable, dreamy trance. You don't have any obligations, you can just look, touch, wander aimlessly. If your brain pipes up "... but what are you actually doing with your life?" it can briefly be quite easily stifled with swatching. Mindlessness gets a bad rep, but in small doses I think it's extremely useful to the modern condition.
Another aspect to the process of makeup-browsing, which I think is kind on the brain, is the search. Having your own personal mission -- to find a limited edition product, or to get the best deal on your favorite cleanser -- seems mundane but is actually innately satisfying. When you succeed in the finding of makeup, that is one of life's rare, unmitigated successes. You did it -- and nobody can take that away from you. The mundanity of life can thus be interspersed with these exciting treasure hunts or even missions. And you get to set entirely your own "goals," and reap your own "rewards."
Makeup is also, in its most basic form, extremely satisfying to the senses. It's the only thing post-childhood that retains a capacity for "play." It's a rare aspect of our life where we get to touch different textures, smell hundreds of different variations on "vanilla," look at the microscopic difference between colors or shades. It's the creative process which it's acceptable to partake in: you get to finger paint as an adult!
The process of make-upping also relies on a particular type of brain-skill. You get the total freedom to decide which color you like, and which (perhaps even similar) color you don't. You have the power to decide which red is "your" red, whether you prefer cream or powder, whether you're pro lip-pencil or against. You can build up aspects of your identity through choice in a way often precluded by adulthood. And it's easy, and it's fun, and there is no wrong choice. How often is that the case for literally anything?
Another reason I can find "beauty" so innately comforting is that it is designed in the form of problem-solution. Dry face? We can fix that. Want a red lipstick which stays on through five beers? Right this way. In a world of ambiguity and difficulty, having something easy and reliable, which consistently works how you want it to, is a blessed relief. Having a minor irritation dealt with can make the bigger and more complicated "life" problems seem more resolvable, too. There's more to being a functioning human than having your skincare routine perfected, but it's a start.
So, yes, it's easy to feel guilty about wanting to give money to an industry with an insistence on making women feel inadequate by magnifying their insecurities. But you don't have to. If you can restructure your feelings about makeup and people's faces and your own face, you've achieved a small revolution in thinking. And if you enjoy the many processes of makeup buying, trying, wearing, then this can become a uniquely and dependably positive space in an uncertain world.