There will never be a photograph captured of the Grand Canyon that can adequately describe its depth, breadth, and true beauty. Its canyon walls have stories that we will never hear and beholds a history that our eyes will never see. It is a spectacular illusion - a scene flattened onto an earthly canvas that you could almost reach out and touch. But if you stand and watch long enough, you'll begin to see its vastness as fields of depth open up with every shadow touched by a glimmer of light. It is perhaps for those reasons that it has earned a rare spot among the 7 Natural Wonders of the World, and why everyone should try to visit it at least once in their lives.
The Grand Canyon is about 1-mile deep and 10 miles wide, measuring 277 miles in length, and it holds more than 10,000 years of history in that space (millions if you really want to get technical) ... there are endless ways to experience it depending on what the body and mind is looking for. The Grand Canyon is not "one place," but a desert wilderness with many areas to explore - the North Rim, South Rim, East Rim, and the West; Supai, and Kaibab National Forest - there are different stories to seek out and to create in each of them.
To tackle this article in a logical way, we are breaking it down by what we feel are the best ways to experience life beyond the South Rim viewpoints, ending with our experience - the epic rim-to-river-to-rim hike which challenged us to no end.
First, let's take a quick look at the two most visited locations:
The North Rim is traveled less often than the South Rim is for a few reasons - on the Utah border, it is more difficult to get to than the busy South Rim is; it maintains a short season (May 15 - October 15) because of its high elevation (8,000 feet); and it offers fewer easy access points to peer into the valley of views than its southern counterpart does. We like to think of this area as Grand Canyon 2.0. If you are only going to visit the Grand Canyon once in your life, you'll probably want to pay a visit to the South Rim first to get a load of the views that drew awareness to the area in the first place. They really are spectacular. If you've already done the South Rim, a visit to the northern side is where you can find solitude in backcountry camping and hiking, and unique sites to photograph such as the Cape Royal viewpoint. We really wanted to explore and share with you this area, but seasonality reared her head again so we had to miss a visit to the Grand Canyon less traveled... this time.
The South Rim is the most well-known area of the park and is passageway to iconic view points such as Yavapai and Mather Points, both of which often serve up to many the first views of the colorful gorge as it is located just a short walk from the Grand Canyon Visitor Center. At night, catch the sunset at Hopi Point and Mojave Point, two of the most popular places in the park to drink in the pink sky. Near to all of them are iconic lodges, some located just steps from the canyon rim, where visitors hang their hats during a visit. The panoramic views in this area seem to stretch on endlessly and visitor amenities abound, including shops, restaurants, free shuttle access to iconic viewpoints, trail access, historical sites, exhibits ... the list goes on and on.
Now, how to get into the canyon...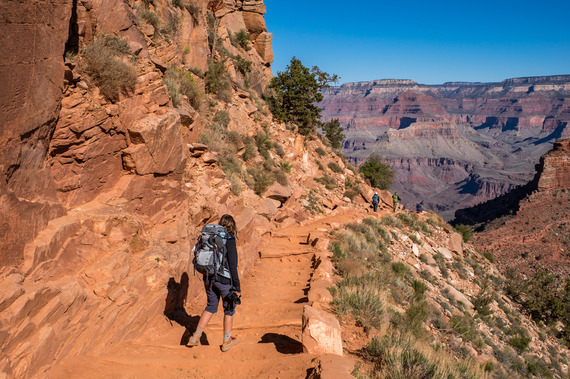 Stefanie Payne heads down the South Kaibab trail in search of the canyons deepest, darkest secrets... Photo credit: Jonathan Irish
The Southern Rim-to-River-to-Rim Hike
We knew we wanted to get out of the crowds and into the canyon. We wanted to hike, camp, and embrace the park more intimately so that we could deliver to you something more meaningful than a collection of selfies taken from an overlook. In that spirit, we planned a rim-to-river-to-rim hike--a remedial version of the famed rim-to-rim adventure that starts at the North Rim and winds into the bottom of the canyon before finishing at the top of the South Rim clocking 24 miles (it takes about 3 days factoring in time to enjoy the ride.)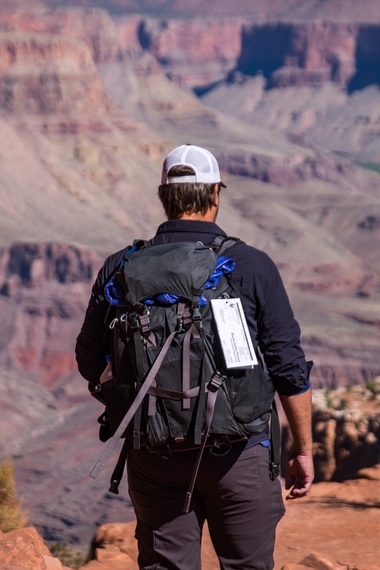 Jonathan Irish is armed with the backcountry camping permit needed to stay at the bottom of the canyon. They will turn you back if you don't have it, regardless of your condition. There are rules people! Photo credit: Stefanie Payne
In observance of our schedule, we opted a 17-mile route--7 miles down the South Kaibab Trail; 10 miles up the Bright Angel Trail; and a night of camping on the shores of the Colorado River in between at the Bright Angel Campground. If camping isn't your jam, there is a lodge just steps from the campground called Phantom Ranch. It welcomes visitors for stays after long days in proper dwellings--complete with happy hour, decadent meals prepared by others, and hot showers. True to form, we opted instead for flask whisky, dehydrated dinners, and a continuation of filth that we can't seem to scrub clean this year as we forge this wild adventure. The area near Phantom Ranch and the Bright Angel Campground is where base-canyon national park rangers live (what a crazy job they have), and where they give regular nightly talks on topics ranging from geology to Teddy Roosevelt (the latter of which we missed because we were fast asleep by 7:30pm when it started.)
The hike itself is a monster. You are descending/ascending 4,000 feet on either side of it, carrying at least some amount of gear. We hired mule service to transport our backpacking equipment because we didn't know if we could carry it and we didn't want to try. We made the right choice. Even in the spring it was hot out there (cannot imagine doing this hike during the desert summer) and there are no elevators going down or up. Once you make the personal commitment to hike this trail, you know that your body is your only vehicle, and that is a daunting frame of mind to be in. In hindsight, this was one of the greatest backpacks of both of our lives. It was challenging, rewarding, and along a path to the Colorado River where one can see the Grand Canyon unlike any other way--from inside of it.
Note: Travelers assume all risk when braving hikes like this, and/or any excursion off the beaten path. We are not competitive athletes, but we are experienced hikers. Train your body, get your gear, talk to the park staff in advance, and as always when exploring our national parks--your safety is your own responsibility.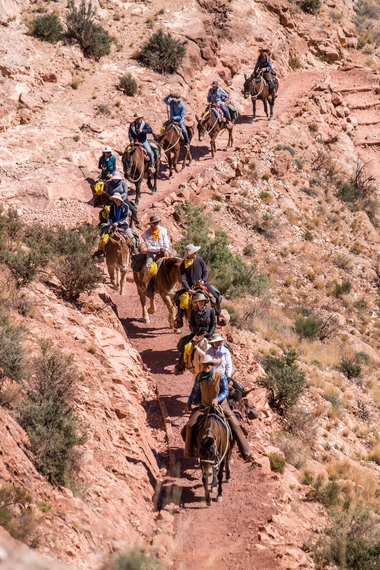 Travelers in a mule team descend the Bright Angel Trail as we make our way up... Photo credit: Stefanie Payne
Mule ride from the South Rim to the Phantom Ranch
Do you remember the Brady Bunch adventure when Mike, Cindy and the clan ventured down to the bottom of the Grand Canyon by mule? This is an actual thing! Not until we were on the trail part way down that a mule caravan of travelers bypassed us. As they towered above peaks while learning from their guides, it was clear that this is a really fun way to venture to the bottom of the canyon without the commitment or exertion of hiking there.
Heli flight into the Canyon
Did you know that you can get a birds-eye view of the Grand Canyon while flying in by heli? Papillon Aerial Adventures offers day trips into the canyon with pick up points in the Grand Canyon, Phoenix, Sedona, and Las Vegas. The unique vantage point upon entering has to be one of the most wonderful ways to get a load of the landscape and to capture one-of-a-kind photo ops. If you've ever asked yourself, "how much I can see in one day?" ...a lot. One can see and do a whole lot. Oh god, we wanted to do this! Unfortunately timing interfered...
Rafting the Colorado River
This is one for the lifelong bucket list: rafting the length of the Colorado River, a pursuit that we feel deserves 10-15 days of being purely wired-out and tied-in to really do right. That being said, we knew we wouldn't do any portion of that adventure this year. When it is time, there are several well-known independent operators working the circuit and we can't wait to hop on with any of them. :)