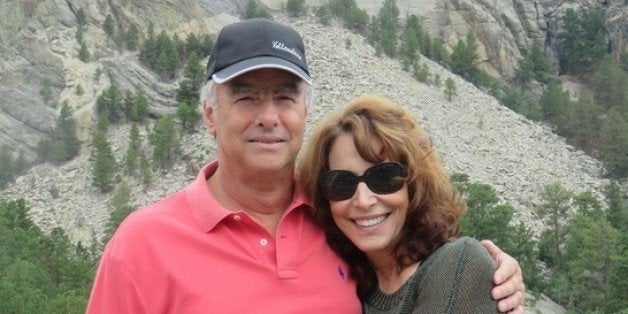 My husband Joe and I recently celebrated our 40th wedding anniversary with an adventure traversing to historic and national sites in five states. The chartered bus trip began in Denver venturing through Utah, Idaho, Wyoming and South Dakota. I never saw the bottom of my densely packed suitcase as we stayed in eight hotels in 12 days. By the end of the trip, I was the proud winner of the Chartered Bus' heaviest suitcase contest with the prize that made my suitcase even heavier -- a Granite rock from the Black Hills Mountain carving of Crazy Horse Memorial.
The bus travelled more than 3,200 miles to several of our bucket-list sites -- Arches National Park, Grand Tetons, Yellowstone, Badlands and Mount Rushmore. We were beckoned for 50 miles to stop at a must-see site as off-road placards about "5-cent coffee and free ice water" lured us to the wonders of Wall Drug. It was there where I officially became a "cowgirl" with my husband's gift to me of the most perfectly fit distressed western boots. We also encountered surprises along the journey, as several awesome and now memorable stays were not listed on the itinerary -- Deadwood SD famous for the Dead Man's Poker Hand and Motorcycle Heaven -- Sturgis SD.
I was in awe of the vastness and spaciousness of the West -- my jaw was literally opened most of the trip through Moab and Arches and the spectacular changing vistas of Yellowstone. So often our life's perspective is gained by the view from our balcony or window, forming and dictating our attitudes from a very narrow lens. It quickly dawned on me that, as Dorothy said to Toto in the Wizard of Oz, we were not in (my) Kansas anymore. My worries about back-home over-extended commitments and my lengthy must "to-do" lists faded by day two. In fact, waiting 50 minutes for Old Faithful to spew its steam was a joy.
When I was a child and complained to my mom too many times about something that I wanted, or did not want to do, she would immediately give me her lecture on being thankful for what I had and reminded me that there are so many others that are less fortunate than me -- the poor, the sick and the hungry. I got tired of hearing her "mantra" but as I got older and wiser I understand its purpose.
With my advanced-stage breast cancer in 2004, came a membership in the chemo club in my oncologist's office. My new BFF's were patients with lung, pancreatic, ovarian and breast cancer, with the greater majority of patients being treated for stage 4 metastatic cancers.
I looked forward to these twice a month sessions where the lively conversations were about family, friends, faith and giving to our greater community -- rarely, except when being introduced to new club members -- "Hi, I'm Nancy and I have stage 3c breast cancer" -- did we talk about our disease. This was such a welcomed relief as I was mentally exhausted from my prior five months of continuous breast and cancer conversations, explaining my diagnosis and treatment and hopeful recovery.
Molly, with stage 4 lung cancer, was working on the details of the upcoming church's fashion show; Jack, with pancreatic cancer, was planning the next day's route as he volunteered to service his community through "meals on wheels." In spite of their disease and the grim reality of their prognoses, Molly and Jack kept on giving to others with joy. It was surreal how it took this group of cancer patients to give me gratitude and a different perspective on my advanced cancer -- its stage, treatment protocol and the promising research that was purposed to keep me alive. They were inspiring; I purposefully made it my mission, despite an advanced-stage diagnosis, to count my blessings daily which brought to memory my mom's wise lectures about the less fortunate which began forty years earlier.

My western adventure was a time to regain perspective as my day to day frenetic pace often overshadows my many blessings. The 12-hour work day, which has become the new "normal," can take a toll on our physical and mental health -- the most sought after and priceless commodity.
This excursion gave me the phenomenal opportunity to pause and set aside my "critical" daily activities to reflect on my great blessings. I spent time with my husband, laughed until our sides ached while enjoying our country's spectacular beauty with our adventurous bus companions and now new friends. Thank you mom, Molly and Jack for your important priceless instructions and continued inspiration. I am truly blessed.