Before the days of discount franchises and department stores, markets were the primary locales for shopping, trading, and gossiping in Korea's major cities. Sadly, due to rapid modernization and an increase in more convenient shopping facilities over the past few decades, traditional markets have continuously lost patronage and are quickly diminishing in size and number. While efforts are being made to preserve them, locals predict that they will cease to exist in the next twenty years.
Although Seoul is abundant with must-see destinations and attractions, few of them provide an authentic glimpse into Korean culture as well as the city's traditional markets. Recently, I went on a self-guided walking tour through the maze of markets in Euljiro, a neighborhood in central Seoul, for an insightful look into the daily lives of the Korean working class.
I began my tour at Euljiro 3-ga Station, a destination frequented by tourists eager to explore the shopping district of Myeongdong and load up on luxury goods at the Lotte Duty Free store. Unlike the majority of them, however, I ignored the bright lights and crowds of people and ventured forward toward the oft-overlooked Euljiro 4-ga. Along the way, I passed tiny specialty shops selling industrial supplies and home interior goods. Ceramic squat toilets sat in rows at one shop while floor boards were stacked at an adjacent stall. I wasn't in the market for a toilet, or paint or even floor tiles for that matter, but it was fun seeing what was for sale.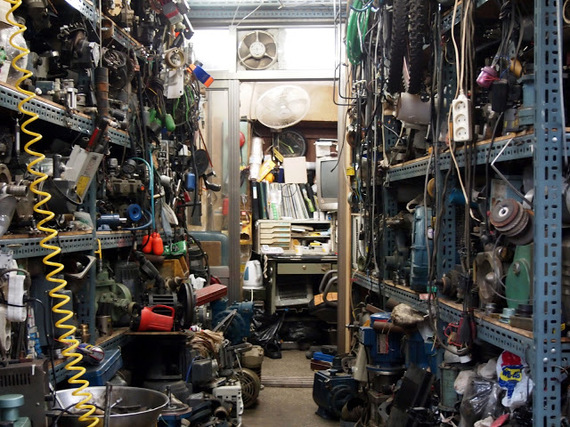 My senses led me up and down cramped alleys to a nearby block that smelled of gasoline. Sparks escaped electric saws. The unmistakable sounds of metal on metal echoed throughout the area where welders and mechanics armed with power tools abounded. It began drizzling, but the workers carried on with their tasks, unmoved by the change in weather, eager to make it through rush hour.
Taking a break, I took a seat at Chuncheon Makguksu, a dining establishment known for its cold noodles. Opened in 1962, the restaurant has stood the test of time, owing its success to its delicious food and loyal patronage. I ordered makguksu (cold buckwheat noodles) and dalkmuchim (spicy chicken salad). The food was good, but the atmosphere was even better.
Looking around the room, I watched the mostly elderly diners engaged in boisterous banter and imagined that most of them had probably frequented the restaurant since its opening. For them, Chuncheon Makguksu was a taste of their younger days, flavors that undoubtedly brought back memories of a different Korea, a Korea without iPhones or Starbucks. A Korea that the neighborhood of Euljiro still embodies today.
Satisfied, I continued onward along the beautifully landscaped Cheongye Stream through more specialty markets and was pleasantly surprised with each ware I found. Clocks of every shape and size tick-tocked on walls. Electronic wiring poked through boxes in bundles. LED lights flashed random greetings in bright neon. A man pedaled past me on a bicycle that seemed to be straight out of the 19th century. Soon, I lost my way in the maze of shops, but realized that getting lost is half the fun of wandering Seoul's traditional market streets.
The rain began falling harder just as I reached Gwangjang Market, a bustling textile market that sells everything from silken hanbok (traditional Korean clothing) to linen bed sheets. I was more interested in the food, however, and browsed the many stalls that lined the market's central ground level. Following the lead of the locals, I ordered piping hot binddatteok (savory pancakes) and a bottle of makgeolli (rice beer), Koreans' go-to snack combo in rainy weather. Feeling adventurous, I topped off my order with a plate of meori gogi (pork head meat). As I savored each bite of the spread, I noticed that the servers, all middle-aged women, worked tirelessly, shouting out orders, pouring pancake batter on the grill, and cracking toothy smiles here and there.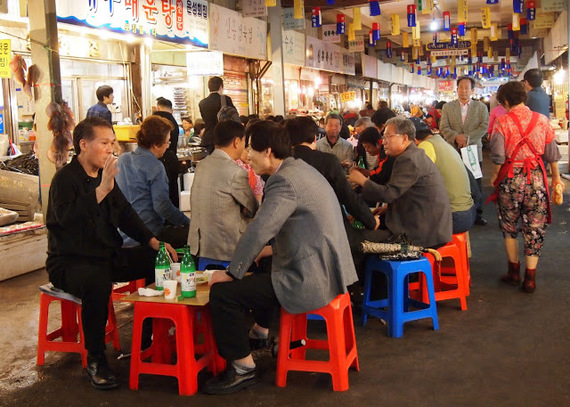 Soon enough, it was quitting time, and as vendors closed up their shops and turned off the lights, I got a sense that I was right in the middle of a Korea that most visitors never see. The market streets I toured represented the real Korea, tenacious and glazed in gasoline, flashy and loud and pungent, where common people work relentlessly day in and day out so that their children might grow up to live a more prosperous life.
Despite stiff competition from supermarkets and discount franchises, the markets of Euljiro are not going down without a fight. Perhaps they will disappear within the next few decades. Hopefully they will be around for a lot longer than that. Either way, they maintain a unique charm that makes them a necessary destination on any nostalgic tourist's itinerary.
Chuncheon Makguksu: Make a U-turn immediately after exiting Exit 1 of Euljiro 4-ga Subway Station (Line 2). Turn left into the first alley. The restaurant will be on your left. Opening hours are from 11 AM to 10 PM daily. Makguksu costs 5,000 won (about $5.00USD).
Gwangjang Market: Jongno 5-ga Station (Subway Line 1), Exit 8. Or Euljiro 4-ga Station Exit 4. The food stalls are open daily from 7 AM to 10 PM, but the material and clothing shops generally close around 6PM.
Other Markets at Euljiro 4-ga Station: Furniture shops Exit 8 or 9; Lighting Fixture Stores Exit 1 or 10; Sewing Machines and Parts Exit 3 or 4
Cheonggye Stream: From Exit 3 or 4 of Euljiro 4-ga Station walk north on Baeogae-gil.
Related