We're often asked where the oldest bar in America is found.
Those that are into bars might remark that it's one of a handful around the country, like the Bell in Hand in Boston, or Laffite's Blacksmith Shop in New Orleans. Both are wrong: the building housing Lafitte's is from 1722, but there's no proof the bar has always been there, and the Bell in Hand opened in the 1800's using the name of a different bar opened in Boston's Pi Alley around 1795.
The oldest bar in America is actually just north of New York City in the small town of Tappan, New York, and it's called the Old '76 House (sometimes just '76 House).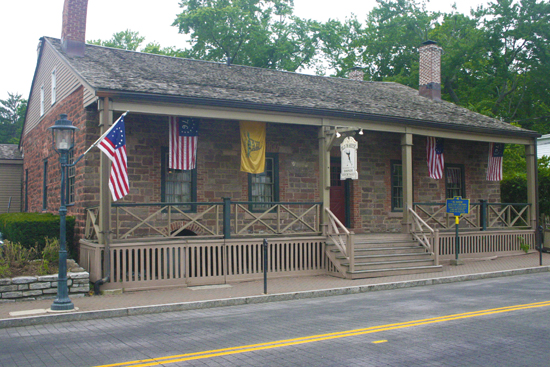 It doesn't look like much: a small, stone building sporting a number of chimneys and just down the street from the Reformed Church of Tappan, another old structure important in its own ways. But though modest looking, the place is incredibly rich in history.
The Old '76 House was built in 1686 by the Dutch Immigrants who founded Tappan. It was established as the town's Public House as a means to gain a land patent (official recognition as a colony) by the Dutch government.
In that time to be recognized as a settlement, whether in Europe or the New World, a town had to have a place to host travelers, receive mail and hold meetings. In other words, it had to have a Public House.
And that's how this bar's life began.
In 1780 the '76 House (known as Mabie's Inn at the time) was used to imprison Major John Andre, the British officer who Benedict Arnold co-conspired with in his plans to turn over West Point to the British Army. While Arnold fled to England, Andre was caught and marched back to Tappan (at the time George Washington made his headquarters there).
He was held in Mabie's Inn during his trial at the Church of Tappan and then subsequently hanged about three blocks away.
In its capacity as jail for Andre (not to mention the fact that it was the only tavern in town), the '76 House is one of the few places that saw not only George Washington, but also many of his generals as they convened for the trial or as they simply gathered for an ale. In other words, there is no doubt, George Washington drank here.
Washington also received the British plans for evacuation of New York City at the '76 House, and some have argued that -- due to the wording of the plans -- this was the first place the United States was officially recognized as a sovereign nation by the British. In other words, we were perhaps first recognized as a country... in a bar.
The tavern today is very much like it was over 300 years ago. There are no rooms to rent anymore, but they serve fine and period cuisine, have a fully stocked bar and live music every night.
This isn't Colonial Williamsburg though: they don't dress like 18th century tavern stewards, and you don't have to eat strange food with weird utensils by candlelight.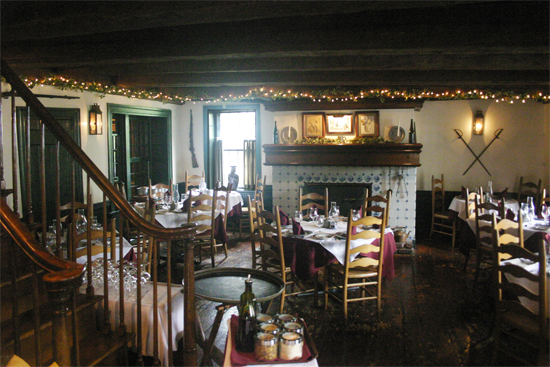 But it does have the feeling of community center that pubs were known for in their day. The interior is comfortable and when a fire is raging in one of the many hearths, a random soloist is manning the baby grand piano, and you're holding a cocktail, you can see why the Dutch Crown required their settlements have places like these.
How to Get Here:
Tappan is located about 24 miles North of New York City. The drive is an easy one and there is a bus line that makes the run from the Port Authority Bus Terminal to Tappan.
Once in the small town, the Old '76 House is found at 110 Main Street.
When to Go:
There's never a bad time to stop in. They feature live music every night in various forms -- from someone strumming a six-string solo or a small three-piece band. Their food is seasonal, so you may find some items removed or replaced by others.
In late September (September 28 this year), the Tappantown Historical Society hosts a long-running Colonial Day that would make this trip especially memorable. Think of it as a celebration of Colonial America. Visitors will see colonial soldiers and musicians, be treated to period arts and crafts, and can try period cuisine.
Nearby Distractions:
When visiting you don't want to miss the nearby DeWint House. This was used as George Washington's headquarters in late September 1780 during John Andre's trial (20 Livingston Avenue).
Also at Summit Avenue and Old Tappan Road is found a monument marking the gallows where Andre, once convicted of treason and sentenced to death, was subsequently hung. It is a quiet and sad monument but somehow puts a bookend on the trip.
Editor's Correction: A previous version of this story stated that Tappan was nestled in the Catskills. In fact, it's in the Hudson Valley. We regret the error.