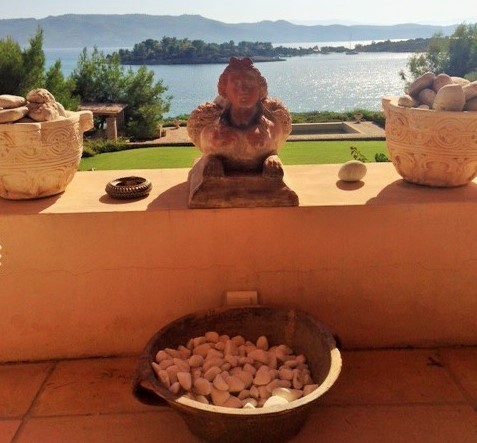 After my recent olive grove/olive oil manufacturing explorations in the Peloponnese, I decided to spend some more time in the rugged mainland part of Greece, called the Peloponnese. The area is rich in culinary and cultural history. It's also the area of Greece that my ancestors are from. So one Saturday morning, a group of us piled into several cars and made the two hour drive to Porto Heli, a small peninsula in the northeast Peloponnese. The area is called the Greek Riviera, and upon first glance you can see why. Porto Heli is nestled between the hills of the Peloponnese and the Aegean Sea. The unique natural environment allows visitors to hike among the pine and cypress trees, or swim in the turquoise waters. The area is filled with beautiful villas. It's become a renowned summer spot for vacationers and beach homes. There are numerous islands just a stones throw away from Porto Heli, including the beautiful island of Spetses. It's not only a great area to explore the culinary delights of the Mediterranean, it's also a great spot for fitness buffs. As luck would have it our trip was perfectly timed with the Spetses mini marathon and swim.

As many of you may already know, I am huge fan of swimming! Running on the other hand, I tend to avoid unless someone is chasing me. That being said, the Spetses mini marathon takes runners past the sea and pine trees, as well as historical landmarks, such as Poseidon Square.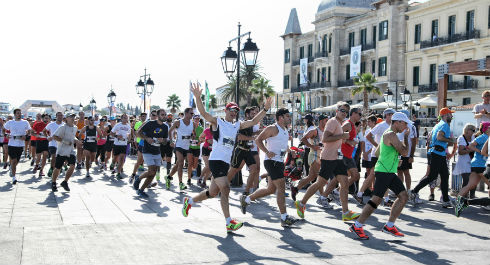 In other words, it's enough to even make a non-runner like me want to put on a pair of sneakers and hit the pavement. The swim is a 2,500 meter or 5,000 meter cross channel swim from Porto Heli to the island of Spetses. The only down side to participating in such a swim is that it's easy to get distracted when swimming in the Aegean. The sun sparkles in the crystal clear waters and makes you want to dive into its depths to explore and chase fish. If you're competitive, that can make focusing a bit challenging. On the other hand, if your idea of sports is more along the lines of a leisurely stroll, there are plenty of trails to enjoy in Porto Heli. I suggest taking one of the trails that provides views of the bay and Argolis Peninsula, or one of the paths through the local olive groves. After all of the excitement and activities a bit of R&R, not to mention sustenance, will definitely be needed.
Rather than staying in a hotel, our group chose to rent one of the beautiful vacation houses in Porto Heli. With all of us sharing the expenses and space, it turned out to be a much more enjoyable option than staying in a hotel. We had our own pool, BBQ and kitchen facilities. Breakfast duties were shared, and we took advantage of the kitchen, making Greek pitas, and sampling local cheeses. I even made biscuits (a novelty in Greece) to go with the farm fresh eggs fried in olive oil. Achillea, who runs Once Upon a Villa, set us up with the house and a water taxi service. I was surprised when he mentioned water taxis to us! They are something that I think of in Venice, but apparently they exist in the Greek Riviera too. Actually I thought this was a really cool and clever concept. Because Porto Heli is so close to the island of Spetses (you can see just how close in the picture below, taken at the house in Porto Heli with Spetses in the far background), there are numerous water taxis taking visitors and residents to the island.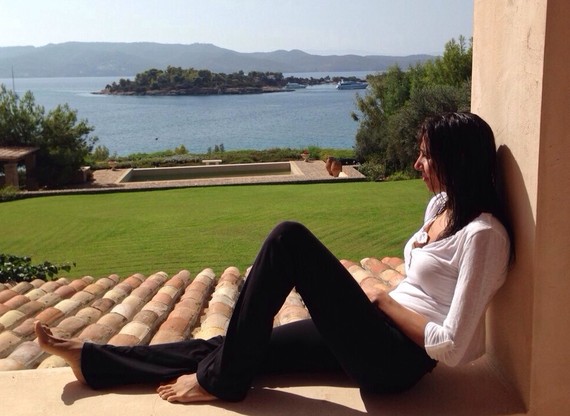 The taxis run almost 24 hours a day, which means an afternoon of shopping, dinner, or a night out in Spetses are all just a 10 minute boat ride away. Had they known, I wonder how many of the cross-channel swimmers would have turned in their swimsuits and opted for a taxi to get to the other side?
Even though we took advantage of our access to a kitchen, we also spent some time exploring the restaurants and tavernas of Porto Heli and Spetses.
My personal favorite was Hinitsa Taverna in Porto Heli. A taverna is a restaurant that's typically a mom and pop run facility. The food served in a taverna is simple traditional Greek cuisine: boiled wild greens, Greek salads, grilled octopus. Hinitsa is a small seaside taverna, with one side facing the beach and the other side facing the hills (where wild horses and goats can often be seen roaming). Most of the produce they use at Hinitsa comes from their onsite garden. My favorite dish that day was a simple plate of thin strips of zucchini battered and lightly fried. I am seldom one to favor fried foods. However, the zucchini was so sweet and tender, and the batter so delicate, it was like no fried vegetable I had ever eaten!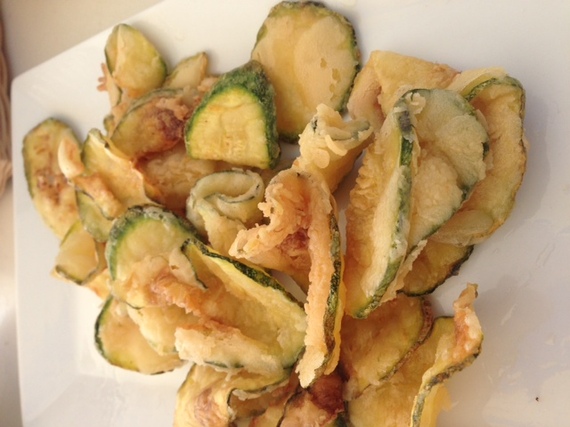 That night we took one of the water taxis over to Spetses and dined at a seaside restaurant called To Nero Tis Agapis which translates into The Water of Love. Let this be further proof of what I say when people ask me whether or not the financial crisis has made Greece unsafe, (even when naming their restaurants) Greeks are lovers not fighters! To Nero Tis Agapis is a wonderful restaurant to visit when you want to enjoy some local seafood or a dish of homemade pasta. I loved their taramosalata (a dip made with fish roe), the octopus and olive Carpaccio, and their black tagliatelle pasta with local squid.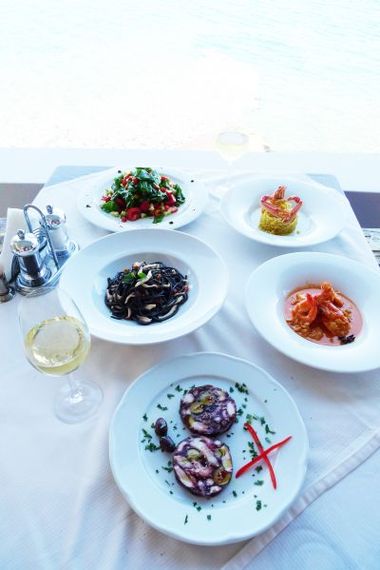 Another great restaurant to enjoy on the island of Spetses is Tole. Tole has a creative appetizer menu that is perfect to snack your way through with a nice glass of Greek wine. The dishes are highly creative and influenced by seasonal ingredients. Of course in Greece cooking locally and seasonally is not a new concept. It's simply a way of life. As a result, dishes are often kept simple, allowing each element on the plate to shine through. At Tole, be sure to try the grilled octopus and squid served with an eggplant salad, and the grilled vegetable plate served with Katiki (a type of Greek cream cheese, but so much tastier than what we Americans think of as cream cheese) and fresh herbs.
For a fun night out, Bikini Bar is a great spot to end the night with music and a cocktail before hopping back onto one of the water taxis.
Heading back to Athens, I decided to savor the last little bits of the Peloponnese; like the last few dregs of sauce that you soak up at the end of a meal with a bit of bread. I insisted we stop at almost all the roadside stands that dotted our path, selling local products.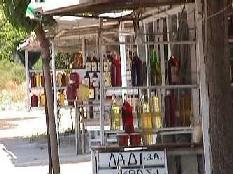 I purchased bags of zucchini no bigger than a child's finger, and large curly heads of green cabbage. I bought a jar of golden pine honey and honey comb from a man with a broad and gummy smile. He had gathered the honey himself, in the fields just beyond the small stall where the jars were proudly displayed. Suddenly it seemed like the villas and water taxis of Porto Heli were a million miles away.