Kensington Tours' Explorer in Residence, Simon Donato, is an adrenaline adventurer who left his life as a geologist behind to take on the toughest terrains on the planet. He is a current member of the Explorers Club and star of the TV show, Boundless, in which he documents the many gruelling endurance races he and friend/co-star, Paul Trebilcock, take on around the world.
Recently, Donato took off on an adventure through the dramatic landscapes of Namibia -- experiencing the country's vast desert, salt pan, beautiful coast and unique wildlife. Donato shares his personal experiences from his trip and reflects on what makes Namibia such an exceptional destination.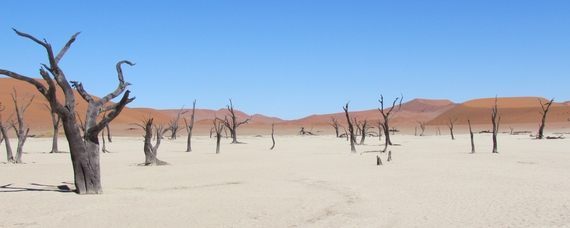 When most North Americans romanticize about Africa, they think savannah, safaris and khakis. Africa, however, is a continent possessed of such varied terrain, climate and creatures, that it might as well be a series of islands.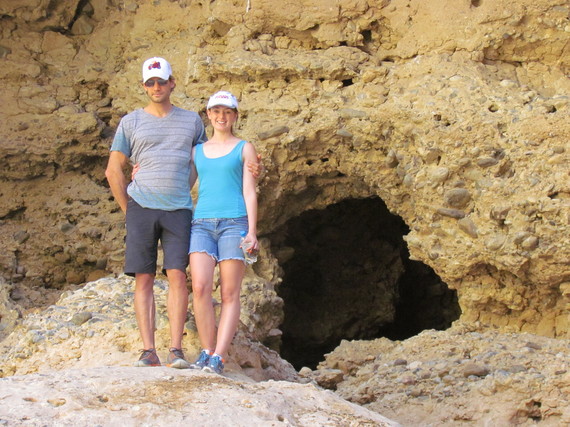 Don't get me wrong, the Big Five safari is an incredible experience to have in Africa, but it's not the only experience. Most tourists will visit South Africa's Kruger National Park, Kenya's Masai Mara, Tanzania's Kilimanjaro, Botswana's Okavango Delta and Zimbabwe's Victoria Falls, but find themselves longing for more. I'm one of those lucky enough to have experienced many of Africa's incredible highlights, but there was one location left on my bucket list. For those willing to get off the beaten path, Namibia is a traveler's paradise with unlimited potential to explore.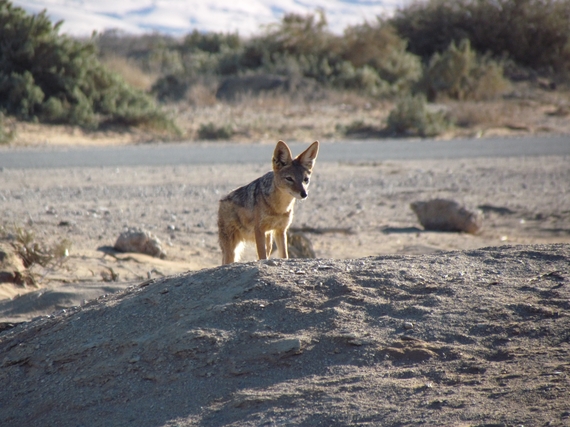 Namibia has been at the top of my travel list for several years, and in November, I was finally able to carve some time from the filming of Boundless for a ten-day sojourn with Kensington Tours. Despite all of Africa's tourism offerings, I have always been drawn to the vastness of deserts. I find deserts and arid landscapes highly evocative, for despite the razor sharp contrast between sand and sky, life and death; flora and fauna manage to exist in the harshest of conditions. The otherworldly landscapes of Namibia are home to cheetahs, lions, giraffes, elephants, jackals, hyenas, wild dogs, hippos, zebras, warthogs and countless other animals -- making for incredible wildlife viewing.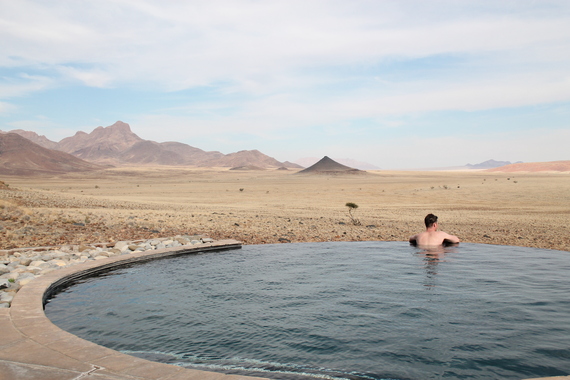 Arriving by air, I was quickly whisked away to my luxurious desert getaway, from which I was able to enjoy the allure of the Namib-Naukflut National Park, and of course, the renowned Sossusvlei. The massive National Park is famous for the sand sea it envelops, home to the tallest dunes in the world. The park has been designed to support tourism, with easy road access into the largest and most scenic dunes, as well as to a number of other interesting sights, such as the fairy circles and Sesriem Canyon.
The dunes themselves are famous for both their large size and vibrant red color, which is derived from the presence of oxidized iron bearing minerals. While the entire region is often called Sossusvlei, the name actually refers to a vegetated clay pan at the end of the ephemeral Tsauchab River, which flows into the park along an acacia-lined river bed, but terminates against a wall of dunes. The real draw for nature lovers though, is the opportunity to drive the coastline to the isolated and very scenic Sandwich bay, approximately 50 kilometers south of town.
Unfortunately the "road ends" at Sandwich Bay -- access is restricted to the south as it's part of the diamond bearing region. North of Swakopmund is the aptly named Skeleton Coast -- a desolate and generally inhospitable stretch of coastline littered with shipwrecks, seal colonies and a variety of corpses, from whales and seals to sailors. It is all accessible for the adventurous and well supplied tourist, as most of it can be reached in a sturdy four-by-four vehicle.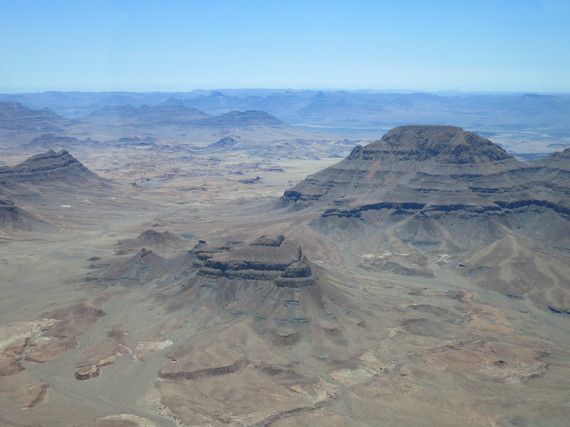 A short flight north from Swakopmund will take you a region named Damaraland. En route, you will fly by Brandberg Mountain -- Namibia's highest peak at 2,606 meters. Formerly known as Fire Mountain, it held great significance to ancient hunter gatherers who left behind innumerable rock paintings and rock shelters on the massif.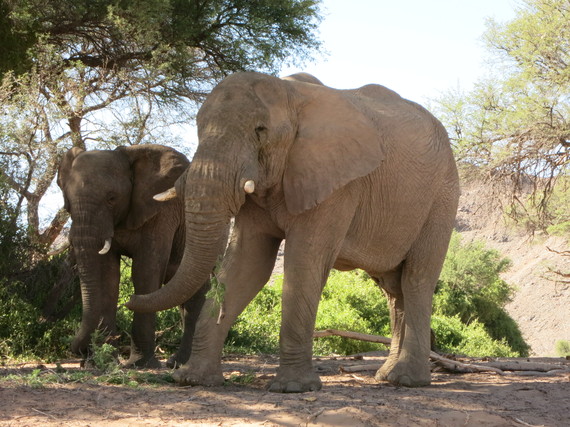 The Damaraland region features flat topped mesas that can be hiked and ephemeral river valleys teeming with wildlife. The river beds remain vegetated due to groundwater, and are home to herds of desert adapted elephants, the rare black rhino, giraffe and a wide variety of antelope and carnivores, including lions.
Further north, the climate changes drastically and vegetation becomes more ubiquitous. The resulting savannah-woodland habitat supports a very large population of animals, and Etosha National Park is therefore one of the premier spots for wildlife viewing in Namibia. Named by the Herero for the giant, white salt pan (less than 6,000 km2) that can be viewed from space, Etosha is a must for wildlife junkies, but also provides a juxtaposing safari experience to Damaraland and Sossusvlei.
Namibia is a country of extremes, but it is well set up for tourism, and today's traveler can choose between cherry-picking the hot-spots via intra-country flights, or the taking the road less travelled with a four-by-four experience. Either way, there is much to see in this unspoiled, and uncrowded gem of a nation. It's no wonder that it's a burgeoning tourism hot spot. Just one small request -- please leave the khakis at home.
Popular in the Community