Juarez, Mexico use to be pretty raunchy. When we began going at 17 or 18 years old, the main strip (Juarez Avenue) was made up of bar after bar; it was a 3 lane, one-way street lined on both sides with flashing neon signs and rhythmic beating from speakers pointed out to the street.
Then in 2010 Juarez became the murder capital of the world. Thousands of people died in this city as an outcome of a violent war between two rival drug gangs. As a result, tourism - the economic driving force of this part of city - all but dried up.
The nightclubs were shut down; the neon lights were turned off.
At some point, the Mexican Government clamped down. They razed Juarez Avenue, getting rid of virtually anything that could be used by the cartels and forever changing what we used to know. And we were surprised, now in 2015 as we walked over the bridge to this border city, to find the buildings on each side of the strip painted a clean white. There were 15 foot sidewalks on either side of Juarez Avenue, clean and free from the grit and grime the previous concrete had worn. There was no foul smell. There were no taxi drivers offering to drive us to "the girls" or "the donkey show" (use your imagination).
Instead we saw the following, in order: dentist office, eye-doctor, pharmacy. This pattern repeated itself for blocks, broken on occasion by the rare souvenir shop or bank or some other random business. And we counted about five bars on the whole of Juarez Avenue from the bridge to the main square just blocks from the cathedral.
But at one point we came to a building with a large painted window exclaiming the "World Famous Kentucky Club" and so we ducked in.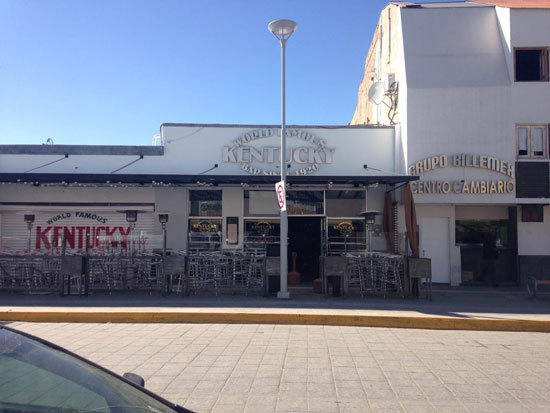 It takes a moment for the eyes to adjust to the dull green lanterns inside, but when they do you find a saloon that could be just as at home in Lower Manhattan as it is here. There's a long bar reaching out in front of you to the dark recesses in the back. There were a handful of flat screen televisions scattered around, each tuned to ESPN. One man sat on a bar stool, looking out the door at the passersby and nursing a beer. Three or four waiters and bartenders milled about, washing glasses, exchanging stories and laughing. It was quiet, dark and peaceful.
Behind the long bar sits a rich, coffee-brown and ornately carved bar back, stretching up to the ceiling, holding an array of tequila bottles and large, heavy mirrors. It was carved in France in 1935 specifically for the Kentucky Club and shipped to Juarez to be assembled here. It's graced the bar ever since.
The bar itself sits on a tiled wall that sports a pretty old feature - a trough running the length of it. If you're not familiar with these they sit just above the floor, right below your feet if you're sitting. But understand there was a time when you didn't sit at a bar; you stood. And if a man didn't want to leave the bar and had to relieve himself, the trough was convenient. We didn't examine it too closely, but we don't think it'd been used in a while.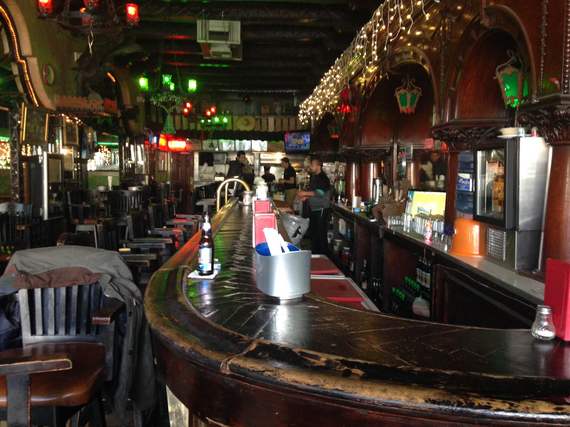 All in all, the Kentucky Club wears its 96 years like a cherished piece of antique furniture - with patina and a few scars, but graceful and proud nonetheless.
Founded in 1920 the Kentucky Club was opened two years into prohibition. It was a wise business decision. Being only a short walk from downtown El Paso, Texas, USA, Ciudad Juarez, Mexico was ready and willing to help thirsty Americans quench their thirst.
And apparently the Kentucky Club was one of the finest. This is evident from the array of local and Mexican celebrities whose portraits line the walls and who were kept tipsy here.
Picture after picture show smiling Matadors and members of the local Juarez baseball team - part of the Mexican League formed in 1925 - all perched in dusty frames along the side wall above small, intimate booths.
There were also a number of celebrities, from the 1920s on, who have visited this classy bar. A number of movies, especially cheaply made westerns, were shot in the area, and so for thirsty movie stars it was an almost sure thing that they'd turn up at the Kentucky Club. The list includes the likes of John Wayne and Steve McQueen. It's easy to picture them drinking here.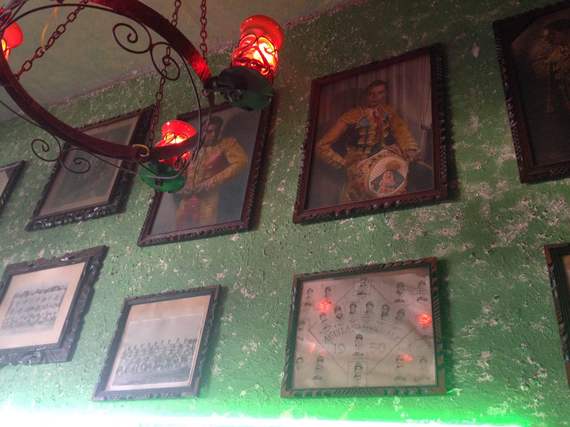 The place was well known to many other dignitaries passing through as well, especially after bartender, Lorenzo "Lencho" Hernandez reportedly created what became their signature drink, the Margarita, in the 1930s.
Now this is one of about four Margarita-invention stories out there, and possibly one of the most recent. It's pretty unlikely that it was invented here (as opposed to Ensenada or Acapulco). But in any case the drink is well made at the Kentucky Club, using the classic recipe of tequila, sweetened lime juice and a bit of Controy (Mexican orange liqueur) served in a rocks glass with a salted rim.
And the price certainly couldn't be better. We paid $3.00 each for a Margarita and a beer. Across the border that would have cost about $12.00.
The look and feel of this place is all East Coast, big city cocktail bar - not border city cantina. You could take this place and drop it in Chicago, Boston or New York and it'd feel about the same - with the exception of the few nods to their Mexican heritage, like the giant, dust covered, stuffed Hawk perched facing the bar (which has probably been there since opening).
We didn't try the food but they do have a full kitchen and it smelled great. The condition of the bar is clean and warm. The ambiance is a bit dark, but secure and safe.
To be honest we weren't sure what we'd find when we made the trek to the Kentucky Club. The drug war this town saw closed many of the businesses in the cross-fire: as the tourists stayed across the border many of these businesses slowly faded away. We were afraid the Kentucky Club was another casualty. Luckily though, it's persevered.
This is not the Juarez we knew, and it's certainly not the type of bar we used to go to here. This place has class, and it's a place we hope to go to many more times in the future.
If you ever make it to El Paso, do yourself a favor and steel your nerves, walk over the bridge, and have a Margarita at the Kentucky Club.
Where: The World Famous Kentucky Club, Calle Juárez S/N, Centro, 32000 Juárez, Chih., Mexico. (If you want to see something fun, use Google Map's Street View to see what Juarez USED to look like, it was recorded in 2009). Be sure to bring your passport when you visit, you'll need it to get back across the border.
When: The region is graced with great weather so there's no bad time of the year. We have no idea what this place is like at night, but by the looks of things it's certainly much tamer than it used to be. The bar opens about noon and stays open until about 1am.
What to drink: A Margarita is a must. If you've done that, or want something different, ask for a classic drink, an Old Fashioned or the like, they'll know how to make it.
Popular in the Community