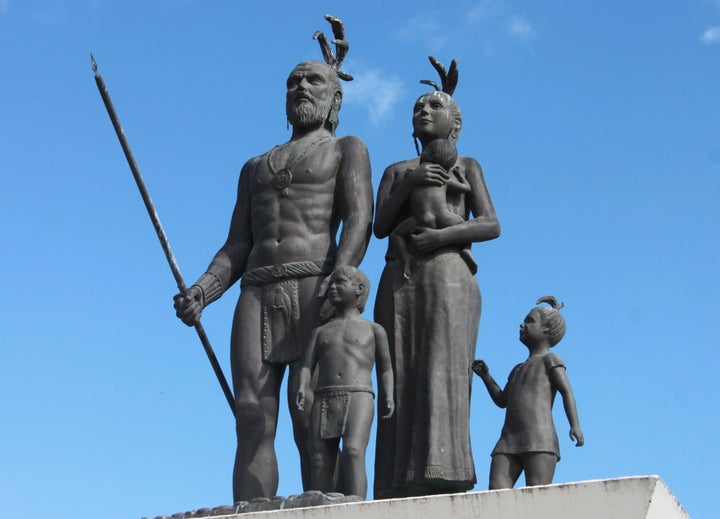 The repainted school buses that run from Belize City up to Mexico fill with old white men in coveralls, young creole girls in beachwear and Garifuna in straw hats before disgorging their contents across the border into a crowd of Mestizos hawking their goods and offering rides into Chetumal. There are so few tourists here that drivers rarely overcharge. They zip smartly up the highway toward the city's commercial district, slowing only slightly as they swing around a roundabout near the airport where a statue of what looks to be a Maya family does their best Mexican Gothic.
Despite feathered headdresses and loincloths, the family depicted in the statue is not Maya. Not simply Maya anyway. The man is Gonzalo Guerrero, a Spanish sailor whose adventures -- amorous and otherwise -- have made him a hero in this town, which refers to itself as "The Cradle of the Mestizo."
The Yucatan is dominated by Mestizos, a term used for all mixes of native and European peoples but most frequently used with regards to the Maya. To walk down Chetumal's neatly planned boulevards is to remember something crucial about the ignominious fate of Maya culture: Tradition has been losing a war with lust for a long time. One could call it an apocalypse of love.
Gonzalo Guerrero's story is completely preposterous. Originally from Palos, in Southern Spain, Guerrero was shipwrecked while sailing toward Panama in 1511 and washed to shore with much of his crew in what is now Quintana Roo, where he was promptly enslaved by the Maya leader Nachan Can. Rather like Twain's Connecticut Yankee, Guerrero used his knowledge, particularly about war, to ingratiate himself with his captors and was eventually allowed to marry his owner's daughter, Zazil Ha. And so the story goes, the first mestizo children were born.
All was well until Hernan Cortes arrived in 1519 prepared to attack the Yucatan in the name of king and country. Having heard rumor of Guerrero, Cortes sent him a missive asking that he rejoin his former compatriots and fight on Spain's behalf. Guerrero's curt reply is preserved on a plaque in front of the statue in Chetumal.
"I am married and have three children and they look on me as a lord here and captain in time of war," reads the inscription, taken from Bernal Diaz's History of the Conquest of New Spain. "My face is tattooed and my ears are pierced."
Though it isn't written in stone (or on a metal plaque) anywhere in town, it is worth noting that Guerrero went on to brag about how "handsome" his children were.
The men and women shopping for Christmas decorations in Chetumal's main market, which itself is decorated with a relief devoted to Guerrero, could certainly be called attractive. They share a common build, a khaki skin tone and piercing eyes. They also share a single common tongue. Amid a crowd of tailors, shoe shine boys, butchers and grocers, I couldn't find a single person who spoke any Maya dialects. Most Chetalumans told me they were part Maya; some, including a taxi driver whose grandmother was pure-blood Yucatec, even knew which part. Not a single person, though, despite professions of Mestizo pride and the proximity of the Museo Cultural de Maya, full to the brim with artifacts and scale reproductions of nearby sites, admitted to observing any Maya customs.
Still, many of the colorful ranch homes in Chetumal have Mayan inscriptions above their door frames near terra-cotta images of Mary. The city has used Guerrero's story to cheerfully launder its history.
If Guerrero and his wife cheerfully gave birth to the first Mestizo children, the following Mestizo births were likely somewhat less joyous. As numerous historians recount, the Spanish attacked Maya woman with a ferocity that nearly matched their religious hypocrisy. A massive population, one that retains at least its genetic Maya-ness, was born of abomination. The Mestizo race can be said to be an unwanted advance.
And there is something decidedly advanced about the Mestizo identity. As the world's population cheerfully intermingles its way toward a shade of brown, there remain few places that actively honor what was once sneeringly called "miscegenation." One might ask why there still isn't a Guerrero-style monument to Jefferson's love at Monticello and conclude that most cultures lag behind Mestizos in terms of accepting and celebrating their mixed racial identity.
In Chetumal, the celebration is in full swing. Along a winding road fronted by half-built spas and tiki-style bars, a massive Christmas display features a choir of angels shaded to suit the neighborhood. Up the block, a girl poses for photos in front of a sculpture of a Maya fisherman. She poses enthusiastically, confident in her own handsomeness.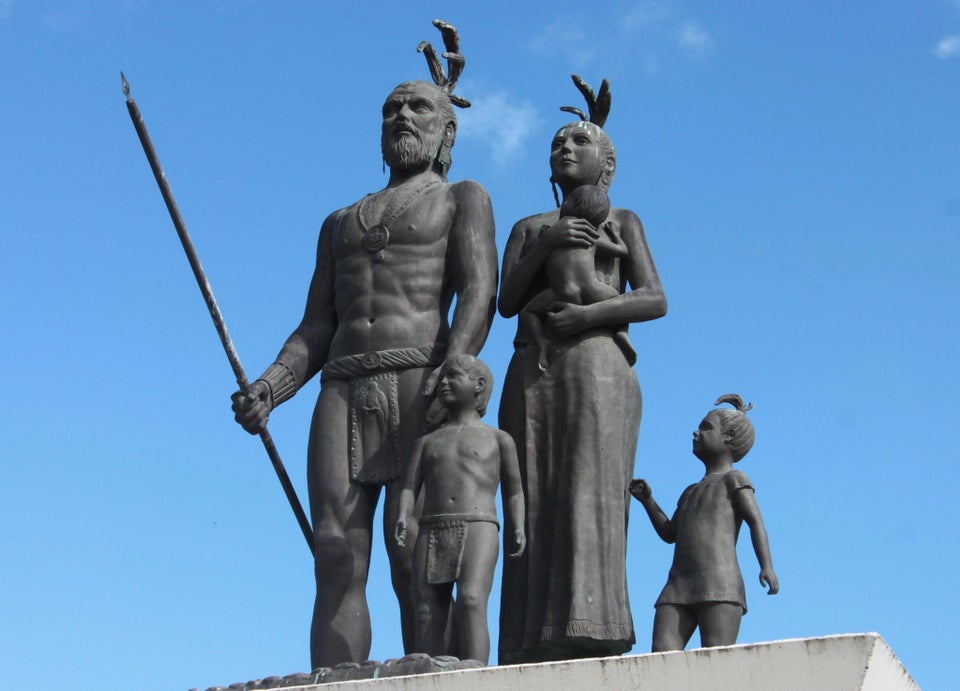 Mestizo Culture in Chetumal