President Donald Trump's job approval rating has declined over a 10-day period in which Congress debated a Republican proposal to repeal President Obama's Affordable Care Act and then abruptly pulled the bill from the House floor.
SurveyMonkey's previous full-week national tracking poll, released this past Friday, found 42 percent of Americans approve of the the job Trump is doing as president, a decline of four percentage points from the previous week.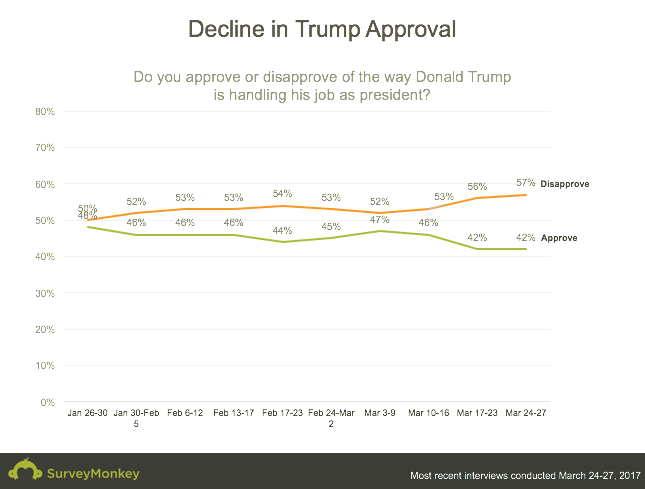 Tracking between Friday, March 24 and Monday, March 27 shows Trump's approval rating holding steady at the new low of 42 percent, though his disapproval rating clicked up a single percentage point (from 56 to 57 percent). That relative stability over the past weekend differs from some other public polls that found a more pronounced drop.
The downward trend in overall Trump approval over the past week or so extends to those with strong opinions. Just 22 percent now say they strongly approve of his performance as president (down from 26 to 28 percent during the first eight weeks of Trump's term), while more than twice as many (46 percent) strongly disapprove (up from 41 to 43 percent). The current levels represent the lowest strong approval and highest strong disapproval so far of the Trump presidency.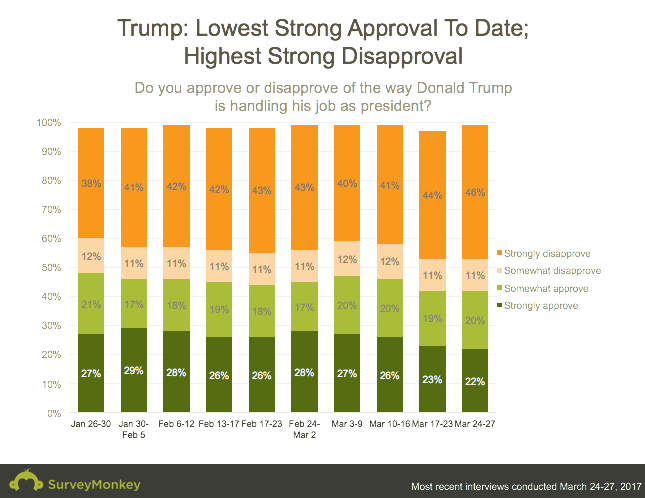 The slight downward movement in Trump's overall approval rating cuts across party lines, with declines of a few percentage points since March 17 in all partisan subgroups. That said, the intense polarization about the president remains, with most Republicans expressing approval and Democrats overwhelmingly negative.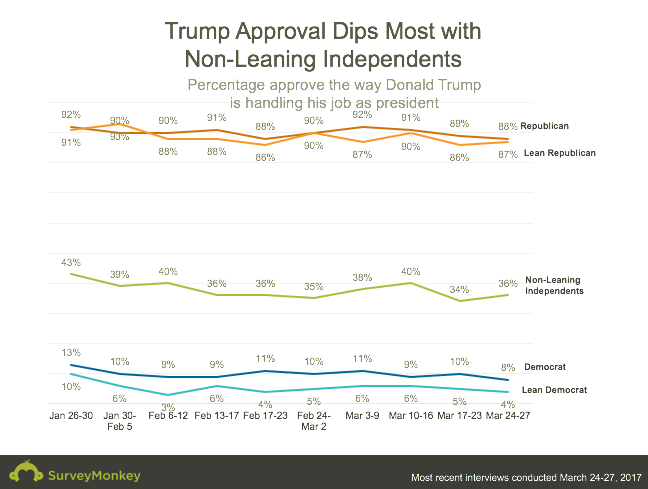 Though not shown in the chart above, the partisan polarization fades somewhat when it comes to intensity of opinion about Trump. Specifically, a much greater share of Democrats and Democratic-leaning independents saying they strongly disapprove of Trump (80 percent) than the share of Republican and Republican-leaning independents who say they strongly approve (56 percent).
Compared to two to three weeks ago, the overall decline in Trump approval looks steepest among Hispanics, down more than ten percentage points from a high of 36 percent to 25 percent on the current survey. However, this relatively small subgroup also shows more variation, with the Trump's relatively high marks in early March standing out as more of the exception.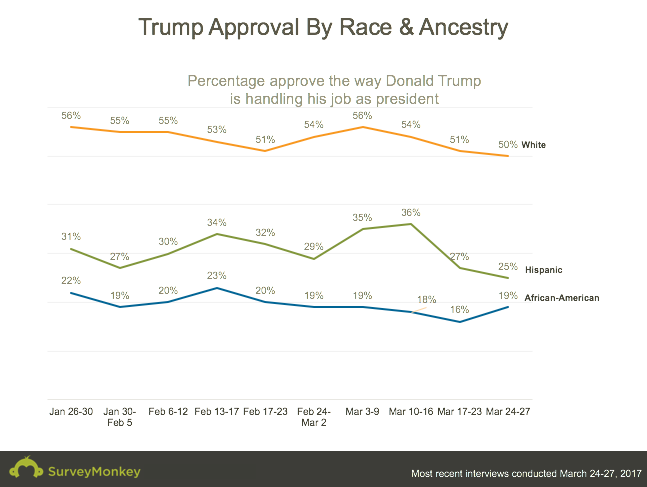 How much does the decline owe to the debate and ultimate downfall of the Republican health care proposal? SurveyMonkey's tracking found little or no change in reaction to the bill over the past two weeks, at least when described as a health care plan that would "repeal and replace" President Obama's Affordable Care Act. As of last week, just 41 percent favored and 55 percent opposed the GOP plan.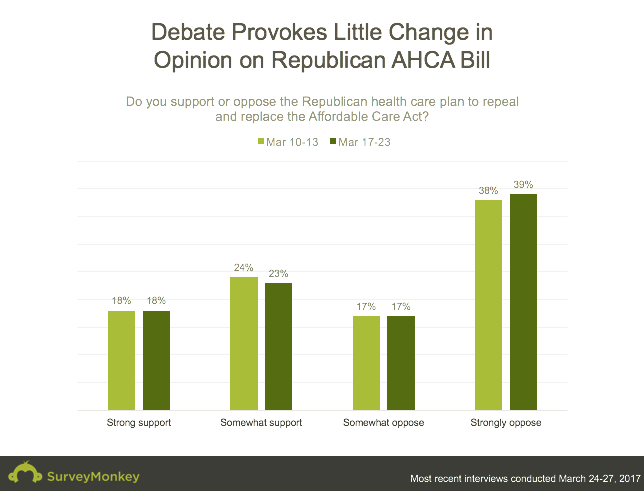 Similarly, opinions about the Affordable Care Act itself have remained mostly stable throughout March. As of last week, Far more preferred to either let the Act stand (17 percent) or "change it so it does more" (46 percent), than to repeal it (26 percent) or "change it so it does less" (7 percent).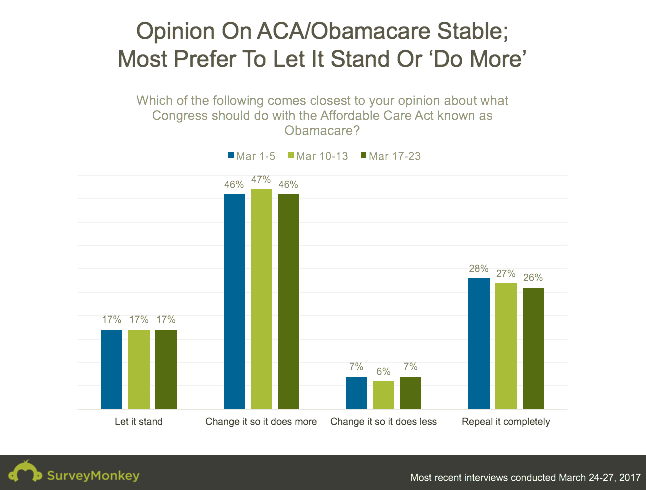 What did change significantly over the past two months has been the perceived importance of the health care issue, rising from the mid-teens to 23 to 24 percent since mid-march. Over the past two weeks, almost as many Americans name health care as their top concern as jobs and the economy (at 25 percent).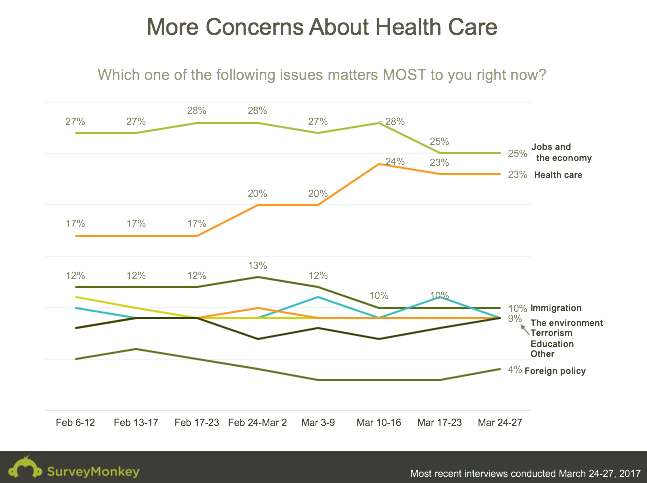 Thus, the very high profile given to an unpopular Republican proposal backed by the president created the political environment in which Trump's approval rating has declined. The open question, as always, is whether that environment will change as Washington moves on to the next big debate.
Methodology: This SurveyMonkey Tracking poll was conducted online March 24 through March 27, 2017 among a national sample of 6,495 adults ages 18 and up. The previous tracking poll was conducted online March 17 through March 23, 2017 among a national sample of 12,306 adults ages 18 and up. Respondents for both surveys were selected from the nearly 3 million people who take surveys on the SurveyMonkey platform each day. Data for this week have been weighted for age, race, sex, education, and geography using the Census Bureau's American Community Survey to reflect the demographic composition of the United States. Full topline results and detailed demographic breakdowns for the March 24-27 poll can be viewed here, toplines and breakdowns for the March 17-23 poll can be viewed here.
This article is cross-posted to the SurveyMonkey Election Tracking blog.
Popular in the Community