When you grow up in a big city like New York or on a small island in the Caribbean, visiting national parks or even spending time in the great outdoors isn't exactly the norm. It might even lead you, later, when you're a young adult in a big city, to consider camping and trekking into the woods to be a hardship rather than a vacation.
It wasn't until I married an outdoor-loving man from Wisconsin that I even entertained the notion of vacationing in a national park. Of course, my first experience consisted of ill-packed, oversized suitcases and poorly prepared food that didn't even tempt the raccoons, but I still walked away from my first trip hooked on the outdoors. Now I'm determined to nurture my newfound passion for our national parks and pass on that love to my children.
The park that sold me on the great outdoors? Yosemite National Park. The grandeur of this park filled me with respect and awe. My kids loved climbing the rocks by the waterfalls. My husband and I were more partial to the long hikes and sunset views of the half dome and other majestic cliffs. The beauty of Yosemite is that it has something for everyone.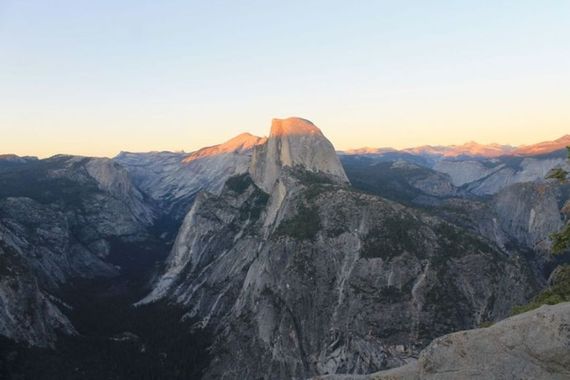 Half dome at sunset -- Image by Girl Gone Travel
One trip to Yosemite is never going to be enough to see it all, which is why so many travelers return year after year. Make the best of your time at Yosemite National Park thanks to these tips.
The beauty of Yosemite National Park is that you can choose to either camp out or opt to stay in a lodge. Be warned though, a summer trip requires advance reservation for both the on-site hotel, the Ahwahnee Hotel, or any of the campgrounds. If you are unable to plan your visit too far in advance, there are many alternatives right on the borders of the park grounds. Check out the official Yosemite National Park website for options.
That said, there really isn't anything quite like being right in the park. Can't make a summer reservation? Don't worry. Winter at Yosemite is less popular, but equally gorgeous.
Embrace the outdoors through a family hike
When you're at home, it's often hard to convince your kids to disconnect and come take a hike with their parents. The beauty about visiting national parks with them is that there are few electronics and limited access to WiFi. This makes it the perfect time to hike together as a family. Throughout the park there are plenty of trails and hiking opportunities. Take it slow and easy and enjoy being surprised by what your kids can accomplish. Make sure that first hike is an easy one and work your way up from there.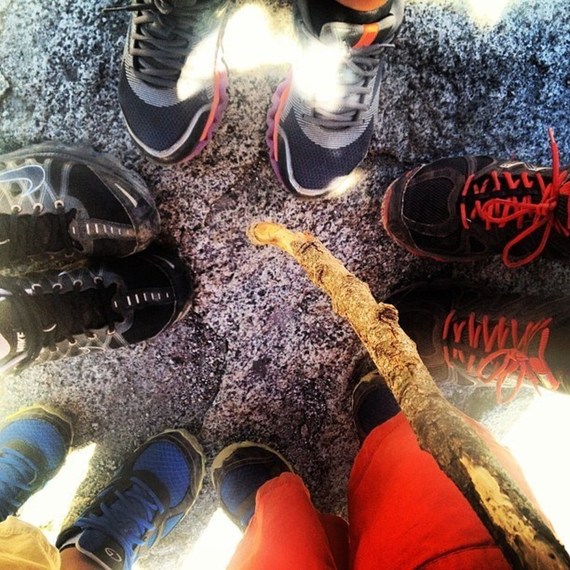 The family that hikes together, stays together - Image by Girl Gone Travel
One of the best ways to motivate your kids to go on a hike through the forest is to promise them a dip in any one of the park's bodies of water. Of course, there are a few places where swimming is not allowed, but, as long as you are cautious, you can find a spot to swim in easily enough at Yosemite. Our favorite, despite the frigid temperatures, was Tenaya Lake, which you'll find between Yosemite Valley and Tuolumne Meadows. At an elevation of 8,150 feet, this alpine lake is freezing even in the middle of the summer. But after a long hike, it's an incredibly refreshing way to cool-off. My kids not only enjoyed drawing the lake, but also jumping in.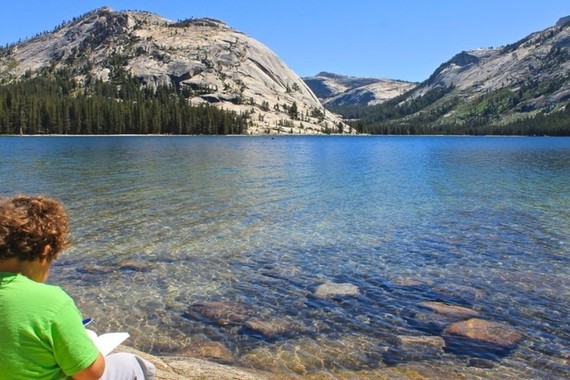 Taking in the views before the swim - Image by Girl Gone Travel
Witnessing and respecting nature
Over the course of our time in the park, we saw a lot of wildlife. Sadly, we witnessed many people interfering with the animals they encountered. I took advantage of the situation and turned the examples we observed into teaching moments. I explained to my kids that when we see wild animals, our role is just to observe from afar and leave them alone.
It's OK to want to sit back and relax, too
Often, when traveling with kids, parents tend to focus all of their time and resources on figuring out the many ways in which they can entertain them. The beauty about visiting a park like Yosemite is that everything one can do is already there, and the best way to enjoy it all is to keep a slow and steady pace, all while embracing the fact there's no way to cover the entire park in one trip. Good news. If all you really want to do is just lie down and enjoy the moment, well, that's exactly what you're meant to do.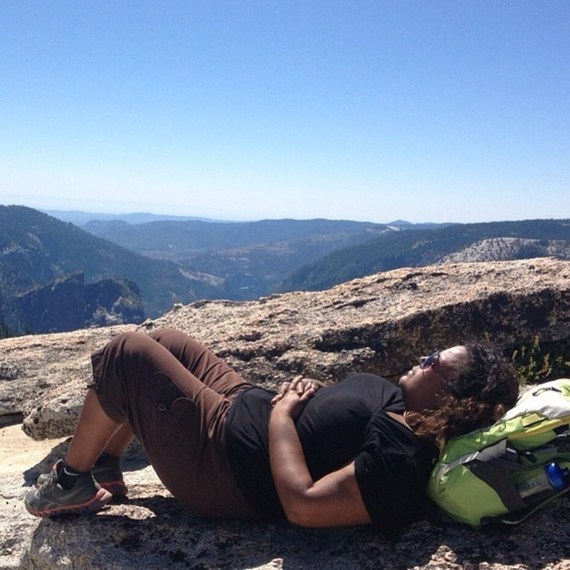 There's no need to rush and hurry here - Image by Girl Gone Travel
Throughout the year, the National Park Service releases a list of Free National Parks Day for those of you who want to check one out out before heavily investing in a trip to Yosemite or any other national parks. And don't forget, if you have an incoming 4th grader, your entire family has free access to national parks this year!
Popular in the Community