Why on earth would I suggest someone new to traveling to start in one of the busiest places on the planet? A good introduction to traveling should begin with an enjoyable experience and if you can conquer the world's most populated city, amongst 35 million people, you will build the confidence you need for your next vacation.



Exploring Tokyo is a good option for the first time traveler overseas looking for, well, just about anything. This is one of the reasons to visit the greatest metropolitan area. People still help people here, making it a good choice for those looking to get the hang of traveling.
One thing you will notice as you make your way off the jet bridge in Narita International Airport for the long walk to the customs and immigration areas is the politeness of those you encounter and the silence of those around you. This trend will continue on the subway and metro systems to different tourist destinations and even the world's busiest intersection where close to 2,500 people cross the street every few minutes.



Don't be shy, the people here are the friendliest I have ever met! In Japan asking for help or directions is not something to be nervous about as communicating in this country is rather fun. The younger generation loves to work on their English if they aren't yet already fluent and will also point you in the direction of their favorite place you inquire about whether it is a quiet park to enjoy the serenity of a garden of a busy nightlife area.
Travel safety is always a concern, especially in big cities, and many of you may be surprised to learn that the largest city on earth also has one of the lowest crime rates. Tokyo is actually one of the safest cities in the world where even petty street crime, which happens in any size city, is relatively unheard of. This added aspect of security in itself gives Tokyo a distinct advantage over many top tourist destinations with unimaginable cityscapes. Get more tips on staying safe on the WanderingTrader travel blog.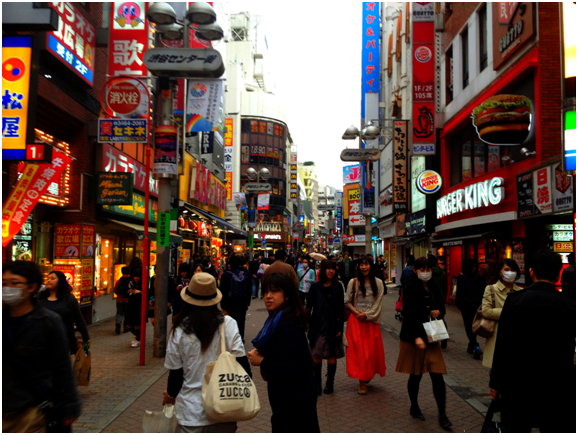 Navigating to the many unique shopping districts and tourist destinationsis easily done on an efficient metro designthat makes exploring a city this size relatively simple. Buses, trains and subways crisscross repeatedly so make sure to pick up a few maps to get to where you are going and maximize your time exploring and minimize picking the long way around to utilize the same transportation system.
Be sure to look into special unlimited ride day passes specifically for travelers, like you, so as not to miss out on what Tokyo has to offer.
Free tours for tourists? Yes, there are several tours that can be arranged, for free, at different sites in the city hosted by multilingual volunteers. If your interests range from sumo wrestling, traditional gardens, tea ceremonies, architecture or more, there is a free tour offered by the metropolis of Tokyo.