Authorities say a small explosive that mutilated a young man's foot in New York City's Central Park Sunday morning was likely a homemade "experiment" that had been left by pranksters, according to local reports.
The blast severely wounded the 18-year-old tourist after he stepped on the device while climbing on the park's rocks around 11 a.m. The victim, identified as Connor Golden of Fairfax, Virginia, had to have his left leg amputated just below the knee, the victim's family told The Washington Post.
A partially disintegrated matchbook was found nearby, suggesting that someone perhaps had tried to detonate it Friday. It was likely abandoned when it wouldn't go off, The New York Daily News reported, citing a high-ranking police source.
"It was not set up with any sophistication. If he was going to harm people, he wouldn't have put it far off the path. They also would have put some nails or ball bearings in it," a police official told The Daily News.
The victim's friends appeared just as shocked and confused as everyone else and denied carrying fireworks when questioned shortly after.
"We don't know what happened. There was a small explosion and then dust," one of two friends told reporters at the scene.
Golden's grandmother, speaking to The Post, said her grandson is an avid rock climber and music engineering student at the University of Miami. He had gone to NYC to visit friends for the Fourth of July weekend.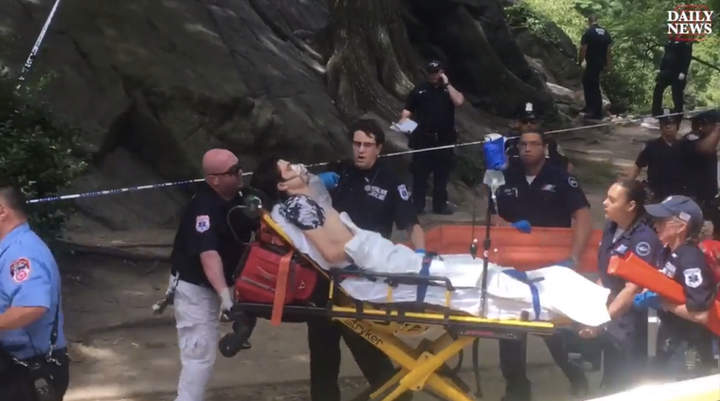 "I get chills wondering if Connor knows yet whether his leg has been amputated," his grandmother, Roberta Golden, said.
"Hopefully it's going to work out for him. This is a life-changing thing for this poor young man," Terence Golden said.
Initial reports said Golden was in critical but stable condition at Bellevue Hospital.
Witnesses described hearing the loud blast from several blocks away.
Nir tweeted that she ran to the scene, where she "found a young man with his leg blown off." 
New York City Mayor Bill de Blasio tweeted a story about the incident, asking people to leave fireworks "to the professionals."
Consumer fireworks are illegal in the city. 
This story has been updated to include new details on the explosive device and victim.
Calling all HuffPost superfans!
Sign up for membership to become a founding member and help shape HuffPost's next chapter
BEFORE YOU GO