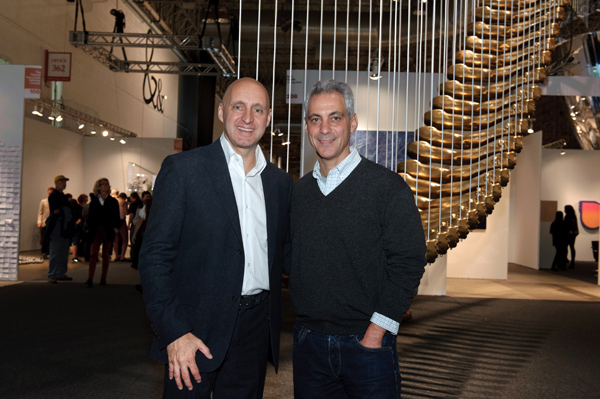 EXPO/CHICAGO President and Director Tony Karman with Mayor Rahm Emanuel
The Figures are in from Expo Chicago 2013 and it is confirmed. Now in its second year under the aegis of President and Director Tony Karman the recent September Art Fair has become the third Basel.
While the current Art Auctions which are captivating New York with skyscraper prices and speculations are about Commerce, Collecting and the BEST of What Money can Buy and Sell, The Art Fair/Exposition marries Commerce with Expositions, Museum Curator Lectures, Visiting Collectors, Experimental Artist Offerings, and in the case of 2013 Expo Chicago all that combined with IN/SITU Installations and Prizes Awarded to New Artists.
While Masterpieces and Mammon rule at the Auction Houses this fall, the Art Fairs, particularly the 2013 Expo Chicago from its long indoor pier jutting out into Lake Michigan focus on Collectability, Dialogue, and a Forum of Communication for the Gallerist, Collector and Artist.
And for the gallery owner, Dialogue turned 2013 into new sales."Business at Expo Chicago this year" Paul Gray, princely dealer of Richard Gray Gallery, Chicago, shared, "was significantly improved from last year. We experienced greater and more substantive attendance and booked nearly a dozen purchases ranging from a David Smith at over a million dollars, an Arshille Gorky work on paper from 1946 in the mid-six figures as well as works by Jaume Plensa, Rashid Johnson and other mid-career and emerging artists. The activity in the gallery, where we opened a major exhibition of Alex Katz paintings was similarly increased over last year during EXPO."
Under the open but scrutinizing eye of Director Tony Karman Expo Chicago featured 125 of the world's leading galleries representing 17 countries and 36 cities. The exposition also posted an increase in regional and international museum groups, curators and collectors attending. As well as concomitant exhibitions and lectures at the Art Institute of Chicago, MCA, Smart Gallery and other Cultural Institutions. With weigh-ins by the Warhol Museum, The Conservation Center, Bad at Sports, The University of Chicago, Columbia College Chicago and the whispered about private receptions at the Collections at the homes of some of the world's great collectors who happen to reside in Chicago. Almost all out cruising the gallery spaces and events at Expo Chicago not only Opening Night, but straight through the weekend.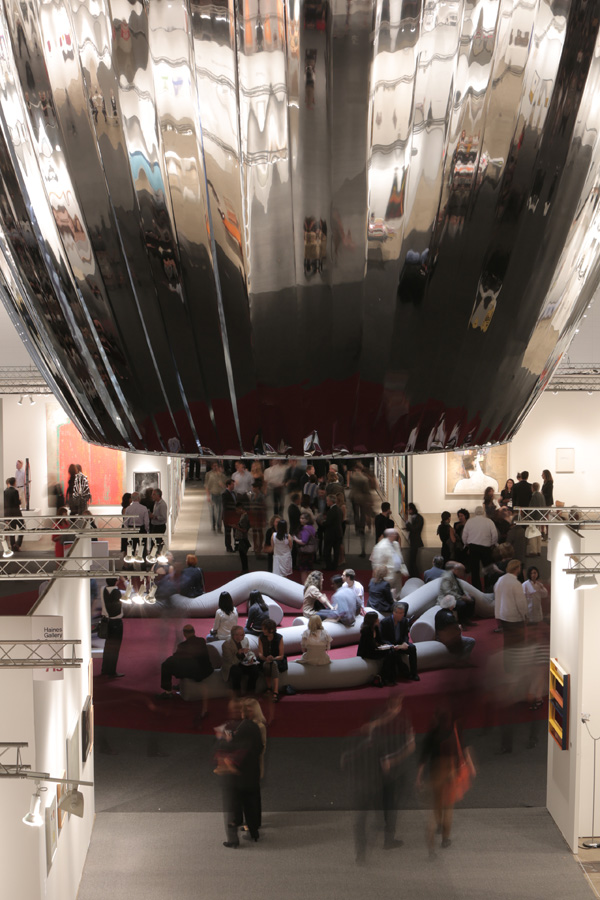 Fustrum design by Studio Gang
Once again, MacArthur Fellow, Jeanne Gang, suspended the directional-guiding Frustrum of mylar and scrim from Navy Pier's high ceilings that she designed with her Studio Gang Architects throwing light onto Snarkitecture's Bend Seating and the pristine galleries designed to showcase only the canvases, sculptures, maquettes, photographs and electronic ART.
Spanish artist Juan Garaizabal, a sculptor who works on large public pieces around the world, stood next to a maquette that reflected back with a purple hue and commented how a potential collector would approach him to discuss his work, often for an hour and then walk away. And then he and his dealer would hear from the buyer a week later. "The Chicago Collector is an Intellectual purchaser" intoned the sculptor.
Chicago is a city famous for its love of its Public Art from its Jaume Plensa's Crown Fountain and Anish Kapoor's "Cloud Gate", lovingly referred to as "The Bean" in Millenium Park to the much earlier Picasso,(one of whose original maquettes appears to be going on the block at the November Auctions at a price higher than the original standing sculpture placed so many years ago in Chicago's "Downtown", along with the Chagall Wall).
Presenting Sponsor Northern Trust donated one of the Expo Chicago 2013 Prizes; the financial sponsor donated a work by Jorinde Voight from David Nolan and Corbett vs. Dempsey to the Art Institute of Chicago in keeping with the complete Exposition Experience of the Fair and the Direction of the Academics as well as the Gallerists and Collectors that Director Tony Karman kept at his elbow.
With so many South American and European Collectors who came to Expo Chicago 2013 as well as the wide array of international dealers, Director Karman wanted the Exposition to have all the elements of a world class ART FAIR but maintain the long history of sophisticated collecting practiced by the highly educated Chicago Collector. "Our second edition proved to be a great step forward in establishing Chicago's rightful place on the international art fair calendar each September" said Karman." We proved that we can attract ART enthusiasts from the greater Midwest, both coasts, and internationally, and we are proud that many of our participating galleries were successful in selling artwork while connecting with visiting collectors and curators who attended."
ART IN AMERICA noted " Nearly all exhibitors said that business was better this year with work selling in a vast price range and going to buyers from not only Chicago but as far reaching as Mexico City."
So under the enormous mylar Frustrums that sparkled over the Yves Klein Blue dusted sand table in the Alan Koppel Gallery, that lit the recognizable Annie Leibovitz Photo from Vanity Fair of Mick Jagger and swept across an entire gallery of Robert Motherwells hung as if in a museum, and brightened an exhibit of tilted expo video, as the Rock Star passed the Internet Billionaire and the new artist passed Mayor Rahm Emanuel talking to the art student, the remark was overheard more than several times.
Expo Chicago is now the third Basel.
Related
Popular in the Community