Chicago is having an art-world moment with internationally recognized artists, galleries, schools, museum directors and curators putting a new face on the cultural export of our great city. I may be a bit biased here, but another important reason to visit our great city is to attend the second edition of EXPO CHICAGO, the International Exposition of Contemporary & Modern Art, September 19-22 at Navy Pier. Chicago has a long history of hosting an international art fair and after the success of the inaugural exposition last year, the city is ready to welcome a stellar list of 125 international dealers, representing 17 countries and 36 cities, re-establishing the city and the exposition as a preeminent international art fair destination.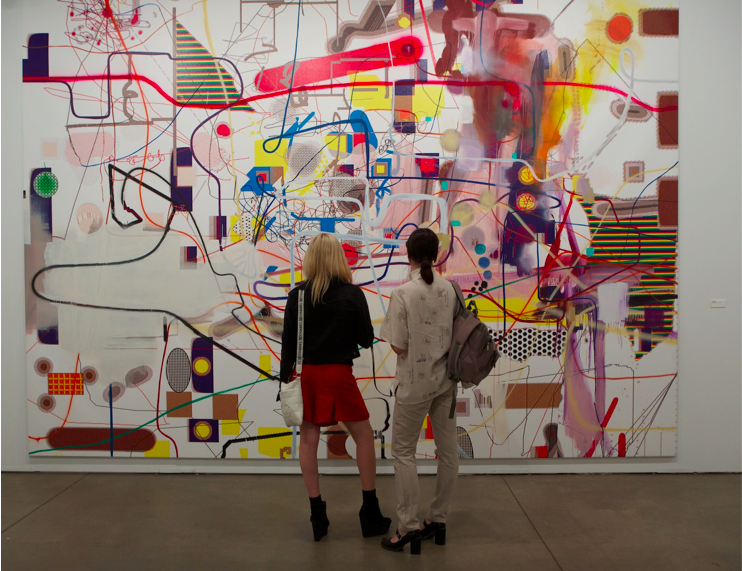 Albert Oehlen - Courtesy of Luhring Augustine Gallery, NY
There are a number of cities that host an annual art fair, but no fair in North and South America can claim a longer legacy than Chicago. For over thirty years, beginning in 1980 at Navy Pier, there has been an international art fair in this city, and in those early years, Chicago was one of three who hosted a prominent fair - along with Basel and Cologne. With that heritage as a point of reference, Chicago returns as a leading destination for top dealers to participate, art collectors, curators and professionals to visit, and for new emerging galleries to begin their careers.
EXPO CHICAGO established itself in its inaugural year with a presenting ongoing sponsorship with the venerable financial institution The Northern Trust, a steadfast commitment to quality and by developing critically acclaimed programming to inspire our visiting patrons. Additionally, the exposition forged an unwavering commitment to excellence in both design and presentation, returning to the historic venue that was built for it - Festival Hall on Navy Pier - and securing a design partnership with celebrated architect, and MacArthur Fellow, Jeanne Gang, Studio Gang Architects. Now in our second year, that partnership continues to further refine the interior environment bringing clarity. efficiency, comfort and energy to the exposition.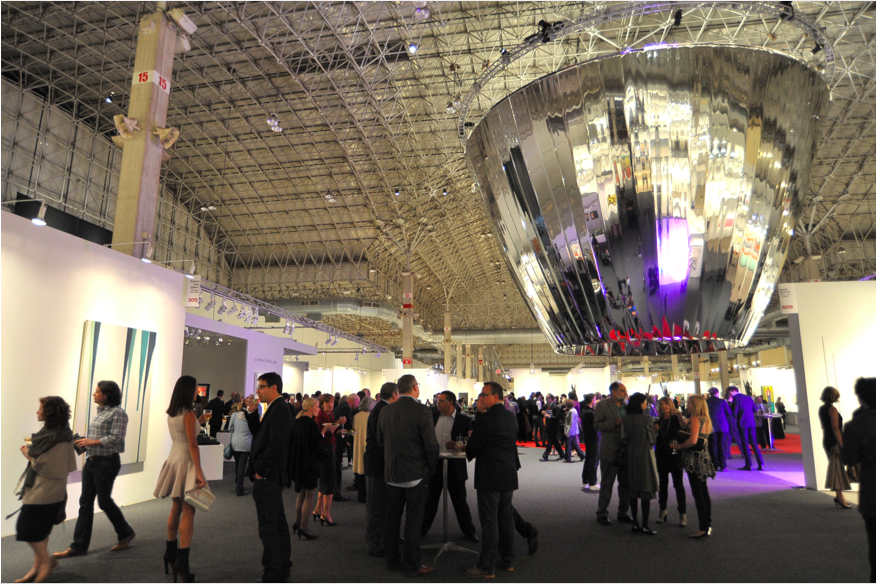 Interior of EXPO CHICAGO 2012 featuring a mylar structure designed by Jeanne Gang, Studio Gang Architects.
In addition to extraordinary artwork for sale, there is not-to-be-missed programming to experience at EXPO CHICAGO. /Dialogues, produced in conjunction with the School of the Art Institute, presents a full schedule of over thirty artists and arts professionals discussing provocative issues related to the arts. Highlights include Michelle Grabner, a Chicago artist and educator chosen to curate the next Whitney Biennial, renowned artist Jesper Just and the new Director of Renaissance Society, Solvieg Øvstebø. IN/SITU, the large scale, site-specific installation exhibition also returns and this year is curated by Shamim Momin of the Los Angeles Nomadic Division. Work by Glenn Kaino, Sanford Biggers, Dan Gunn, Michael Rackowitz, Shinique Smith, Alec Soth and others are featured. Several notable art museums and not-for-profit organizations like the Natural Resources Defense Council, Artadia, Whitechapel Gallery, Artspace, Human Rights Watch, The Andy Warhol Museum, International Sculpture Center, Independent Curators International, the Chicago Artists Coalition to name a few have partnered with EXPO CHICAGO to present special exhibitions on the show floor and premiering this year is EXPO VIDEO, done with support from Columbia College Chicago and curated by Dean Otto the Program Manager of Film/Video at the Walker Art Center, provides an opportunity for patrons to engage video works selected from the artist and galleries participating in the exposition.
Chicago's leading museums, cultural institutions and art galleries are also deeply involved with many scheduling openings and events to align with EXPO CHICAGO. Renowned artist Paul Sietsema opens at the Museum of Contemporary Art Chicago, along with a special performance by Theaster Gates as a part of his current 13th Ballad exhibition. The Art Institute of Chicago extends their blockbuster Impressionism, Fashion & Modernity and closing the weekend of the fair is Zarina: Paper Like Skin featuring works by Zarina Hashmi. The Renaissance Society's opens their annual fall show entitled Suicide Narcissus, Richard Gray Gallery opens with legendary artist Alex Katz, Kavi Gupta with artist Roxy Paine, Andrew Holmquist at Carrie Secrist Gallery, Wendy White at Andrew Rafacz Gallery and a special breakfast with Spencer Finch and Judy Ledgerwood at Rhona Hoffman Gallery. Numerous other exhibitions and events will occur at the Graham Foundation, Smart Museum, Block Museum, The Arts Club of Chicago, Museum of Contemporary Photography, Hyde Part Art Center, Chicago Cultural Center the National Mexican Museum and many, many others.
No other city in the world could marshal a collaborative set of events and special programming partnerships like Chicago and premiering this year to further support the centerpiece EXPO CHICAGO, is EXPO ART WEEK. EXPO ART WEEK is done in cooperation with Choose Chicago and the Department of Cultural Affairs & Special Events and it represents a full week of over one hundred events designed to showcase the cultural and culinary assets of our city. Noted cultural organizations, restaurants and retailers like the World Music Festival, Chicago Symphony Orchestra, Goodman Theatre, Steppenwolf Theatre, The Joffrey Ballet, Gallery Weekend Chicago, Broadway in Chicago, Hubbard Street Dance Chicago, Lyric Opera, the Edition Art Fair, Illinois Restaurant Association, MK, Blackbird, Publican, MOTO, Ikram and Burberry to name a few are participating. http://www.expochicago.com/visitors/expo-art-week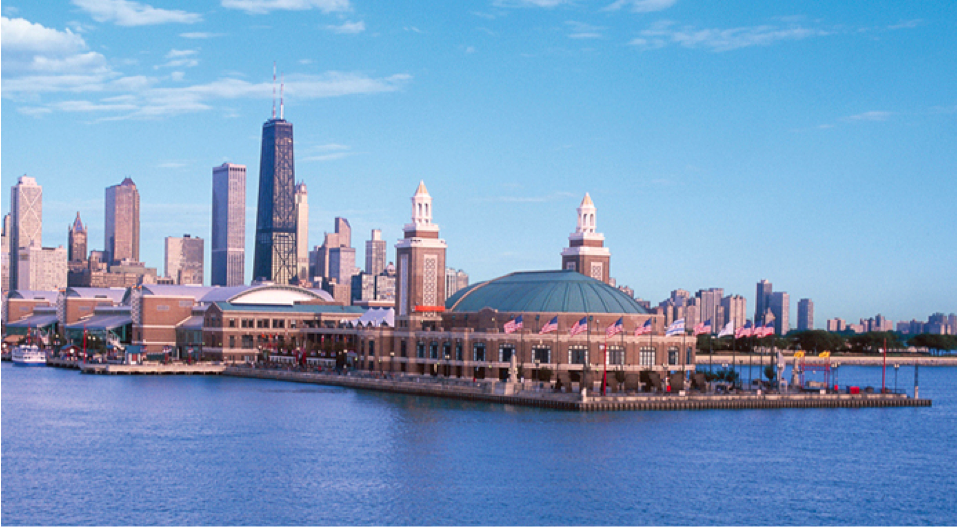 Navy Pier Chicago - Site of EXPO CHICAGO
As a proud Chicagoan, I believe strongly that there is no more beautiful city to live in, nor a more hardworking city dedicated to the pursuit of artistic excellence. To those in the art world...September in Chicago is like December in Miami, and we are very proud to once again be hosting a great international art fair, in a great American city this fall.
EXPO CHICAGO
September 19-22, 2013 | Navy Pier
For tickets and more information go to www.expochicago.com
Popular in the Community