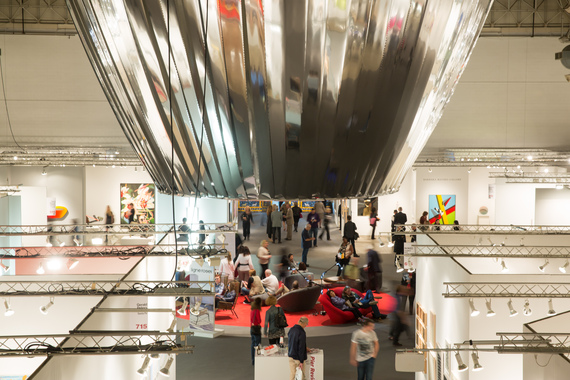 EXPO/CHICAGO Mylar Cone designed by Studio Gang. Photo by EXPO/CHICAGO.
EXPO/ CHICAGO swung open its doors and the Contemporary and MODERN ART Collectors pushed in.
The 35,000 attendees showed their approval by looking, learning, pondering and purchasing in such a way that the THIRD International Exposition of Contemporary & Modern ART was ensured a commercial success rating and guaranteed the privilege of blanketing the city once again in 2015 with its trove of FORUMS, Think Tanks, Performance ARTS, Concerts and plethora of Free Programs for the Public and Civic Cultural Events initiated by EXPO/CHICAGO. The Gala Show at the MCA, David Bowie Is........ was only one of the exclusive events produced around the Art Fair generating a great fervor of excitement.
Alice Walton, daughter of Wal-Mart founder and patron/founder herself of the CRYSTAL BRIDGES Museum of American Art moved through the quickly crowding but amiable aisles at the VIP VERNISSAGE Opening along with collector groups from ART museums across the country, as well as highly informed collectors Helen and Sam Zell who had welcomed some out of town collectors for a private viewing of their sophisticated collection the previous night.
Financier Michael Sacks, ARTS Patron Neil Bluhm, Groupon CEO Eric Lefkofsky, Former Museum of Contemporary Art Chairman and long-time collector of American modern masters Allen Turner, and Star Wars creator George Lucas, who is building the Lucas Museum of Narrative Art along the city's lakefront, all were first nighters. The basketball star Shaq O'Neal guest curated a segment at the fair, "SHAQ Loves People," a non-profit exhibition, and was stopped in the opening night aisles to be photographed by collectors sharing a passion for sports. Friends TV star David Schwimmer, Art philanthropists King and Caryn Harris and others who are familiar faces at the International Art Shows joined the opening night rush, prompting the Dealers to nod approvingly and utter, "Yes, the right Collectors are here."
Alvaro Alcazar of his eponymous gallery in Madrid uttered, "As soon as I saw who was coming into my gallery space at Thursday's opening, I knew I was at the right fair." Other gallerists were delighted to meet, dialogue and sell to new collectors. A director at Marlborough was delighted that he was meeting new collectors at their first year showing in Chicago.
Of the other 140 Dealers meticulously placed around the vast Navy Pier environs, LISSON Gallery of London, Milan and soon to be New York was a new addition to EXPO as was MARLBOROUGH who not only showed an elegant Santiago Calatrava,"2014 untitled Marble Sculpture" (which sold) but was showing a sculpture by muti-media Artist Paula Crown of Chicago and Aspen and with whom they are mounting a show in New York this winter.
Commerce is what the modern ART FAIR must have in order to be a World Class Cultural Institution as well as a selling fair, reaching out to involve all aspects of the ART and ART EDUCATION and CULTURAL SYSTEM. "For our third edition of the fair," says Tony Karman, President and Director of EXPO/ CHICAGO, "I am very proud we have hit our mark in attracting important galleries and now new collectors as well. EXPO/CHICAGO both gave and got Broad Civic Support."
A new star on the scene, artist Paula Crown gave a well-attended talk in front of a smaller replica of an idea wall in her downtown studio at the Fair designed in collaboration with MacArthur Fellow and "Genius" Grant winner Jeanne Gang whose Studio Gang helped design the EXPO space as well as the ceiling-suspended cones that both divide and define the spatial areas for the fair. The idea or inspiration wall titled STUDIO-WALL gave Crown's collectors and lecture attendees a look into her inspiration and thought process in creating her Art, as much as the MRI portraits of her Brain that hang in her original gallery workspace.
The Richard Gray Gallery of Chicago and New York in the prominent Booth 310 displayed a gathering of AGORA Figures by Magdalena Abrakanowicz, consistent with the gallery's ability to bring Public Sculpture into the collectible category. He also showed a steel sculpture, "Black Steel in the Hour of Chaos" by Rashid Johnson for $135,000. Gray is always at favorite amongst its loyal fair devotees.
The dinners, lectures, FORUMS and outside exhibitions at the ART INSTITUTE, the MCA, The ARTS CLUB, Millennium Park, even the boat cruises after the Navy Pier events did not distract either the Collectors or the Academics or Curators and Museum Directors or Art Students but rather served to bring them all together as if under one of the giant cones designed for the EXPO by Jeanne Gang.
The organizers of EXPO CHICAGO are elated they have made another step forward into the ranks of the World Class ART FAIR.
REAL LIFE. REAL NEWS. REAL VOICES.
Help us tell more of the stories that matter from voices that too often remain unheard.