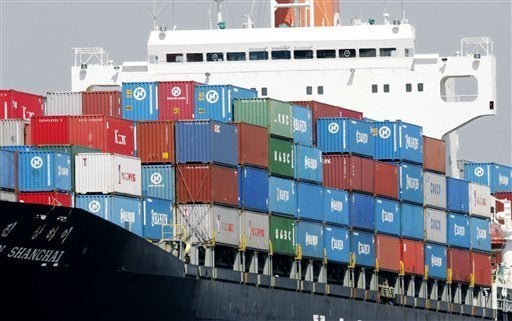 UPDATE: This article has been corrected.
If the nation's second-largest port is any indication, the American export economy may be on the mend -- and new jobs may follow.
After a year of steady improvement, California's Port of Long Beach, a key barometer for the demand for American goods abroad, narrowed the gap between imports and exports in December. The port's exports were up 14.7 percent from the previous year, while imports rose 10.4 percent over the same period. The larger rebound in exports helped the manufacturing industry add 136,000 new jobs last year, the first increase since 1997.
Exports of 20-foot equivalent containers (TEUs) were up 15.8% last year in Long Beach, after 2009's steep drop-off as global commerce plummeted a record 12 percent, the biggest decline since WWII.
The port's turnaround brought export levels to 1.56 million TEUs this year, just shy of its all-time export peak of 1.57 million TEUs in 2007.
The rebound has been quick and palpable, said Nick Sramek, President of the Long Beach Board of Harbor Commissioners. "Scrap metal has been accumulating and accumulating on the docks, the piles growing taller because there just hasn't been a market for it. Now it's all been disappearing. Fast," said Sramek.
Long Beach isn't the only American port that's seeing a mini-boom. In November, exports surged to the highest level in two years, cutting the trade deficit to $38.3 billion from $38.4 billion. November's jump follows export increases of 6.8 percent in the third quarter and 9.1 percent in the second quarter.
In comments last week, Federal Reserve Chairman Ben Bernanke pointed to exports as one reason for optimism about the economy in 2011. The steady climb also started President Obama's 2009 promise to double American exports by 2015 off on a good note.
The increase may be good news for people seeking manufacturing jobs, as well. Growth in the manufacturing industry has followed the climb in exports. According to the Institute for Supply Management, the manufacturing sector experienced a significant recovery in 2010 with manufacturers of electrical equipment, appliances and components reporting a strong demand for their products from Europe and Asia.
But Gary Hufbauer, senior fellow at the Peterson Institute for International Economics, was quick to put last year's trade growth -- including the increase in American exports -- in perspective.
"The only reason there was such a sharp bounce in 2010 is because there was a sharp drop in 2009. The bounce wasn't a surprise to anyone who watches these things. The important question is, are we going to get really good export growth in the future?" he asked.
Good growth in exports, Hufbauer said, amounts to about and 8 percent annual rate. "If we get a 10-12 percent export rate this year, I will say hallelujah!" he said. He projects export growth will only reach half that in 2011.
A better indicator of economic recovery than increased exports is a reduction in the trade deficit, according to the Brooking's Institute's Barry Bosworth.
"Ports don't care if they're loading or unloading the ships. It's work for them. They're not responsible for the trade deficit. But it's a problem for the country," Bosworth said. "If the U.S. is going to recover, we have to export more than we import."
In 2010, Long Beach imported 7.8 percent more goods than it exported during 2010.
"It's called shipping air," said Dick Steinke, executive director for the Port of Long Beach, referring to the 50 percent of containers that leave the port empty. "They're going back to Asia to get re-stuffed with goods to sell back here."
Many of the containers that are filled with American exports end up being imports later on. Three of the port's biggest exports are scrap metal, scrap plastic and recycled paper, raw materials Asian countries use to make products they sell back to American consumers.
CORRECTION: A previous version of this article incorrectly stated that the Port of Long Beach exported more goods than it imported in December.