Pacific Telesis (now AT&T California), 1994 Investor Fact Book, Excerpt 1.
(Right-click on the image to enlarge.)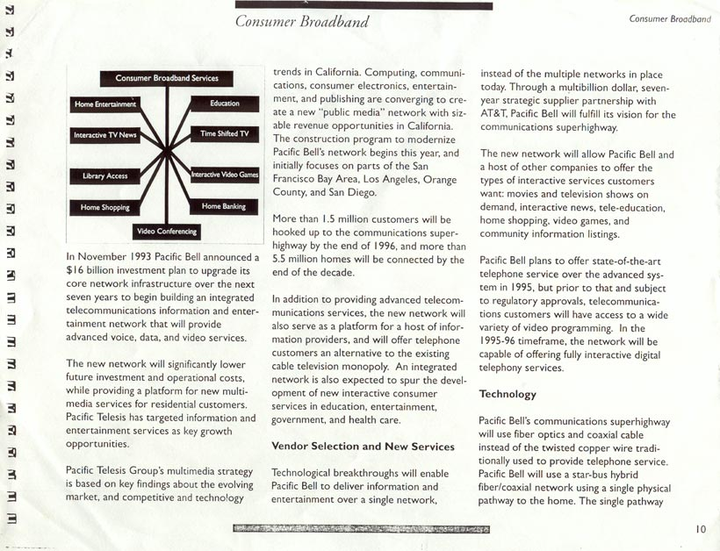 In 1993, Pac Bell California announced it would be spending $16 billion on fiber optic upgrades to 5.5 million homes by the year 2000; 1.5 million by 1996. This was 24 years ago. This page is from the Pacific Telesis 1994 Investor Fact Book.
Virtually no one knows the history of fiber optic broadband in America, much less what happened in their state, even though they were charged thousands of dollars per household. Instead, in 2017, we get embarrassing proposed laws, such as SB-649 in California, which claims that if the State just frees the companies from regulations, they will deliver new, 'fabulous', broadband wireless services. These are tied to other bills and new proposed regulations, including current FCC proceedings to 'shut off the copper' and replace it with wireless. It is time for investigations, not new gifts to AT&T et al.
I'll get back to this in a moment
The price of the basic AT&T California state utility phone service went up 138% from 2008-2016. And this was just the basic service; other parts of the service like 'nonlisted numbers' or directory assistance calling went up 525% to 1891%, since 2004. Calling features, like Call Waiting, which went up 240%, are just pure profit and cost less than a penny to offer.
The companies manipulated the accounting of access "landlines". While there have been declines in basic wired phone service, it turns out that the exact same wires – the copper wires, are also used for U-verse, which is a copper-to-the-home service that is based on the existing utility wires. And there are other services, from DSL, an older copper-based broadband service, as well as Business Data Services (also known as 'special access' services), which are the wires to ATM machines or are the fiber wires that go to the cell sites, and none of these other wires are never mentioned or even counted by the phone companies, the FCC or the State.
The State admits that it doesn't collect or examine basic data about the companies' financials anymore. The California PUC is simply allowing the companies to be 'deregulated', which is now just the punchline to a bad joke as it always means – give more money to AT&T, smile, then do it again.
This new proposed bill is just a put-on job: Worse, like talking to someone with Alzheimers who can't remember yesterday, much less the last few hours, there is a proposed piece of legislation, SB-649, in the California State Assembly that is based on wireless 'vaporware', and the same false claims—if only we get rid of pesky regulations and preempt any zoning or customer challenges, we will get a fabulous broadband wireless future, "5G". It doesn't exist yet and whatever shows up will require a fiber optic wire and will have a range of a 'small cell', a city block or so.
Moreover, the state senators that are proposing the bill have not only gotten campaign contributions from AT&T, but also get AT&T Foundation grant monies for their districts.
Part 1 concluded that what is really needed are investigations and audits of AT&T's financial books, now. There is an investigation of Verizon New York by the NY State Public Service Commission that corroborated our findings; that there are massive financial cross-subsidies between and among the wireline state utility and all of the other Verizon affiliates, including the wireless company. AT&T California appears to be doing the same financial chicanery.
The Fiber Optic Future that Never Came. The First Wave.
California was supposed to be a fiber optic state, starting in 1996, as was pointed out in the Pacific Telesis (now AT&T California) 1994 Investor Fact Book. Instead, customers paid billions upon billions extra, including low income families, seniors, small businesses and everyone else, as these promises of a broadband-internet–cable competition future were used over and over to raise rates and get tax perks – and then never showed up.
There have been three major waves of false claims to get rate increases and deregulation, and a host of other plays including merger conditions, the "IP Transition", and rural government broadband funding, among others, and these happened on both the state and federal level.
The Information Superhighway and Competition, 1993-2004
The U-verse Bait and Switch, 2005-
The latest: The current wireless small cell, 5G, vaporware.
The Information Superhighway and Competition, 1993-2004
Pacific Telesis 1994 Fact Sheet, Excerpt 2:
This is a page from the same financial report and it details what parts of California were supposed to be upgraded by the year 2000. This pretty much covers most of the state.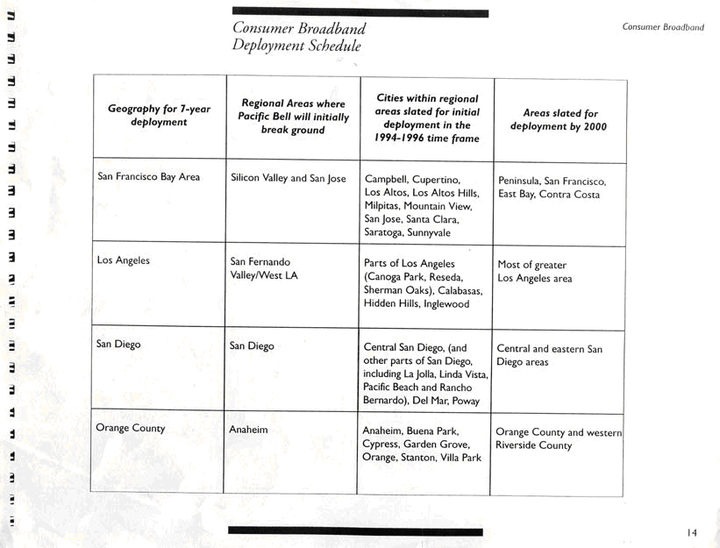 Backdrop: America was to become a Fiber Optic Powerhouse, 1991
In 1991, soon-to-be Vice President Al Gore proposed the Information Superhighway, which was to replace the aging copper wires with fiber optics – and ALL of America was to be completed around 2010. And while there were proposals to have the government build it, every phone company in America screamed that they would be glad to do this for the good of America.
And they all went state-to-state to get changes in the laws to raise rates or not have the profits of the 'calling features' and ancillary services examined, and they all got major tax breaks as well.
And in California, as the excerpt discussed, now-AT&T-California had the laws changed to fund this upgrade.
Pacific Bell also took a $3.6 billion dollar tax deduction, which was directly tied to this 'communications info-highway', and the company received what would be billions extra in profits that were supposed to be used for this new construction.
And this and previous announcements, such as upgrading schools – started the process of 'price caps' – i.e., not examining the profits but keeping the basic service 'fair and reasonable', while everything else was allowed to have obscene returns.
You're not going to like what happened next if you're in California.
Pacific Telesis, which was California and Nevada, was one of seven 'Baby Bells' that were created in 1984 when "Ma Bell", the original AT&T, was 'broken up'. The state utilities were put into seven new regional companies that all wanted to be just like Ma Bell.
Southwestern Bell (SBC), the Bell company that controlled Kansas, Texas, Arkansas, Oklahoma and Missouri, in 1996, decided to expand and merged with Pacific Telesis, and it was a disaster. SBC, controlled by the 'Texans', was a slash and burn company that just wanted profits—so they stopped all of the building that had trickled in the start, and then the hatchet fell. (SBC included Kansas, FCC Chairman Pai's home state. It's a shame he never mentions the failed fiber optic plan called "TeleKansas".)
The San Diego Tribune created a timeline to broadband hell—"A Plan that Failed."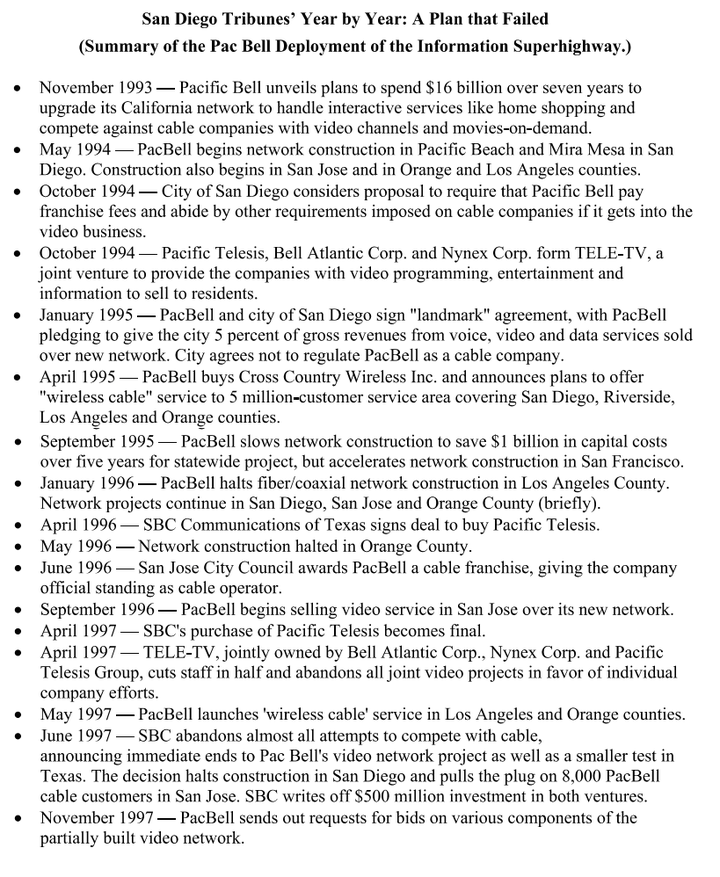 In 1995, the California state laws were partially 'deregulated' (as well as earlier deregulations also based on tech deployments), and the company's profits after the law went from 22% return on equity in 1995, to 46% in 1996.
And yet, as this timeline details, they stopped building out this fiber optic future, so why were there no 'refunds', or a return to reducing the massive new profits being accrued? Thus, starting in 1995, a cascade of deregulation was unleashed that has, more or less, been built into local rates and all ancillary services. All customers who had service, including low income families, seniors, and businesses, paid extra.
Some will say that this law was based on 'competition' coming into the market, due to the Telecom Act of 1996. Before 1996, the wires of the utility were closed to competition. In exchange for opening the networks, the Bell companies were allowed into other lines of business, including long distance, online services, etc.
But with a memory that lasts until the next press release, the fiber optic future faded from view. In fact, the Internet and World Wide Web showed up around this time and people were happy to get dial-up internet service at 64 kbps, (1000 kbps=1Mbps)
Merge the Companies; Purge the Fiber Plans
SBC (now AT&T) was on a roll. They would next buy SNET, an independent company that controlled Connecticut. It had committed to spending $4.5 billion to have the state completed with fiber by 2007. SBC closed down what was being built a year or two after the merger.
SBC next went to Ameritech, which controlled the mid-west states; Illinois, Indiana, Michigan, Wisconsin and Ohio. All of the states had plans for fiber optic upgrades. In this merger, SBC claimed it would be spending $6 billion on a fiber optic deployment called "Project Pronto" and would compete out-of-region in 30 cities.
You already know the punchline. Whatever had been built, starting in 1996, was sold off to a small cable company, "WOW", and SBC never competed out of their wired territories. All of these states had rate increases via this 'alternative regulation' deregulation to pay for new networks that did not show up
And after a series of FCC actions which closed the networks to competition, SBC would buy AT&T and then change its name to—AT&T.
The Fiber U-verse Bait-and-Switch
But it got a lot worse. This is a quote from former FCC Chairman Michael Powell (now the head of the NCTA, cable association) about why he voted to kill off competition by blocking competitors from using the networks. At the time AT&T was a separate company and was the largest wireline local and long distance competitor, as well as one of the largest internet companies.
Powell gives his reason for closing the networks based on 'commitments' for 100 Mbps, fiber-optic based services by SBC (now AT&T), October 2004.
"In my separate statement to the Triennial Review Order and in countless other statements during my seven years at the Commission, I have emphasized that 'broadband deployment is the most central communications policy objective of our day'. Today, we take another important step forward to realize this objective.... By removing unbundling obligations for fiber-based technologies, today's decision holds great promise for consumers, the telecommunications sector and the American economy. The networks we are considering in this item offer speeds of up to 100 Mbps and exist largely where no provider has undertaken the expense and risk of pulling fiber all the way to a home.
"SBC has committed to serve 300,000 households with a FTTH network while BellSouth has deployed a deep fiber network to approximately 1 million homes. Other carriers are taking similar actions."' (Emphasis added)
Note: According to the FCC, "FTTH" is "Fiber to the Home", where "the fiber optic wire starts at the customer's location". "FTTC", "Fiber to the Curb'" was defined as 500 feet from a customer's premises.
"In granting such relief, we first define FTTC loops. Specifically, a FTTC loop is a fiber transmission facility connecting to copper distribution plant that is not more than 500 feet from the customer's premises."
AT&T's U-verse is not 'fiber-to-the-home' or curb but is actually 'copper-to-the-home' and uses the existing, aging copper wires that are part of the state utility, while the fiber is somewhere within ½ mile, not 500 feet from the home.
The Second Wave of Broadband Scandal: The U-verse Reverse and Miss-direction
With the FCC helping, in 2006, California changes the laws and deregulates now-AT&T California, which is why rates jumped up. This was based on the state-wide franchise that most believed was based on fiber optic deployments.
And this happened in every AT&T state as far are we can tell. Promise a 'statewide franchise' for broadband and cable competition and claim it is fiber, and get rate increases.
And the miss-direction was everywhere. AT&T essentially deceived every state and federal regulator, lawmaker, the press and even the public. In 2013, I highlighted links to then-current AT&T U-verse information that could be found with any search engine where they define U-verse as "fiber optic". (Most of the original links changed the content by 2017.) Here are a few of the original statements.
AT&T U-verse Fiber Technology: "Learn how AT&T is taking the fiber optics within our network and turning it into the vehicle that's delivering all your entertainment to your television, computer and phone."
Welcome to the Evolution of Digital TV, Internet, and Voice: "AT&T U-verse® includes fiber optic technology and computer networking to bring you better digital TV, faster Internet, and a smarter phone. Bring it all together by customizing your own bundle now."
"Save with AT&T U-verse® Bundles AT&T U-verse®: "Better DVR, Better Features, A Better Experience. The universe is at your fingertips with AT&T U-verse®. U-verse is an exciting new AT&T product that uses fiber optic technology and computer networking to bring you advanced digital television, high speed Internet and digital home phone service."
What is AT&T U-verse?: "AT&T U-verse is a suite of services and products that primarily consist of internet, television and phone services. These services are delivered using highly advanced fiber-to-the-node and fiber-to-the-premises technologies."
And there are tens of thousands of web places, blogs, etc. that repeat this hype.
What is U-verse? "ConnectMyHighSpeed," "AT&T has combined fiber optic technology and computer networking to offer U-verse, providing faster Internet, telephone and television services."
See Details: Geographic and service restrictions apply to AT&T U-verse® services. Call to see if you qualify. "Fiber optics may apply to all or part of the network, depending on your location."
Where did it say anywhere on any page that U-verse is based on the copper-utility wiring? Nowhere.
Raise Rates Based on U-verse, but do Not Call It a "Cross-Subsidy".
In 2006, the California cable franchise goes through – based on AT&T claiming U-verse is fiber, and the state laws are again changed to give the companies more money via rate increases, starting with ancillary services. In the 2015 proceeding, "Order Instituting Investigation into the State of Competition Among Telecommunications Providers in California", the State details that at the same time as the statewide franchise was being implemented, the State further deregulated rates—i.e., started the process of being able to raise the price on lots of services, except the basic rate, to start.
"On August 24, 2006, we issued "URF I"…This decision removed many of the rules that had governed the prices and operations of the largest incumbent telecommunications carriers (ILECs)," (ILECS are AT&T and Verizon.)
"And accordingly, in URF I, we eliminated price restrictions for all but residential services, and granted the large ILECs (sometimes referred to as "URF carriers") broad pricing freedoms across almost all telecommunications services, including new telecommunications products, bundles of services, promotions and contracts.
"We also permitted carriers to add services to "bundles" and to target services and prices to specific geographic markets, thus permitting geographically de-averaged pricing, which the Commission had previously not allowed. URF I also eliminated previously applicable New Regulatory Framework-specific monitoring reports."
In English, they deregulated the companies based on what they had wanted—more profits and less regulation.
The 5th Annual DIVCA (Digital Infrastructure and Video Competition Act) Report claims that the rate increases do not necessarily mean that there are cross-subsidies.
"This report presents the video and broadband service findings relating to California state-issued video franchisees that must be reported annually to the Legislature pursuant to the Digital Infrastructure and Video Competition Act of 2006 (DIVCA).
"DIVCA prohibits state issued franchisees that provide stand alone residential primary line basic telephone service from increasing their rate for such service to finance the cost of deploying a network to provide video service. A previous California Public Utilities Commission (CPUC or Commission) decision, which prevented AT&T and Verizon from raising their rates, expired and since 2011 both have raised their basic rates. This alone does not necessarily mean that cross-subsidization has occurred." (Emphasis added)
This says that until 2011, the 'basic' rate, which is one line item out of many on the bill, was not allowed to be increased, while the other parts of the service had been allowed to be 'freed' by 2006.
And the State, of course, claimed that since they erased all the accounting, they can't tell if the rate increases were used to pay for the U-verse deployments.
"The fact that AT&T raised rates for basic service beyond the levels authorized... or that Verizon may do so in the future does not prove or disprove that residential basic services are cross subsidizing a network used to provide video service.
"To make this determination significant analysis is required. Revenues for residential basic service, video service and other services that use the shared network to provide video service would need to be compared to their respective costs. The Commission would need to audit those costs to ensure they have been accurately assigned to each service. Such an audit would be onerous as it would require the Commission to perform a cost of service analysis, which has not been performed in decades, since the Commission adopted its New Regulatory Framework and established price caps to replace cost of service regulation."
No audits for decades? Really?
Had enough? Oh, but there's more.
AT&T's 100% Coverage of Broadband in 22 States.
After SBC bought AT&T and changed its name to AT&T, it decided to merge with Bellsouth, one of the other remaining Baby Bells (that was also supposed to be bringing fiber to neighborhoods). It controlled the southeast including Florida, Louisiana, Tennessee, Kentucky, and South Carolina, among others.
And this excerpt is one of the merger conditions. AT&T was to have completed upgrading 100% of AT&T's territories in 22 states (including California) with broadband, albeit slow, but broadband, by the year 2007.
(At this time, 200 kbps was the official broadband speed, as defined by the FCC.)

And yet, we find that AT&T has lots of 'unserved' areas and has been getting government funding to build out areas that should have already been finished with basic broadband by 2007, it would seem.
February 20, 2009: This Resolution adopts funding for four (4) AT&T California (AT&T) broadband projects in unserved areas totaling $216,832 from the California Advanced Services Fund (CASF)
$428 million a year from the federal government: Connecting Rural and Underserved Communities
"We are committed to using a variety of technologies to expand internet access to more locations. To help meet the needs of customers in largely rural areas and expand the opportunities enabled by internet access, AT&T participates in the FCC's Connect America Fund Phase II (CAF II) program. By the end of 2020, AT&T will have used funds from the program to deploy, maintain and offer internet access and voice service to 1.1 million mostly rural homes and small business locations in FCC-identified areas."
AT&T California is getting over $60 million a year out of AT&T's annual $428 million, according to the FCC.
A recent Haas Institute study had a number of disturbing findings about California.
"Rural California is left behind by AT&T. In 14 largely rural counties, virtually no household has access to AT&T broadband at the FCC's 25/3 Mbps speed and one-third or more households are underserved without access to AT&T broadband at 6/1.5 Mbps."
"Many urban and suburban Californians are stuck in AT&T's slow lane. AT&T's slow speeds are not limited to rural areas. In Los Angeles county, for example, approximately 443,000 households (20.4 percent) in AT&T's wireline footprint lack access to AT&T broadband at 6/1 Mbps and approximately 1.1 million households (51.5 percent) lack access to AT&T broadband at 25/3 Mbps."
In fact, we filed a complaint against AT&T at the FCC, claiming that the company may have committed perjury as we were deluged with emails from people after an article that claimed AT&T had never shown up with broadband. We know of no audit or investigation in any state of how many 'unserved areas' appear to have never been served, especially in 2007, and yet there was a commitment, in writing, to do so, and the FCC and states just rubber stamped the AT&T-BellSouth merger.
And note that the rate increases hit all phone customers, even those in rural areas that were never served.
Conclusion: Halt SB-649 and Start Investigations.
"Senate Bill 649, by Sen. Ben Hueso, D-San Diego, and Bill Quirk, would establish a standardized, expedited process for statewide deployment of the equipment necessary to power 5G, the most advanced wireless technology ever to come to market.
"SB 649 will help families and businesses gain access to a technology that will reshape modern life. The 5G technology will support smart cities, improve public safety, and provide environmental and economic gains. Put simply, SB 649 is vital to California's future and deserves support."
If 5G has a range of 1-2 city blocks and requires fiber optic wires to be installed, and this is to happen statewide—I got a bridge I'll sell ya… cheap.
The current plan is to replace the retail wires with wireless and this is the next wave of false claims to get rid of regulations. This bill needs to be halted immediately and investigations need to start immediately into how much money AT&T received in the name of broadband over the last 2+ decades and what the State got for the money.
Support HuffPost
The Stakes Have Never Been Higher
Related
Popular in the Community