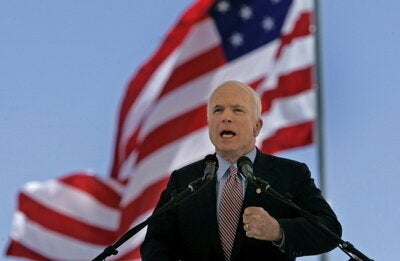 As the general election kicks off, Senator John McCain will tout his reputation as a maverick, an independent, a moderate who will work with both parties to get things done. However, on issues important to gay, lesbian, bisexual and transgender Americans, that's just not true.
We took a look at Sen. John McCain's record and it paints a very different picture.
With a record similar to that of President Bush, Sen. John McCain opposes equal benefits for same-sex couples; opposes the Employment Non-Discrimination Act to prohibit discrimination against GLBT Americans in the workplace; opposes expanding the hate crimes act to include sexual orientation and gender identity, and supports the military's discriminatory "Don't Ask, Don't Tell" policy.
What we have seen over the last seven years has been President Bush -- despite his promise to be a "uniter, not a divider" -- repeatedly siding with ultra-conservatives and the religious right at the expense of protections for GLBT Americans. A McCain presidency would be another four years of more of the same.
The nation's top federal gay lobbying group says in a report today that John McCain is anti-gay and that despite pretenses to moderation and toleration, he is just as dangerous for gays as George W. Bush.
While the main focus is on McCain's congressional record, we also examined his record of hostility to the GLBT community in Arizona.
Arizona State Representative Kyrsten Sinema serves on the HRC Arizona Steering Committee and previously directed Arizona Together, the group responsible for defeating the 2006 Arizona constitutional amendment against marriage equality. She told us:
Sen. McCain voted against the Federal Marriage Amendment, which would have rewritten discrimination into our Constitution, but his position on equality for same-sex couples is no different than that of President Bush and the conservative right. The same year Sen. McCain voted against the FMA, he worked to oppose equal rights in his home state of Arizona by appearing in a television advertisement in support of a constitutional amendment that not only would have banned same-sex marriage, but also would have taken away existing benefits and legal protections for unmarried families.
Fortunately, the voters of Arizona rejected John McCain and his right wing allies by defeating the proposition. This is the ad:
McCain's record on LGBT issues speaks for itself. He's not an ally of our community.
You can find the full report on McCain here. Below are some of the highlights of the report along with a video synopsis of the McCain record:
* Opposed Ending Discrimination Against GLBT Americans in the Workplace. Senator McCain cast a deciding vote against the federal Employment Non-Discrimination Act.
* Opposed Protecting GLBT Americans from Hate Crimes. Senator McCain voted three times against expanding the federal hate crimes law to include sexual orientation and gender identity.
* Proponent of Discriminatory Military Policy. Senator McCain supports Don't Ask, Don't Tell and does not believe that gays should serve in the military.
* Opponent of Equal Benefits for Same-Sex Couples. Senator McCain voted for the Defense of Marriage Act which prohibits same-sex couples from receiving federal rights and benefits in any state.
* Actively Supported Ban on Any Relationship Recognition. Senator McCain campaigned for a ban on same-sex relationship recognition in his home state of Arizona - even appearing in a campaign television ad.
* Supported the Confirmation of Anti-GLBT Equality Judges. Senator McCain voted to confirm President Bush's judicial nominees who had taken anti-GLBT positions. He has pointed to Justice Samuel Alito as a role model for future Supreme Court appointments.
* Supported a Discriminatory HIV/AIDS Policy. Senator McCain supported a Jesse Helms strategy to cut off funding for prevention efforts aimed at the gay community and voted to prohibit foreign nationals with HIV from immigrating to the United States.
See our video on John McCain's record for yourself:
Calling all HuffPost superfans!
Sign up for membership to become a founding member and help shape HuffPost's next chapter