Unicornland, a Sexy New Web Series, Examines Polyamory, Kink and Sexual Awakening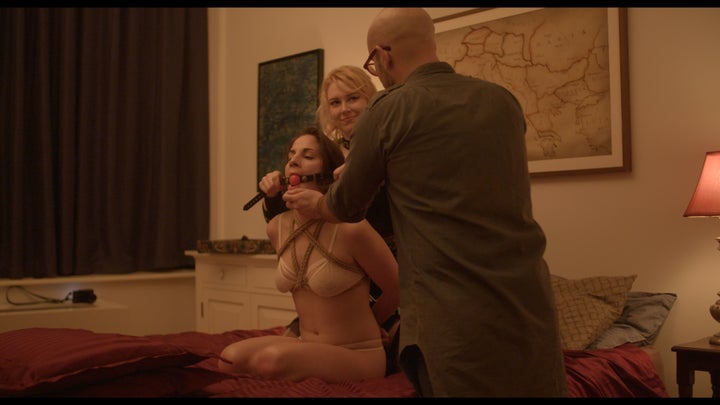 Subjugation can be absolutely horrible. That is, unless, you're into it.
It's no secret that western civilization has a wonky relationship with sex. We're quick to blush and even quicker to censor. Yet our humanity has us fixated, doesn't it? It's all tangled up and terribly backwards. We'll flock to watch a woman dance in a skimpy leather catsuit but we'll have a cultural coronary over an exposed breast on television.
Sex experts like Dan Savage and Esther Perel may have waged war against misinformed American puritanical behavior but the fact remains that we're in desperate need of a dose of revolution. Enter Unicornland, a steamy new web series that has appeared in the nick of time to turn sexual prejudice completely on its head.
The show was created by Lucy Gillespie, an earthy English import who birthed the series after a divorce and the epiphanies that came from a sexual walkabout. Kicking down the walls she'd been demurely hiding behind for years, she dove headfirst into New York's fetish scene. There, amidst titillating parties, Gillespie found herself in a romantic entanglement with a man interested in BDSM. Like Dorothy in Oz, her world bloomed into vivid color.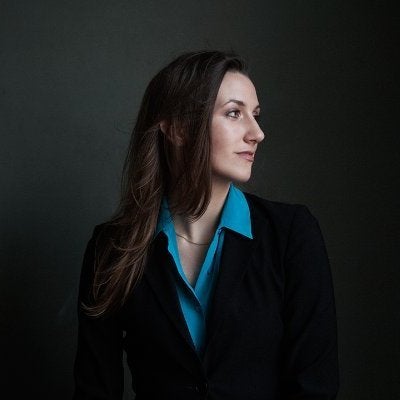 "It can be very empowering," she says on a call from Los Angeles. "I met people who have never been in relationships and only dated escorts or sex workers because they've never felt like they would otherwise be able to get their needs met."
Suppositions were dispelled upon arrival. Gillespie's assumptions about the fetish community were blown out of the water, including the idea that a dominant/submissive relationship dynamic would need to permeate the everyday. She found that the parameters of being a 'sub' to her new man's 'dom' were entirely up to them.
"We were in a pretty equal relationship," she continues. "Some people very much do live it, but the foundations of really healthy kink is that you consciously understand the difference."
While the pair didn't last, doorways were opened for Gillespie into undiscovered territories. Self-inquiry became a true north for her and an interest in writing for television led her to create Unicornland.
"I wanted to write something that was relatable," she says. "Something about a young woman's journey into this world and how it changes her."
The series, directed by Nick Leavens, concerns newly divorced protagonist Annie. At 26, she sets out on a mission to explore her sexuality as a unicorn (known in the poly community as a woman who dates couples). Over the course of each short episode, Annie ventures into an array of different encounters with a new couple. But it's not always all fun and games. She discovers that sex can be absurd, awkward and at times terrifying. Internal roadblocks and confusion abound. Annie traverses all of this on her path toward an erotic sea change and while Unicornland's primary vehicle might be sexuality, the show's emotional journey is more than a voyage of lube and threesomes.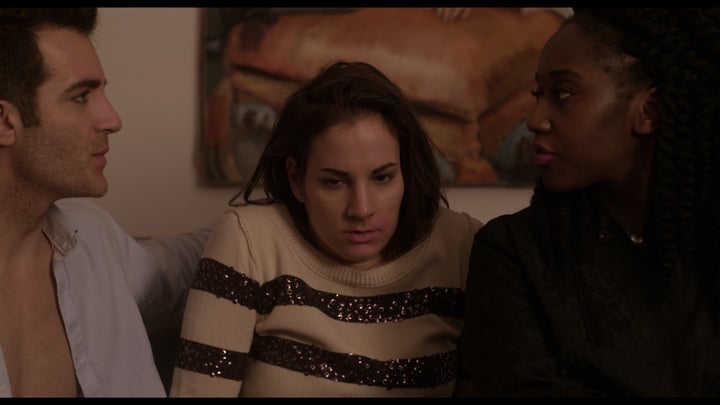 What makes Unicornland particularly astonishing is that it makes no attempt to explain or excuse polyamory or fetishes, but instead places Annie as one might in a story about an adventurer visiting a new country. She's a foreigner among natives. We witness her assimilation, gently (and sometimes not so gently) learning the language of the locals. There are plenty of false starts amidst her sexy misadventures, sure, but ultimately it is through these experiences that she manages to redefine her perception of sex in a way that is anything but salacious or preachy.
The notion of fetishes and sexual exploration has been largely relegated to a dark and gritty corner of western culture, with titles like 50 Shades of Gray forming a potentially reductive picture of adventurous sex. Furthermore, it's safely reductive, keeping it at a distance. Kink can be pointed at, whispered about and pithily judged. Unicornland assertively busts those preconceptions apart, unveiling a world of very real people. Moreover, it was shot by a 70% female cast and crew. The series also features an extraordinary amount of ethnic and social diversity, with a cast that's 60% non-white, including trans, genderqueer and disabled actors. It's all about inclusion.
"It's very sex positive and very body positive," Gillespie says. "This is a community of every ethnicity, every version of gender identity getting their freak on in a proud, joyful way."
Check out the first episode of Unicornland:
For more info and to stream the entire first season, click here.
Follow Unicornland on social media
Popular in the Community