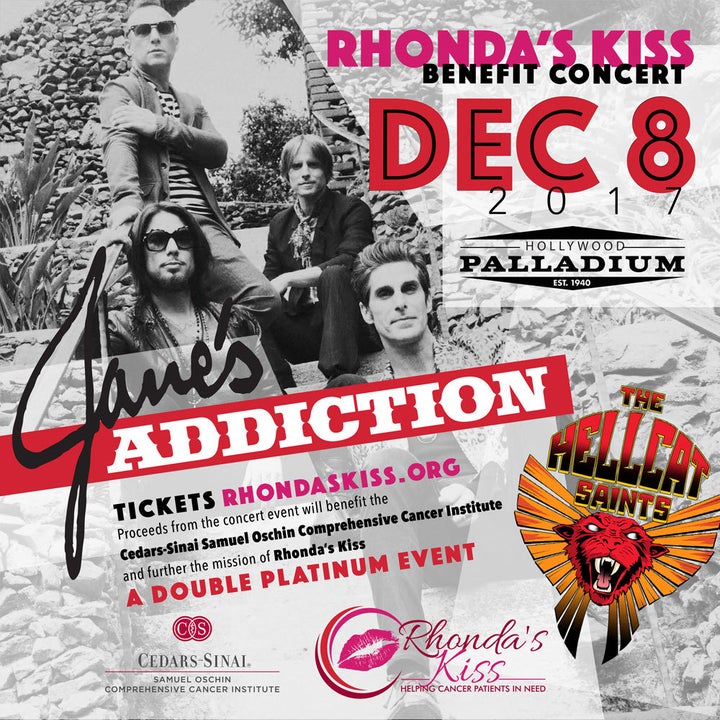 Musicians have historically rallied around a good cause—from Band Aid to Live Aid to We Are the World. I remember growing up listening to The Secret Policeman's Ball, and The Secret Policeman's Other Ball, which benefited Amnesty International. Rockers band together for global causes; disaster relief; for victims of violence; as well as to help on a local level.
On Friday, December 8, musicians will unite at The Hollywood Palladium for what has become an annual star-studded concert to benefit Rhonda's Kiss, which directly benefits the Cedar Sinai Samuel Oschin Comprehensive Cancer Institute and further the mission of Rhonda's Kiss—a 501c(3) charity that cares for patients' non-medical needs. Headlining this year's show will be Jane's Addiction alongside supergroup The Hellcat Saints.
"I've done my share of benefits in the past and I can tell you, whenever you're doing charity for people, it's a great feeling," Jane's Addiction singer Perry Farrell notes. "A lot of wrongs you've done in the past…maybe I'm giving back so I won't be dealt with so harshly when I reach the pearly gates. But aside from that, I enjoy making people happy. That's what I do for a living. So, charity is not that far removed from being a musician. It's our job to heal; spiritual healing."
Rhonda's Kiss was founded after the 2014 death of Rhonda Stefanski who was diagnosed with Stage IV Pancreatic Cancer. Over the last two years, Rhonda's Kiss has committed nearly $1 million to cancer patients in need, assisting in covering the costs of rent and utilities, wigs, oncology massage, parking, or other transportation costs, as well as any other unexpected cost involved in the holistic care of the patient.
Musician Dave Kushner (Velvet Revolver) founded The Hellcat Saints as a vehicle to support a good cause. The band's lineup at this year's benefit will include Apocalyptica singer Franky Perez, guitarists Billy Duffy of The Cult and Jerry Cantrell of Alice in Chains, Weezer bassist Scott Shriner, and Queens of the Stone Age drummer Joey Castillo.
Past members have included Juliette Lewis whom Kusher considers a core member of The Hellcat Saints (she is unfortunately currently filming) and Guns N' Roses bassist Duff McKagan who is in the midst of a worldwide GNR reunion tour—a tour Kusher admits he never saw coming.
"I didn't think they would get back together again," Kushner confesses. "They were so far away from that way of thinking when we were in Velvet Revolver. When we were together, that's when there was all that stuff in the press that Axl and Slash were mortal enemies. Time heals a lot of wounds but not all of them."
But Kushner is stoked with L.A. legends Jane's Addiction headlining.
"I've known them since their second show at Raji's. I remember going to up to Stephen Perkins and asking if he would play on my demo. He did and he fucked up my mom's floor. We were 18 and he didn't put a rug down and he scratched the floor."
Mention Raji's to Perry Farrell and the stories come flying out.
"I remember two shows specifically at Raji's. One, I came out in a see-through body stocking. It was very freeing. You'd expect that you'd be un-nerved by it but it's a very freeing feeling to go out there rocking with your cock out.
"The other thing I remember about Raji's is that at the time I was messing around with Aleister Crowley and books on magic and I remember doing a magic circle prior to the show and we played and all the power blew out at Raji's. And I made a mental note, don't fuck around with magic."
Lending support to Rhonda's Kiss is very important to the charismatic singer.
"I like what they're doing and their slant on charity," Farrell says. "What's interesting about this charity is that they see having this disease of cancer and they see the very personal aspect that needs attention; paying your bills while you're going through treatment. I think that's pretty remarkable. These guys take care of that and I think that's amazing."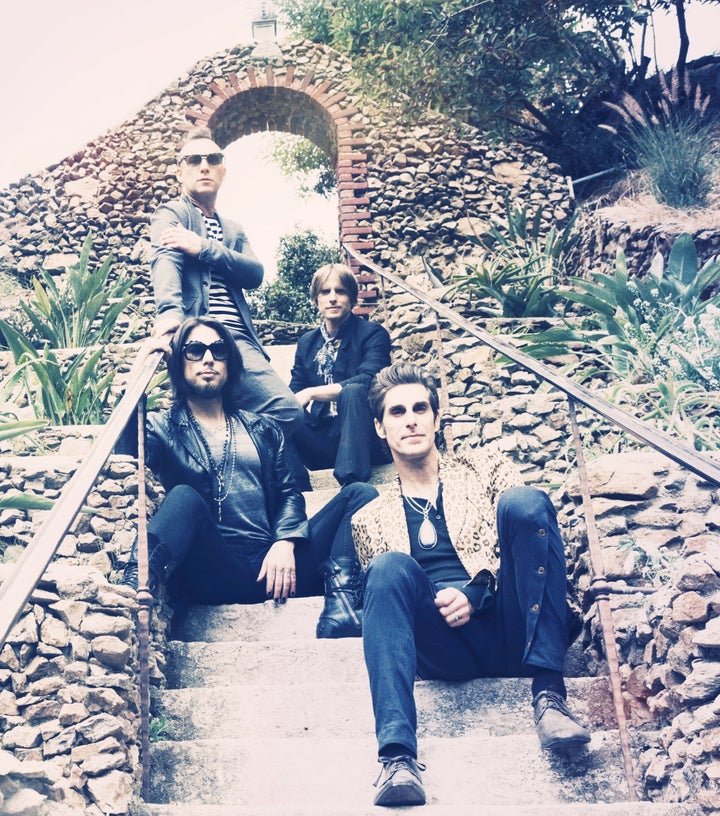 The current health care 'repeal and replace' environment where pre-existing conditions may prevent someone from getting treatment is not lost on Farrell.
"It's a very cold way to look at things. And it's a very shortsighted way to look at it. Rhoda's Kiss is the complete opposite way to look at it. The opposite way to look at it would be sympathetically, empathetically, compassionately and say these people are sick and how will they pay their bills? They come in like angels. I like to look at the world like an angel, why not?"
For Kushner, who lost his mother to cancer and saw his wife and father deal with cancer, the cause really hits close to home.
"It's a rampant disease and it affects everybody. My wife has been off for five years so she's definitely in the clear and is all good. My father had been in the clear but now they found something in his lungs."
Musicians find themselves in the precarious predicament where it's almost impossible to get insured as their lifestyle, often encouraged to be a "life in the fast lane" mess for press, isn't a safe coverage bet. This year alone saw the suicides of Chris Cornell and Chester Bennington not to mention the death of Tom Petty.
"Me and Navarro talk a lot and we can't get over it," Kushner says. "It's all around you. There's not a ton of actors I see committing suicide as there are musicians and comedians. I'm going to expose my innermost sensitive emotions and whether you like it or not will determine if I'll make a living."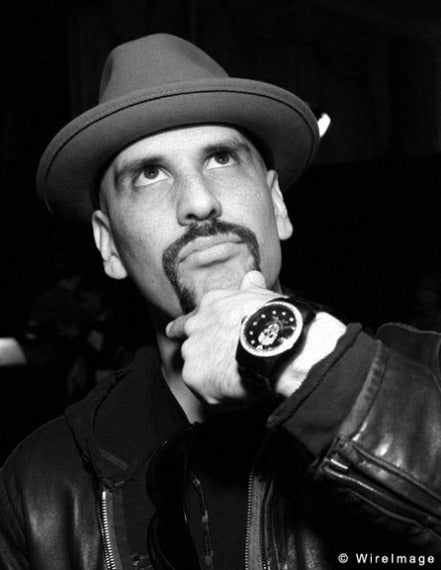 The same sentiment is shared by Farrell.
"We all know that musicians have their share of problems and issues. Poor Tom Petty, that cat would rather die than put on a bad show on. It shows you how dedicated he was to being great and how fragile it is to be a musician at times and the pressure to go out there and perform for people and deliver an unforgettable night, night in and night out. The poor fellow had a bad hip and he was out there anyway and it drove him into the ground. I wish that he would have taken care of himself more. I sure loved Tom Petty."
The death of Linkin Park's Chester Bennington really hit Kushner hard as Chester had stepped into the role of The Hellcat Saints lead singer. But when asked if he would consider using the night at The Palladium to pay tribute to his lost friend, the idea surprises him.
"I don't know. It would be hard for me. I just don't know. I've never thought about it. We were friends more than we were band members. I wouldn't even know how to honor him."
Looking forward to the opportunity to rock for a good cause at the Rhonda's Kiss benefit, Farrell looks at the night as an "expression session" with limitless possibilities.
"I dig the vibe around the holidays," Farrell reflects. "I know it's a depressing time for some people but it's a good holiday to connect with people. I just want to set off that spirit of let's reconnect. We haven't played in L.A. for a while so it's a good time to do it and play for a good cause."
The Rhonda's Kiss benefit concert with Jane's Addiction headlining will take place Friday, December 8 at The Hollywood Palladium. Click here to buy tickets.