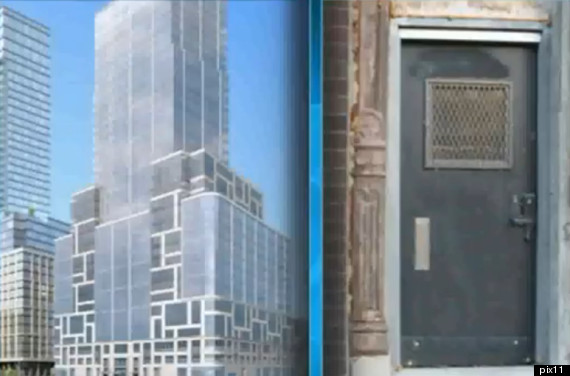 The proposal, from the New York-based developer Extell, was approved under a city program meant to incentivize affordable housing, the New York Post reported Sunday. New York's Department of Housing Preservation and Development was reportedly the city agency that gave the go-ahead.
The 33-story building, now under construction at 40 Riverside Boulevard on the Upper West Side, will contain 219 luxury units facing the Hudson River. There will also be a segment on floors two through six that will contain 55 street-facing units for the building's poorer residents. This segment will have its own entrance.
The more affordable units will be given to families of four whose annual income is $51,540 or less -- about 60 percent of the area's median income.
Residents living in the lower-income part of 40 Riverside will be prohibited from using the attractive amenities commonly found in Extell properties, including a gym and a swimming pool.
Extell's proposal, which has been widely described as a "poor door" policy, was approved under the city's Inclusionary Housing program, which allows developers to use more square footage than they'd ordinarily be allowed to -- provided they set aside some units in their building for affordable housing. For doing so, developers also receive millions in tax breaks.
Gothamist reports that arrangements like the one planned for 40 Riverside are not uncommon in New York.
Still, ever since plans for the separate entrance were revealed last August, city officials and community members have been demanding that Extell officials jettison the policy for a more inclusive one.
"This 'separate but equal' arrangement is abominable and has no place in the 21st century, let alone on the Upper West Side," Assemblywoman Linda B. Rosenthal told the blog West Side Rag last year. "A mandatory affordable housing plan is not license to segregate lower-income tenants from those who are well-off."
Related
Popular in the Community