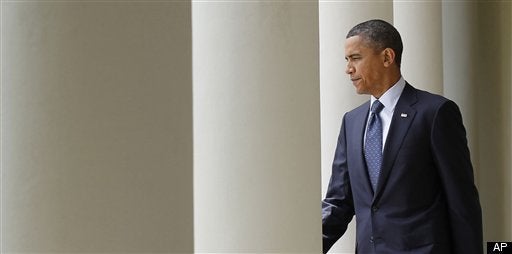 President Barack Obama's signature plan to combat the housing crisis has fallen short of its goals -- rather than significantly and permanently reducing home foreclosures, it is only delaying them.
The administration unveiled its Making Home Affordable plan in February 2009. Obama vowed in front of an audience gathered at Dobson High School in Mesa, Ariz., that MHA's signature effort, the Home Affordable Modification Program, would "enable as many as three to four million homeowners to modify the terms of their mortgages to avoid foreclosure."
The $75 billion initiative -- $50 billion from the bank bailout, $25 billion from government-owned mortgage giants Fannie Mae and Freddie Mac -- was designed to induce lenders, servicers and investors to modify distressed mortgages through a series of cash incentives.
In its first year, 1.5 million people were invited to try HAMP. About 40 percent of those who tried it have been kicked out of the program; fewer than that have been given an actual shot at keeping their homes.
When President Obama took office, it took an average of 319 days to complete a foreclosure, according to Jacksonville, Fla.-based data provider Lender Processing Services. Now it takes 461 days.
Extending the process by which homes enter foreclosure allows banks to continue carrying the loans on their books at full value, delaying loss recognition. That allows unhealthy banks to appear healthy, staving off costly bank failures.
As a result, fewer homes hit the market in a distressed state. Home prices stopped their free fall.
"Extending and pretending was the right thing to do last year," says John Burns, a housing industry consultant based in Irvine, Calif. "It pains me to say that, but that's the situation they've got us into. Throwing these people out on the street and selling their homes would have depressed home prices."
The strategy has achieved stability for the housing market, but not for the people inside the houses. Families are merely given more time to wonder when sheriff's deputies will finally pile their belongings on the curb.
A Year Into HAMP, 'We're Losing Our Home'
Bea and Terry Garwood applied to JPMorgan Chase for HAMP help in April 2009 and were approved for a "trial" modification that July because they met the core requirements: their house payments took up more than 31 percent of their monthly pre-tax income; they lived in their home; they owed less than $729,000; and they were at risk of default. Garwood says the HAMP trial reduced their monthly payment on their two-story home in Pinckney, Mich., by nearly $500 to about $1,175 -- a huge relief, she adds.
A HAMP trial is supposed to become "permanent" after three months, but Garwood's dragged on for nine. "They kept on saying a bank statement was missing, or one of the documentations wasn't signed, or they didn't have the affidavit, or the hardship letter," Garwood says. "And then on March 19, I received a letter saying, 'You do not qualify for a permanent modification. You now owe us $12,000.'"
Chase rejected the Garwoods for two reasons, according to the letter Garwood received: The bank claimed their monthly mortgage payment amounted to less than 31 percent of their income and they failed HAMP's opaque "Net Present Value" test, a complex Treasury Department formula that servicers use to determine if a modification will make investors more money than a foreclosure. Garwood says that Chase assumed they had an inflated income by looking at deposits to their bank account and ignoring the money paid out to the people who work for her husband, a roofing subcontractor. If Chase went by the Garwoods' tax forms, she claims, the bank would realize they make thousands of dollars less every month and the couple would qualify for a permanent modification. Chase declined to comment.
Garwood says that the difference between their reduced payments during the trial period and what they would have paid otherwise, plus late fees, is $12,000. She says they can't possibly afford it all at once but that they would have found a way to make full monthly payments if they hadn't been lured into HAMP. They stopped making payments in April, shortly after they were turned down for a permanent modification. Sheriff's sales have been set for June, July, and now August. Garwood says she thinks she may be able to continue to dodge the foreclosure for a little while longer, but she's not exactly grateful for the extra time.
"They told us we were a great candidate, so we went for it," she says. "And as a result we're losing our home."
Treasury Department officials downplayed HAMP's role in the administration's foreclosure prevention efforts in an interview with HuffPost, insisting that the goal of helping three to four million people is broader than just HAMP or even the umbrella program under which it falls, Making Home Affordable.
"Foreclosure prevention was only one piece of the administration's approach to stabilize the housing market that included... interest rates at historic lows [for] increased affordability and refinancing, support for [Fannie Mae and Freddie Mac] to make sure there was a mortgage market available, and the homebuyer tax credit to stimulate demand," says Phyllis Caldwell, chief of Treasury's Homeownership Preservation Office. "HAMP is one part of foreclosure prevention."
'Anemic' Number of Permanent Modifications
HAMP gives servicers and investors $1,000 incentive payments for permanent modifications, and additional payments each year that borrowers stay current. Through June, Treasury has disbursed just $247 million for successful modifications, according to a July 21 report by the Office of the Special Inspector General for the Troubled Asset Relief Program.
The TARP auditor called the number of permanent modifications "anemic."
"HAMP has not put an appreciable dent in foreclosure filings," SIGTARP's report to Congress notes. "[F]oreclosure filings have increased dramatically while HAMP has been in place, with permanent modifications constituting just a few drops in an ocean of foreclosure filings."
"There is some extending and pretending going on," says Celia Chen, an economist and specialist in housing for Moody's Economy.com. "Many trial modifications have failed to become permanent modifications. We're starting to see the number of REOs [bank-owned homes] rising."
During Obama's first three months in office, banks repossessed nearly 191,000 homes. In the three-month period ending in June 2010, that number jumped to 270,000 -- a 42 percent increase.
More than 529,000 homeowners have been kicked out of HAMP through June, Treasury figures show. About 1.2 million entered the program with a promise and expectation of permanent relief. Roughly 389,000 are benefiting from the "permanent" modifications guaranteed to keep their payments down for five years.
Lenders have repossessed more than three times as many homes during this time.
The Treasury Department rolled out the program quickly, and initially allowed servicers to put borrowers into trial modifications without solid documentation of their income -- a mistake that auditors of the program say inflated the number of people in trial mods that would never pan out. Every few months, Treasury released additional directives that, among other things, have expanded the criteria that servicers might use for income verification, from 4506-T tax forms and pay stubs initially to documents that reflect unemployment benefits and alimony payments.
Servicers frequently complain that such constant changes to the program make it difficult to administer, according to government auditors, including SIGTARP and the Elizabeth Warren-led Congressional Oversight Panel.
HAMP homeowners know a thing or two about delays and supplemental directives: Banks' requests to resend lost paperwork dominate complaints about the program. Of the 364,077 trial plans, 166,000 have dragged on for longer than six months.
Teresa Follmer, an interior designer in Mesa, Ariz., tried over a year to modify her mortgage with Countrywide (now Bank of America) before discovering that she'd met HAMP's eligibility requirements in May 2009. But when she tried to apply, Countrywide told her it didn't do HAMP mods, according to a lawsuit filed in federal court in July. After Follmer called the Arizona Department of Financial Institutions to complain, a Bank of America executive got in touch and initiated a long series of back-and-forth discussions.
Many unhappy HAMP recipients have similar stories to the one outlined in Follmer's lawsuit: In response to the executive's request, Follmer compiled personal financial information and sent it to the bank, which acknowledged receipt the following day. A week later, Bank of America sent Follmer a notice of its intent to foreclose on her home. The bank then advised Follmer to gather up her financial information again and resubmit her application. In October, she received a package indicating her HAMP trial would begin -- and another package days later asking her to send additional paperwork. In January, Bank of America asked her to send a missed payment (which she denies she missed) and yet more documentation. In February, the bank thanked her for making payments and asked her to send her pay stubs and her tax returns (again). In May, Bank of America said it would foreclose because Follmer missed trial payments. When Follmer protested, she was told she could start her trial period all over again. But then in June, the bank told her she owed $23,988 and would lose her home if she didn't pay.
Follmer's suit, one of several across the country seeking class-action status, alleges that Bank of America "regularly falsely informs borrowers that it did not receive requested information and demands that documents be re-sent."
A Bank of America executive acknowledged the paperwork problems in June: "We continue to train and retrain to try to improve our process and we've done a lot of things to try to make sure we don't lose documents anymore," he said during a conference call with reporters. "We do think the experience is getting better and better, but again, it's still not the level we would hope it to be because we still have more customer complaints than we believe are acceptable."
Homeowners in New York City sued JPMorgan Chase for allegedly telling them to quit making payments in order to qualify for the program (similar suits have been launched against Chase in California and Seattle). "I trusted them because they're a big bank. I did whatever they asked me to," plaintiff Alex Lam told HuffPost. "Just to get a modification, that's all I'm asking for... Since day one, that's all I'm asking for."
The Government Accountability Office notes in a June 24 report that Treasury had yet to fine a single servicer for noncompliance. In fact, Treasury had yet to even formalize its penalty scheme. The GAO says that Treasury's lack of clear consequences "risks inconsistent treatment of servicer noncompliance and lacks transparency with respect to the severity of the steps it will take for specific types of noncompliance."
Treasury's enforcement of the rules has been limited to prodding servicers to do better, and requiring them to review borrowers' applications. While Treasury has the contractual right to claw back payments made to servicers, it has yet to do so. The agency declined to offer reasons why it has not done so.
Continue reading pages 2 and 3 of this story
No Complaints From Those In Permanent Mods
For the 389,198 people who are in permanent modifications, HAMP is a godsend. Treasury referred HuffPost to Johnny Webb of Cleveland, Ohio, whose home has been in a permanent modification after he started a three-month trial last year.
"I went from paying close to $1,000 a month with a high interest rate to paying about $600 a month now with a low interest rate and I'm able to keep my house," says Webb, 40, who says he works for an industrial services cleaning company. He told HuffPost he fell behind on his payments after suffering a back injury last year, and that he foolishly refinanced and fell victim to a debt relief scam before he tried HAMP via CitiMortgage. He says they lost his paperwork a couple times during the trial period, but he has no complaints now. "They have been unbelievably great."
For the frustrated, one of the most confusing things about HAMP has been that, while servicers have not been allowed to actually foreclose on eligible borrowers, the program has allowed servicers to proceed with the foreclosure process. One day, borrowers are told that they're all set in their HAMP trial; the next, they're about to lose their home. Homeowners complain that it seems that their bank's right hand doesn't know what the left one is doing.
(A recent supplemental directive prohibiting foreclosure filings on people who provided solid proof of income, and another requiring better documentation, were designed to reduce this problem.)

Getting from a trial modification to a permanent one can be a fickle process. Melissa Stuart, an Indiana homeowner in her late 20s, sought a HAMP modification from GMAC when she lost one of her part-time jobs in the fall of 2009. Her monthly payment shrank to $874 from $1,108. But after a few months of making the reduced payments, she said she received a foreclosure threat in March and that someone from GMAC collections called to say she owed money. When she protested that she was in HAMP, the person told her no, she wasn't; she'd been kicked out. Unable to set things straight with GMAC, Stuart reached out to her senators, to SIGTARP and to a HuffPost reporter.
Shortly after HuffPost reached out to GMAC's spokeswoman, Stuart received a voicemail from a GMAC executive: "I had gotten a request through our corporate communications office to take a look at your file," said the executive. "We have been able to get approval to go ahead and use the trial modification you have already completed as your evidence to commit to repayment of the mortgage. We are going to move this loan now into the permanent modification phase."
Stuart said in a July email to HuffPost that she's actually still not sure what's going on. "I think technically I am still in the permanent modification but I have yet to receive the final paperwork," she wrote. "My monthly statement reflects the terms of the modification but without the new loan documents, I'm worried that some other snafu will come up. I at least have someone's direct line at corporate and she swears she is just waiting for the new loan to be approved, which makes me nervous."
If Stuart ultimately gets booted from the program, Treasury may argue that the eventual loss of her home doesn't represent a total failure for HAMP because the extra time she spent in her home softened the blow to the housing market and preserved her "dignity."
"The success of HAMP should be measured by how many eligible homeowners are able to avoid the pain and stigma of foreclosure by reducing their mortgage payments to affordable levels while either remaining in their homes," wrote Treasury's Herb Allison in response to a March SIGTARP report, "or transitioning with dignity to more suitable housing."
In other words, even if you lose your home, in the end HAMP can be considered a success if it gives you some extra time to find another place to live. Industry analysts see it that way, too.
"We have asserted many times in the past that the MHA program has both an explicit goal (help 3-4 million borrowers) and an implicit goal (make liquidations orderly)," Bank of America Merrill Lynch analysts wrote in a July 20 research note. "It can be argued that the program may not have been that successful when measured against the explicit goal. However, the program has been very successful based on the implicit goal, in our view, and has been one of the key reasons for stabilization in home prices."
Since foreclosures surged in the middle of 2009, they've slowly decreased. Last July, there were foreclosure filings on about 360,000 homes, according to data provider RealtyTrac; by last month that number had dropped to 314,000. The number of homes receiving foreclosure filings in the first six months of the year was five percent lower than the previous six-month period.
Spreading Out The Impact Of The "Shadow Inventory"
So with foreclosures slowing, fewer distressed homes have hit the market. The so-called "shadow inventory" of homes -- those with severely delinquent mortgages, in foreclosure or already repossessed that have not yet been put on the market -- has grown and is estimated to range from 5 to 7 million homes. Through June, borrowers in foreclosure have been delinquent for an average of 461 days before being evicted from their homes.
"Numerous government programs are helping slow the foreclosure process and smooth the shock to the economy; this means the eventual disposition of so-called shadow inventory will be spread out rather than absorbed in one big blow," Aaron Smith, a senior economist for Moody's Economy.com, wrote in a June 30 note.
A senior Treasury official acknowledges that HAMP contributes to the shadow inventory of housing.
Thanks to this backlog, fewer homes are up for sale. Home prices have stabilized. After hitting a six-year low in May 2009, home values are up four percent through April, according to the latest S&P/Case-Shiller Home Price Index.
"The administration's programs to stabilize the housing market have helped many across the country weather this crisis," said Allison, Treasury's assistant secretary for financial stability, in a July 20 statement.
Extend-and-pretend is "not necessarily bad," says Chen. "By delaying that process, you're putting homes on the market when the economy is a little stronger and can maybe absorb them a little bit more easily. Some of these houses won't appear on the market until quite late this year [and] early next year."
Experts point to HAMP as one of the biggest reasons for that delay. In addition to the 529,000 trial and permanent modifications that have been canceled, 166,000 active modifications in the temporary trial phase were initiated at least six months ago.
"Some of the foreclosure sales were mitigated last year because a lot of borrowers were put into HAMP -- into trial modifications -- and that kept them from turning into a distressed home that would then end up on the market for sale," Chen says. "That would have depressed house prices."
In the last six months of 2009, more than 790,000 homeowners signed up for temporary HAMP trial plans. Less than half that amount have joined the program through the first six months of this year as the administration tightened requirements in response to the high cancellation rate.
At the end of June, there were about four million existing homes available for sale, according to the National Association for Realtors. That represents a nine-month supply at the current sales pace, the group estimates.
The shadow inventory is larger than that. But while it could wreak havoc if suddenly unleashed on the market, at least in the near term its impact on home prices "will likely be moderate because of government programs aiming at keeping homeowners in their homes whenever possible," Standard & Poor's analysts wrote in a July 15 report.
"If [Treasury] dumps it all on the market they'll see prices fall, so they're going to have to come up with some sort of vehicle to keep those homes off the market," says Burns.
"The longer we put that off, the stronger the underlying fundamentals of the economy will be, and that will help to support housing and make the effects of those foreclosure sales less bad than it otherwise would be," Chen says.
"Looking at the big picture, the housing market is stabilizing, but the situation is still fragile and homeowners are still facing hardship," a Treasury spokesman said.
But the program's success at stabilizing the housing market may be fleeting. And homeowners who have been bounced from the program are at greater risk of losing their homes.
"The modification programs have helped stabilize home prices around the country, mostly because they have created so much confusion that people can live in their home for free for one year or more, and are buying time for thousands of banks to continue improving their balance sheets with earnings from good loans, while deferring the write-off of bad loans," real estate consultant Burns wrote in a May 6 note to clients.
"In the long term, a massive supply of delinquent loans continues to loom over the housing market, and many of those delinquencies will end up in the foreclosure process in 2010 and beyond as lenders gradually work their way through the backlog," James J. Saccacio, chief executive officer of RealtyTrac, said in a Jan. 14 statement
Of the 2.6 million homeowners who haven't paid their mortgage in at least three months, the average delinquent homeowner hasn't made a payment in 300 days, or a bit over 10 months, according to Lender Processing Services data through June. When Obama took office, that average stood at 196 days, or just over six months.
Because those homeowners forced lenders to evaluate them for HAMP, it had the effect of "slowing down the initiation or processing of literally hundreds of thousands of foreclosures that already would have been executed by now," says Rick Sharga, senior vice president for marketing at Realtytrac. Those folks that have fallen out of the program will now "tend to be prone to accelerated foreclosure proceedings," he added.
Sharga says that "on balance, [HAMP] is a bad thing."
"What it caused was the problem to be extended beyond the point it would have already been resolved," he says. "And the extension didn't result in fewer foreclosures. If you were likely to go into foreclosure anyway that delay didn't keep you out of foreclosure -- it just cost the banks and the industry more time and money, and delayed the recovery that much more because now you're another foreclosure that has yet to be processed."
Staying 'Under Water' Or Walking Away
The average HAMP beneficiary is about 50 percent "under water," meaning they owe more on their mortgage than their home is worth, according to the June 24 GAO report. In other words, the average HAMP homeowner owes their lender more than $1.50 for every dollar their home is worth -- falling right into the stratum of homeowners most likely to simply walk away from their mortgages, according to recent research by economists at the Federal Reserve Bank of New York.
The average borrower with a five-year HAMP modification devotes nearly two-thirds of their monthly gross (pre-tax) income, or 64 percent, to servicing debt like credit card payments, home mortgages and auto loans, Treasury data show.
Many homeowners will be lucky to survive HAMP, experts say.
"One way you can tell that HAMP is destined to fail is to look at page three of the monthly report," says Mark Hanson, a housing industry analyst based in California, referencing HAMP homeowners' high debt loads. "If you figure that modifications are just loans, look at subprime: New Century would not have given you a loan with a 150 percent [loan-to-value ratio] and a 64 percent [debt-to-income ratio]."
New Century Financial, a top subprime lender, went bust in 2007 after subprime borrowers began defaulting on their mortgages en masse.
"Why would mortgage modifications with so much higher leverage than the original loan -- why would these work?" Hanson asks.
John Burns told his clients that "this is nothing more than a fully documented version of the same garbage that took down the banking system two years ago, and this time the federal government rather than Countrywide and New Century are underwriting it. Almost all of these borrowers will eventually re-default."
"It is very obvious that the architects of HAMP are short-term focused, and are tricking us into thinking they are solving the problem by calling these permanent modifications. Until these loans are renamed, let's call them 'Liar Loans 2,' except this time the liar is the Bank of the United States rather than the borrower because this modification is anything but 'permanent'. We do believe that stabilizing home prices and the banking system are critical to the recovery of the U.S. economy, but let's at least tell the truth about what is being done."
The underwater figure is a "frightening number," says Sharga. "What we're doing is betting on trends here. If a loan is 50 percent upside down, what you're betting on here is that five years' time will allow for enough appreciation so that the homeowner will either be right-sized again or at least close enough so that another trigger [like job loss or an unexpected costly expense] won't cause them to bail."
Continue reading page 3 of this story
Analysts say there's little chance HAMP will meet Obama's original goal.
Chen of Moody's Economy.com estimates that HAMP will ultimately save about 500,000 homeowners from foreclosure, she wrote in a July 21 note to clients. Sharga says it's likely to help just 10 percent of the homeowners the administration initially sought to save.
In June, analysts at Fitch Ratings projected that as many as 75 percent of HAMP homeowners will ultimately re-default -- despite the lower monthly payments. Last month, analysts at Barclays Capital said they project a 60 percent re-default rate.
Through March, federal bank regulators report that about 7.7 percent of HAMP homeowners were 60 or more days delinquent on their modified mortgages three months after the modified mortgage took effect. Overall, 11.3 percent of modifications completed during the last three months of 2009 were at least 60 days late after three months, according to a June 23 report by the Office of the Comptroller of the Currency and the Office of Thrift Supervision.
But mortgages modified during the fourth quarter of 2009 have exhibited lower re-default rates, bank regulators note. By comparison, almost a third of homeowners with reworked loans during the fourth quarter of 2008 were falling at least 60 days behind on their payments after three months.
Regulators attribute the lower re-default rates to the significantly lower payments newly-modified loans require, according to their June 23 report. Experts say HAMP played a large role in the change.
Treasury argues that a focus has been to standardize the way that servicers modify mortgages across the industry -- something homeowner advocates acknowledge as a success. They and Treasury point to the fact that servicers are lowering required monthly payments on non-HAMP modifications, and that as a result re-default rates have improved.
Experts, though, argue that re-default rates at six months and 12 months are much more meaningful than the three-month rate.
To Hanson, HAMP "was a way to kick the can and hope for a better day. The problem is, that day is here now."
He forecasts that the next six to 12 months "will really tell the fate of housing. It looks like we're heading for a pretty big disappointment," he says. The next quarter is "definitely going to be ugly" as more foreclosures are processed and more of them hit the market, depressing home prices.
Banks have repossessed about 1.4 million homes since Obama took office, according to RealtyTrac.
Former Federal Reserve Chairman Alan Greenspan said Sunday on NBC News' "Meet the Press" that a so-called double-dip recession was possible "if home prices go down."
Treasury may be running out of options. HAMP is slowing. The number of homeowners entering the program dropped 35 percent to a one-year low in June. Cancellations outpaced new trial and permanent mods in each of the last three months.
"The government sort of did what it had to do to stop the bleeding," Sharga says. "We now have a housing market that's very much like a patient that's in critical condition. I know the government would like to take it off life support, but I'm unsure they know exactly which dials to turn or which hoses to unplug."
Meanwhile, Treasury isn't being forthcoming with the public about its goals, plans, or metrics for success, auditors from three government agencies say.
Treasury officials declined to state how many homeowners will eventually end up with permanent HAMP modifications.
"The American people are essentially being asked to shoulder an additional $50 billion of national debt without being told, more than 16 months after the program's announcement, how many people Treasury hopes to actually help stay in their homes as a result of these expenditures, how many people are intended to be helped through other subprograms, and how the program is performing against those expectations and goals," SIGTARP wrote in its July report to Congress. "Without such clearly defined standards, positive comments regarding the progress or success of HAMP are simply not credible, and the growing public suspicions that the program is an outright failure will continue to spread."
"One of the things that drives me nuts is Treasury's literal refusal to look at the housing market," says Dean Baker, co-director of the Washington-based Center for Economic and Policy Research. Baker argues that the housing bubble has yet to fully deflate. In other words, we haven't hit bottom yet -- a point echoed by analysts like Burns and Hanson.
Nearly 15 million homeowners are underwater, according to a presentation for members of Congress by Mark Zandi, chief economist for Moody's Economy.com, and Robert Shiller, a Yale professor and one of the two creators of the Case-Shiller Home Price Index.
"We've got a huge amount of people who are under water that aren't going to be made whole," Baker says. "If you can't persuade the banks to do a write-down that will allow them to stay in their homes, then you haven't done that person a favor."
But HAMP doesn't call for mandatory principal reduction.
"We have consistently said a very small portion (less than five percent) have reported using principal reduction despite the fact that HAMP permits principal reduction at any point," Caldwell says.
As few as 0.1 percent of mortgage modifications initiated under HAMP involve reductions of principal, according to a June report by federal bank regulators. SIGTARP recommends that Treasury "re-evaluate" its approach, arguing that mandatory principal reductions may be the best way to save homeowners from foreclosure. Moody's Investors Service projects that HAMP homeowners will re-default at a potential 70 percent rate without principal reduction. "The ultimate level of re-defaults will depend heavily on the successful implementation of principal forgiveness," Moody's analysts wrote, according to a SIGTARP report.
But while Treasury complains that widespread principal writedowns would exacerbate moral hazard -- the concept that bad behavior without consequence only leads to more bad behavior -- SIGTARP picked apart Treasury's reasoning in its report to Congress, noting that not only could Treasury ensure that undeserving homeowners don't receive principal reductions, but also that "any incremental moral hazard implicated by making principal reductions for homeowners mandatory pales in comparison to the moral hazard caused by TARP assistance to Wall Street."
"Failure to make [principal reduction] mandatory may severely undercut the ability of HAMP" to prevent large-scale re-defaults, SIGTARP noted.
Hanson believes the housing problem was "a lot greater" than the administration's response. "The response should have been a super HAMP," Hanson said, arguing that the administration should have pushed for principal reduction and to amend bankruptcy law to allow for judges to rewrite mortgages on first-lien, owner-occupied homes (bankruptcy judges are powerless to change those terms under current law).
Absent that, Treasury shouldn't have done anything, he said. Rather, the market should have been allowed to run its natural course.
But because Treasury chose something in between, the recovery will be delayed. Hanson forecasts lower home prices nationwide four years out. Treasury is banking on a rebound.
"If you're 50 percent underwater you're not securing equity and you're not secure in your house," Baker says. "We just handed banks money for nothing."
*************************
Arthur Delaney can be reached at arthur@huffingtonpost.com or on Twitter @ArthurDelaneyHP.
Related
Popular in the Community