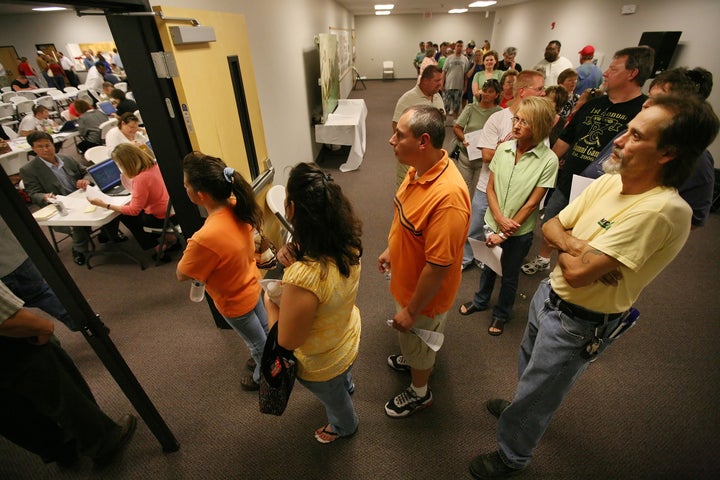 Stephenie Dodson read in the newspaper earlier this month that some 28,000 Tennesseans will lose their federal unemployment benefits because of the state's improving economy. Notices would start hitting mailboxes within a week, the paper said.
The Nashville resident, who lost her job running an after-school program in July 2009, soon received a letter that gave her the impression that benefits would continue. She had been receiving aid from the federal Extended Benefits (EB) program, which can provide 20 weeks of checks for people who go through up to 53 weeks of federal Emergency Unemployment Compensation and 26 of state benefits. The following week, though, Dodson got a letter saying that, as of April 16, she'd be cut off.
Tennessee is one of three states where where the EB program ended this month. These federal benefits expired less because of job gains than because state lawmakers let them die.
When Dodson received the second letter, she called the Tennessee Department of Labor and Workforce Development to ask what was going on. After sitting on hold for 30 minutes or so, Dodson was connected with an agency employee who tried to set her straight.
"She said, 'I don't understand this completely, but to my knowledge the state has run out of money and there's no money for that,'" Dodson told The Huffington Post. "I said, 'But wait, it's a federal thing.'"
Dodson was right. The EB program is a federal thing.
Its benefits are funded with federal dollars (though states do pick up the cost of EB claims from people laid off by local and tribal governments, typically 2 percent of all claims), and the federal money hasn't run out. Even though the EB program expired in Tennessee, with little to no public debate, it didn't have to. State lawmakers could have passed a law to keep the program.
Yet Tennessee's Republican House Speaker Beth Harwell didn't see things that way. Reached at home on Friday morning, Harwell told HuffPost in a brief conversation that there was no reason for the state legislature to get involved, because it's up to Washington to determine whether the EB program expires.
The U.S. Congress invited states to keep the EB program from expiring prematurely. In December, shortly after Congress passed a law reauthorizing federal unemployment programs for a full year, the U.S. Department of Labor sent a memo to state workforce agencies advising them that they'd lose eligibility for these federal benefits unless local legislatures took action. The memo explained exactly what lawmakers would need to do to take advantage of the new law and even provided draft language for new state legislation.
"For this reason, we know that every state agency was on notice about the need to adopt the new federal option," emailed Attorney Rick McHugh of the National Employment Law Project, a New York-based worker advocacy group.
McHugh suggested a few contributing factors for why some states had allowed the EB program to lapse. "[M]ost state agencies have suffered many retirements of experienced staff and are still working under severe claims load. How information gets transmitted from [workforce] agencies to governors and legislators varies widely by state. And, the fact that most public officials won't listen to you more than 30 seconds, means this is an issue that gets filtered out."
"Finally," McHugh wrote, "some states do not make taking care of jobless workers a big priority."
Rep. Harwell's said the Tennessee governor's office was aware of the EB program's expiration, but a spokesman for GOP Gov. Bill Haslam had no comment. A representative of the Tennessee Department of Labor and Workforce Development speculated that state officials took no action because they didn't want to burden the federal government, according to local TV station WVLT.
And, contrary to the newspaper article Dodson read, the EB program is not expiring in Tennessee because of recent job gains. The state's unemployment rate has held steady at 9.5 percent for the past two months, after rising from 9.4 percent in January.
The EB program is expiring only because the unemployment rate hasn't risen dramatically and -- even if it had not fallen at all -- the benefits could still have expired. A state's eligibility is based partly on whether the current unemployment rate is 10 percent higher than it was in either of the two previous years. Congress said states could remain in the EB program if state lawmakers moved their eligibility baselines back three years instead of just the past two. Compared with three years ago, unemployment rates in hard-hit states are much higher now.
Dodson, for her part, said she's in a tight spot without the $275 per week she received in benefits. "I don't know how I'm going to pay my electric bill," said Dodson, whose checks from the EB program ended this week.
Although Dodson has a temporary gig lined up for the summer, she doubts that she'll be able to find permanent work soon. "It's all about the lack of degree," said Dodson. "I'm 57 years old and I have no college degree. I'm a single mom."
"You know the story," she said, "because it's the American story now."
Correction: An earlier version of this story incorrectly reported that EB is fully funded by the federal government. In fact, states pay the cost of EB claims from people laid off by state, local and tribal governments, which typically amount to 2 percent of all claims, according to the National Employment Law Project.
Popular in the Community