I was recently invited as a media guest for "Travel Like a Pro: A Duality of Work and Play" immersion trip, hosted by Extended Stay America, hotels, at their property in the Secaucus in New York City area. I love visiting New York City, so I grabbed on to this opportunity!
Extended Stay America (ESA) is the largest owner/operator hotel chain in the U.S., and a category leader in the mid-priced extended stay segment. The Company owns and operates more than 620 locations in the U.S. and Canada, comprising nearly 72,000 rooms, all with fully equipped in-room kitchens.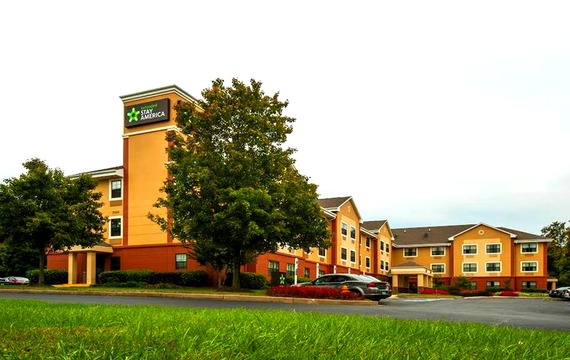 I had an amazing time on this trip and here I am sharing the highlights of my stay!
As soon as I entered the hotel, I saw refreshing warm red tones throughout the lobby. The lobby was spacious with sufficient seating place that provided a cozy atmosphere to relax and enjoy a complimentary cup of coffee while you completed the check-in progress. I was welcomed by their staff, who were extremely polite and hospitable.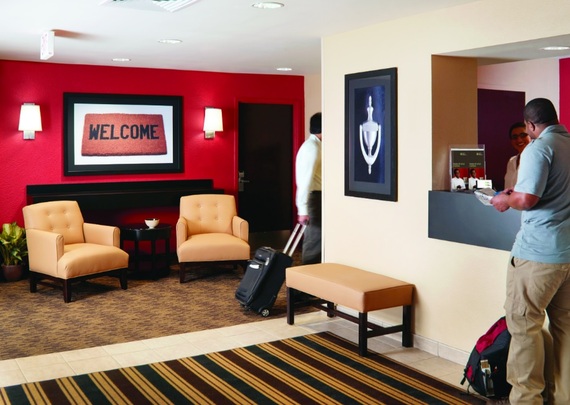 As soon as I entered the room, it gave me the feeling of a small apartment in the vicinity of the world's greatest city! There was a living room with separate working space area, a dining space as well as fully equipped kitchen, stocked with pots, pans, plates, cups, silverware and cooking utensil. There was a separate bedroom. The tranquil green and gold tones on the walls were soothing and refreshing. There was plenty of storage space to unpack and spread out. I loved the comfortable recliner which were delight after a long day. The room was equipped with two flat-screen televisions - one in the living area and the other in the bedroom, both with premium channels. There was also free in-room Wi-Fi access for all the guests as well as on-site laundry center that allows for light packing on longer trips.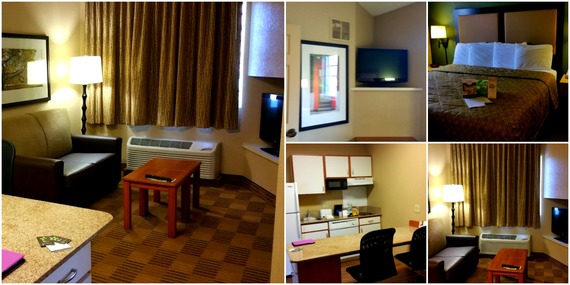 The restroom had a marble-top vanity with multiple compartments for storage. It was clean with all the modern amenities and toiletries. With ESA's 'Green on the Go' philosophy, you will see their environmentally friendly practices extended throughout all of their guest rooms, utilizing low flow showerheads, which use only 2.0 gallons per minute and fluorescent light bulbs in all light fixtures.
The thing I loved most about ESA is that the area they called kitchen wasn't a tiny space with a microwave and sink that they titled a "kitchen", but rather a fully equipped 'kitchen-kitchen' with all the modern amenities, essential utensils and basic crockery. The space is ideal for savvy travelers looking to save money and make better eating decision, ESA encourages guests to explore home-cooking on-the-go with "Away From Home Cooking" in-room cooking booklet, created with Food Network's Sunny Anderson and Extended Stay America associates. This book features 24 super simple, tasty recipes available in all guestroom kitchens with additional resources available online at www.AwayFromHomeCooking.com, that deliver the great taste of home wherever the road leads.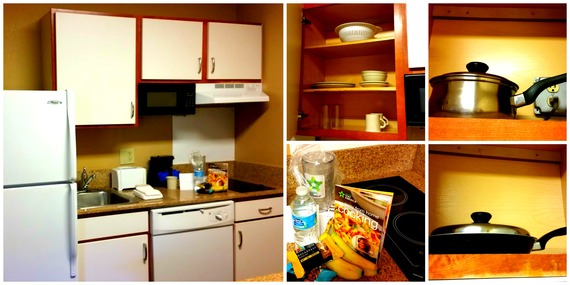 ESA provides healthy grab and go breakfast whether running to a business meeting or fueling up for a day off sightseeing adventures. As the breakfast is the most important meal of the day, there were options including freshly brewed coffee, oatmeal, muffins and an assortment of fresh-fruits and granola bars for a quick, wallet-friendly way to start the day.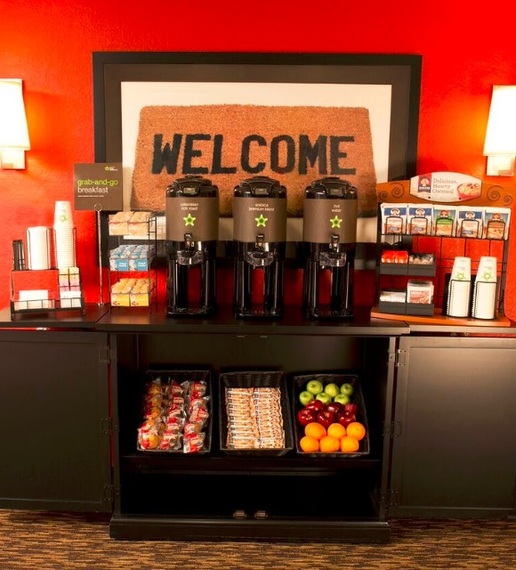 Apart from free in-room Wi-Fi access, fully equipped kitchen, on-site laundry center and complimentary grab-and-go breakfast daily, many ESA properties also feature a swimming pool, fitness center and outer space to end your hectic day whether you are road warriors or adventure seekers. As a bonus, Extended Stay America also provides unlimited local phone use, personalized voice-mails as well as pet-friendly accommodation, ideal for those who are staying for longer periods of time.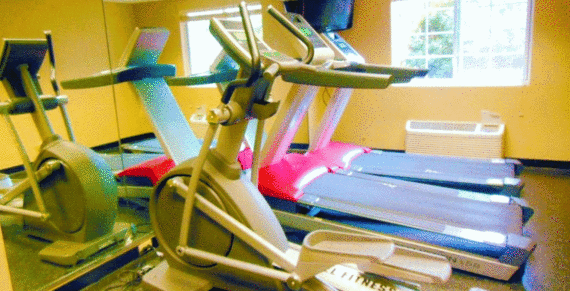 Another thing I loved about Extended Stay America is the brand's 'Hotel Keys of Hope' program in which Extended Stay America has partnered with American Cancer Society to change the lives of those in need of lifesaving cancer treatments away from home. A room donation program, Hotel Keys of Hope℠ offers cancer patients an affordable, comfortable place either free of charge or at an incredibly discounted rates of $12 -- alleviating demand on the 31 American Cancer Society Hope Lodge facilities, which often run at capacity. Since inception in 2014, Extended Stay America has provided a record-breaking donation of 150,000 free and reduced room nights, and is expected to impact more than 15,000 families in the next two years. The brand also launched a nationwide program encouraging guests to leave their room keys to help save lives. For every key left in the lobby's Hotel Keys of Hope collection box, Extended Stay America will donate one dollar of hotel room value, eventually adding up to the committed total contribution of $1 million dollars.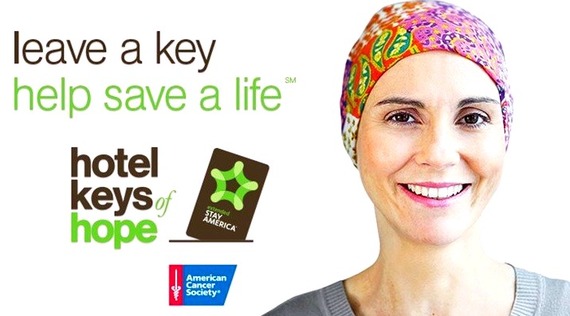 Extended Stay America hotel is a budget friendly hotel for savvy travelers, providing resources for a healthy and productive lifestyle while staying away from home. From experiencing "Away From Home Cooking" to home away from home feeling, this hotel will definitely help you to focus on your health and productivity while moving on the road.
If you are looking for a budget friendly hotel away from hustle and bustle of New York City, where you can feel like home with private space whether you are visiting NYC for a business trip or leisure, Extended Stay America (ESA), New York City area, won't disappoint you.
Perfect for: Business travelers, savvy travelers, family vacation for leisure, and a base for exploring New York City.