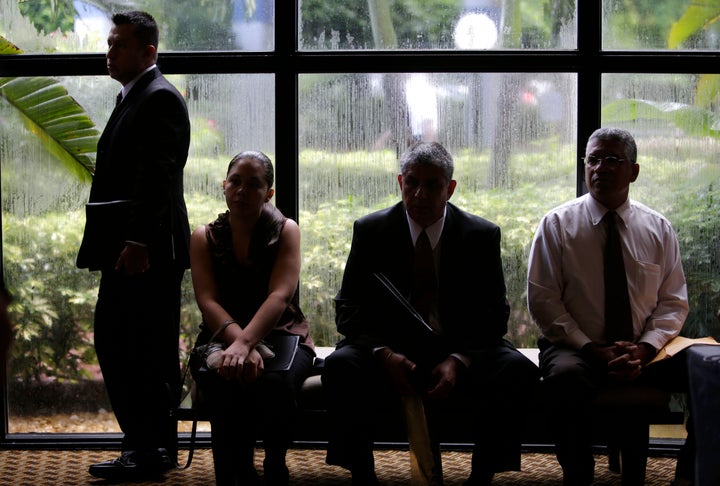 WASHINGTON -- People laid off through no fault of their own are eligible for fewer and fewer weeks of unemployment insurance as the government pares back the safety net deployed in response to the worst recession since the Great Depression.
But since Congress said states should lose access to some benefits automatically as unemployment declines, volatility in the numbers means states are seeing their eligibility for some federal jobless benefits trigger off and on. In the past month, eight states have regained eligibility for several months' worth of benefits they'd only recently lost.
How come? It's really complicated.
Federal unemployment insurance has been provided by Congress as a matter of course during recessions for the past half century. Since 2008, two programs have combined to provide up to 73 weeks of federal assistance for workers who use up the standard 26 weeks of state benefits. One federal program, called Extended Benefits, formerly provided up to 20 weeks of assistance, but has been allowed to expire completely.
The other program, called Emergency Unemployment Compensation (EUC), is still in place until the end of the year. Its 53 weeks of benefits are broken into four "tiers," with each providing a different number of weeks of assistance. Eligibility for the later tiers requires a state to have a higher unemployment rate.
According to the most recent "Trigger Notice" from the U.S. Department of Labor, Georgia, Mississippi and Michigan regained eligibility for the fourth tier of EUC on Oct. 7, because the three-month average unemployment rates in those states reached 9 percent or above. The states had only lost eligibility for the fourth tier in June and July, when their three-month average unemployment rates dipped below 9 percent.
Georgians, Michiganders and Mississippians receiving benefits at the cutoff time would still receive their remaining weeks' worth. And workers who missed out on the fourth tier should start receiving benefits now that their state has again become eligible. The Georgia Department of Labor said it notified 13,000 workers they were eligible for the fourth tier's 10 weeks of assistance.
Also on Oct. 7, unemployment rates above 7 percent caused Maryland and Texas to regain eligibility for nine weeks of benefits from the third tier of EUC. (Tier 3 used to come with 13 weeks of compensation, but Congress trimmed it in February.) In September, the third tier triggered on in Wisconsin and Wyoming, and the second tier triggered on in Utah because the state's three-month jobless rate hit 6 percent.
The Emergency Unemployment Compensation program is set to expire altogether in December, unless Congress reauthorizes it. According to the National Employment Law Project, a worker research and advocacy group, 2 million people will abruptly stop receiving checks at the end of the year under current law.
HuffPost readers: Unemployed? Tell us about it -- email arthur@huffingtonpost.com. Please include your phone number if you're willing to do an interview.
REAL LIFE. REAL NEWS. REAL VOICES.
Help us tell more of the stories that matter from voices that too often remain unheard.
BEFORE YOU GO
PHOTO GALLERY
What The GOP Doesn't Want You To Know About The Deficit