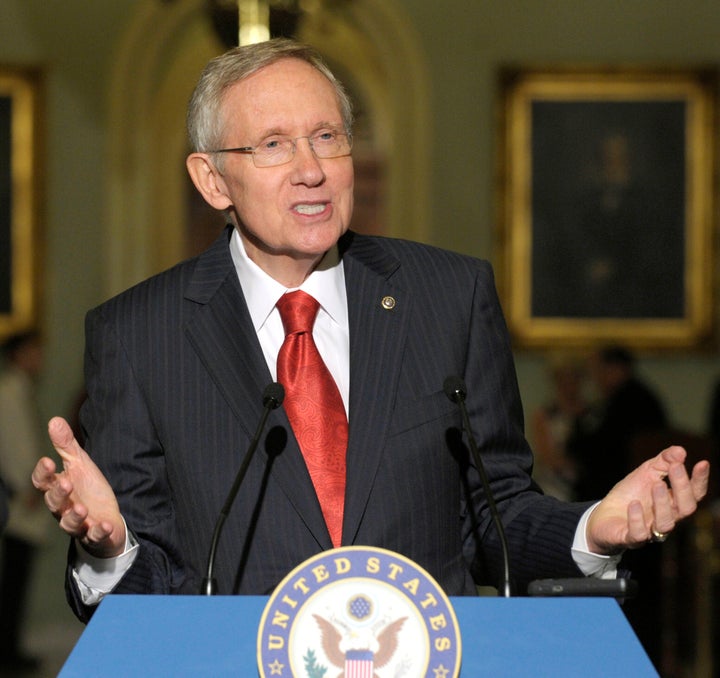 WASHINGTON -- A deal to raise the statutory U.S. borrowing limit and cut the federal budget may preserve federal unemployment benefits set to expire at the beginning of next year, lawmakers said Tuesday.
President Obama has said he'd agree to billions in spending cuts in exchange for higher taxers as part of a "grand bargain" to address the nation's long-term fiscal imbalance while preventing a potentially disastrous default at the beginning of August.
HuffPost asked Senate Majority Leader Harry Reid (D-Nev.) if congressional negotiators and the White House were considering reauthorizing the extended benefits as part of the deal.
"On the grand bargain, of course," Reid said.
Under current law, as of July, workers laid off through no fault of their own are ineligible for the extra weeks of federal jobless benefits that since 2008 have kicked in for those who exhaust 26 weeks of state-funded benefits. Congress has provided extra weeks of aid during every recession since the 1950s and has never let them expire with unemployment above 7.2 percent.
The rate currently stands at 9.2 percent and isn't expected to come down anytime soon. And letting the benefits expire could very well damage the economy.
Sen. Kent Conrad (D-N.D.), chairman of the Senate Budget Committee and a member of earlier bipartisan budget negotiations, also told HuffPost federal unemployment benefits are under discussion as part of the budget deal, though he said he hadn't been part of any specific discussions.
"It's unclear," Conrad said. "You've asked me the question, could it be included? Yes, it could be. What the form of it is -- I just had a discussion about this within the last hour... The conversation I just had just raised the issue. Wouldn't it be reasonable to include this in the package? And my answer is it certainly would be."
Sen. Bernie Sanders (I-Vt.) said that unemployment benefits were not discussed during a Democratic caucus lunch on Tuesday.
Republicans, who have opposed past reauthorizations of benefits because they were not accompanied by spending cuts, may be open to the idea since the grand bargain includes significant cuts.
"I don't have any problem if we decided we're going to do something like that," said Sen. Tom Coburn (R-Okla.). "Fine. Cut something else in government rather than borrow the money to do it."
"It depends on what we're talking about," said Sen. Orrin Hatch (R-Utah), who proposed drug testing the unemployed in 2010. "There's a lot of people who would claim to be hurt if we start cutting back. That's always that case. Those who really would help themselves if they could, can't -- I'm always for helping them. Those who could help themselves but won't, I have more difficulty with."
Nearly 4 million people are currently receiving federal benefits, according to the latest data from the Labor Department. The federal benefits provide up to 73 weeks of assistance checks in the hardest-hit states, so some jobless Americans can receive a total of 99 weeks of aid.
Popular in the Community