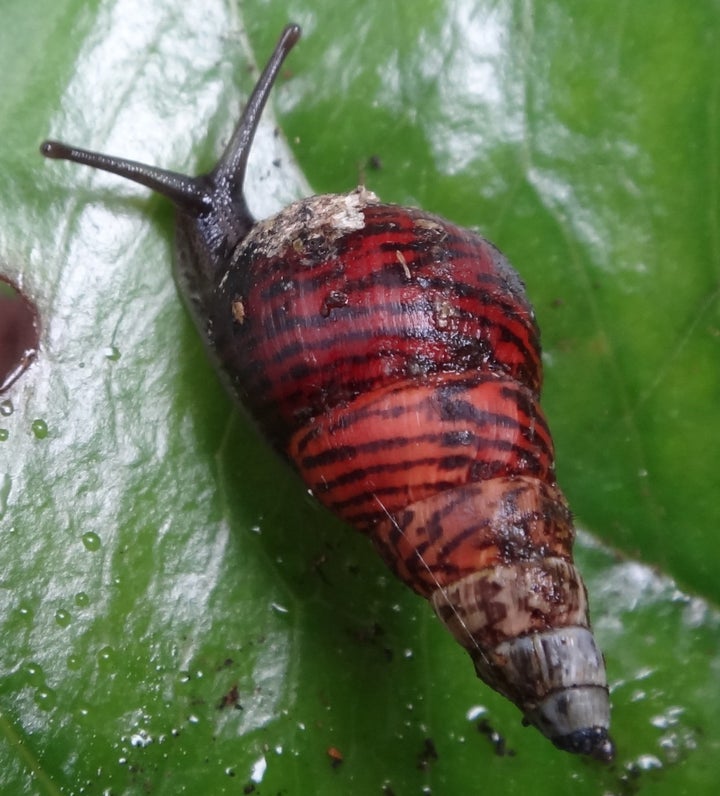 The sharp decline of land snail species in Hawaii may have frightening implications for the extinction rates of animals worldwide.
A multinational team of researchers argue that because the International Union for Conservation of Nature's Red List -- often cited as the authority on extinct and endangered species worldwide -- does not look at most invertebrates, it presents a skewed picture of extinction rates, portraying them as much lower than they are.
The researchers note that the IUCN standards for evaluating invertebrate species are so stringent that assessing many of them is virtually impossible -- a problem that's been pointed out by other scientists in the past.
In order to estimate the gap between extinction rates reported by the IUCN and real extinction rates, the researchers set out to conduct their own comprehensive survey of 325 known Hawaiian land snail species in the family Amastridae and compare their findings with the numbers listed by the IUCN.
While the IUCN cites 33 Hawaiian Amastridae species as extinct, the newer study concludes there are 131 extinct Amastridae species. Extinction rates haven't been constant, researchers say, but have risen in connection with periods of habitat destruction and introductions of invasive species by humans.
In a study published in June, some of the same researchers had partnered with other scientists around the world to calculate that around 10 percent of a sample of 200 known land snail species worldwide had gone extinct. Of these 200 species, only nine had been evaluated on the IUCN Red List, and three of those nine were extinct.
The earlier group of scientists extrapolated from those data to estimate that 130,000 species worldwide may have gone extinct since around the year 1600, as opposed to the 800 species recognized by the IUCN.
Robert Cowie, a University of Hawaii researcher who worked on both studies, told The Huffington Post that although the new estimate may not be precise, it nevertheless suggests that "the real number of extinct species is far, far greater than that assessed as such by the IUCN."
"It's a bit of a leap of faith, I admit," he told The Washington Post. "We just have to wave our arms around and say that's the best we can do."
He also told the Post that the intention was not to make the IUCN look bad.
"We're not criticizing IUCN, they're not set up to estimate the number of species," he told the Post. "The point of the paper is to say, the vast, vast majority of invertebrates has not been assessed."
Contact the author of this article at Hilary.Hanson@huffingtonpost.com.
CORRECTION: The story previously misstated when a study of land snail species worldwide was published. It was published in June. The story has also been clarified to note that a second study looked at Hawaiian land snail species specifically in the family Amastridae.
Related