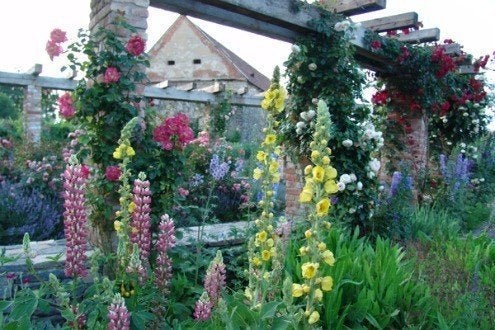 Turns out Crispin Glover, best known for his role as George McFly in "Back to the Future," isn't the only foreigner to restore a castle in the Czech Republic.
Italian artist Eugenio Percossi and his partner, architect Alberto Di Stefano, are lovingly restoring a Renaissance castle (complete with moat) just outside the medieval town of Kutna Hora, an UNESCO World Heritage site with silver mines, the Gothic frescoed St. Barbara Church and a 15th century chapel decorated with human bones.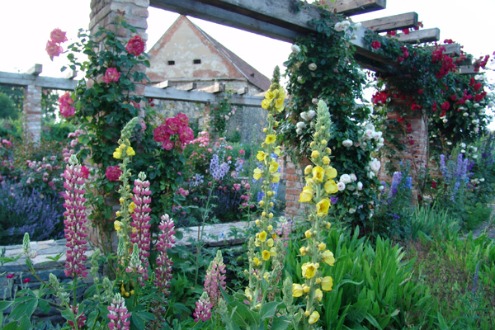 Like the castle in the fairytale Sleeping Beauty, Chateau Trebesice was covered with brambles and in desperate need of attention when Percossi and Di Stefano purchased it in 2000.
"We spent the first two years just staring at it, trying to decide what to do," says Percossi, a renowned artist who regularly exhibits in New York, Rome, Dubai and, of course, in Prague where he and Di Stefano own Futura, Prague's most avant-garde (and often controversial) gallery.
Little by little, Percossi and Di Stefano have turned the 13th century chateau into one of the most unique B&B&B's (bed, breakfast and bodacious three-course dinner) in Europe. The third "B," by the way, is no small prize. All meals are meticulously prepared by Italian foodies with asparagus, fava beans, berries and dozens of other organic fruits and veggies from the castle's French-inspired ornamental kitchen garden.
Every summer, the creative duo, who also own an artists' residency space in New York, invite in internationally-known artists for month-long castle residencies. In return for room and board, each of five artists creates a permanent installation. So far, more than 80 pieces of contemporary art are scattered throughout the castle and its ooh-la-la grounds.
Emerging from the moat on the right side of the bridge, for example, is Slovak artist Tomas Dzadon's scale model Panelak, the ubiquitous apartment building erected during Communism. Suspending from the barn's roof is a neon heart, a replica of the 53-foot heart created above the Prague Castle in 2002 to honor retiring Vaclav Havel.
When artists are not in residence, guests can stay in one of five suites, each an art piece in itself. I stayed in the "Presidents Room," nestled under a down comforter, next to a red velvet Madonna while giant Jiri David pieces of Vaclav Havel and Vaclav Klaus, the first two presidents of the non-Communist Czech, stared me down. Originally created for the 2004 Venice Biennial, the eerie twin portraits were made by splitting photos and reassembling.
Speaking of Klaus, David Cerny's incendiary kiss-off of the right-wing Czech president is permanently displayed at Percossi and Di Stefano's Prague gallery. Viewers climb a 20-foot ladder to peer into a fiberglass anus where videos of a rubber-mask-wearing impersonator of Klaus feeds slop to another politician to the tune of "We Are the Champions."
Chateau Trebesice's Black and White room, created by Percossi to look like a period photograph, has 1930's style furnishing in endless shades of grey and black. Even the paintings, the books, the plants and the fruit in the bowl are painted grey.
Percossi, who speaks fluent English with a charming-a-Italian-a-accent-a, greets each guest to Chateau Trebesice personally. He gives tours and weaves delightful tales about each piece of art from the library's graffiti ceiling (created by Czech street artist Jakub Matuska-AKA The Masker--in 2008) to the main hall's Memento Mori, a modern ossuary with hundreds of anatomically realistic skulls made from bread.
For contemporary art lovers, Chateau Trebesice is a must-see along with Kutna Hora's (it's five minutes away) Jesuit College turned contemporary art museum. GASK, just opened since May, is garnering international attention for its innovative interactive installations, candlelit musical performances and exhibits of subversive European art. No doubt art honcho Damien Hirst's solo show in December will keep its reputation brewing.

Chateau Trebesice is just 80 minutes from Prague, Zamek Trebesice 1, 28601 Caslav, Czech Republic, (420) 603 789 983.

Related