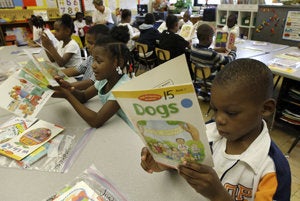 Education is the great equalizer, the means to enable any child to realize the American dream. Children in America today, however receive vastly unequal educational experiences and opportunities due to substantial differences in funding between schools. This barrier prevents too many children in poor areas from realizing their potential, leading to ever more economic inequality in our society.
Before being elected to Congress, I spent many decades as a teacher and principal. As an educator I observed the inequity in the education provided by different schools within states, counties, single school districts, and even within a school.
For example, in my Silicon Valley region, one school district spends nearly twice as much per student as a nearby, similarly sized school district. Consequently, this district has higher teacher salaries, lower student-teacher ratios, higher standardized test scores, and higher graduation rates than its neighbor. In a comparison of performance of the two school districts based on state tests, the higher spending district's lowest scoring school ranks higher than all but four of the schools in its lower spending neighboring district.
These disparities exist nationwide – our highest spending American school district spends 9.12 times more per pupil than the district with the lowest per pupil funding. Disparities exist in every state, as demonstrated from the examples in the table below:
Ratio of Highest: Lowest Average Expenditure per Pupil Within the State *

California

4.24:1

Illinois

3.89:1

New York

3.47:1

Massachusetts

3.31:1

Missouri

2.76:1

New Jersey

2.76:1

Pennsylvania

2.71:1

Virginia

2.18:1

* Using the latest available data for the 2004-2005 school year from the National Center for Education Statistics (NCES) and Census.  Excludes the following LEAs: very small (enrollment below 200 students), special purpose LEAs, those providing only special or vocational/technical education, and individual charter schools.
Disparities like this should not exist in America, yet they continue to persist. Eliminating these disparities will provide the means for all Americans to achieve individual success, assure the nation's economic competiveness, and ensure America's global leadership in the 21 st century.
I authored the The Citizens' Educational Equity Commission Act, H.R. 7203, to identify solutions to meet the educational needs of each individual student, ensure all children achieve their maximum academic potential, and eliminate the inequitable distribution of resources among our schools. This legislation will institute a Citizens' Educational Equity Commission to gather insights and public opinions about how the government can improve education. This commission will be charged with holding hearings and community meetings across the country to explore this issue in depth, seeking input, and developing strategies to guarantee equity in our education system.
Every child deserves a high quality education, and with the guidance of the American people through the Citizens' Educational Equity Commission Act, we will identify solutions to offer the opportunity to all students to reach their full potential.
Congressman Mike Honda has represented Silicon Valley in Congress since 2000. Before being elected to Congress, he spent over thirty years in education as a teacher, a vice-principal, a principal, and a school board member. In 2000, Mike brought his commitment to children and improving our students' education to Congress where he serves on the Labor, Health and Human Services, and Education Appropriations Subcommittee advocating for increased funding for education and responsible education reform. He and Senator Barack Obama also recently introduced a bill to coordinate STEM education across federal agencies.
REAL LIFE. REAL NEWS. REAL VOICES.
Help us tell more of the stories that matter from voices that too often remain unheard.