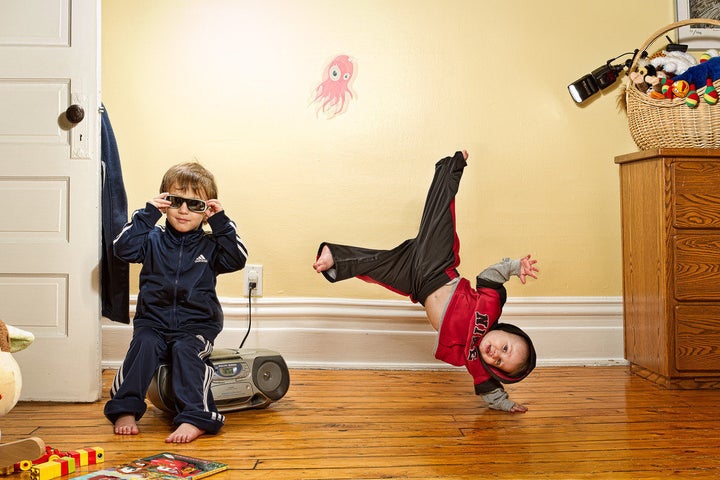 Van Leeuwen should know. The self-described "people photographer," who has three children (2- and 4-year old boys and a 14-year-old stepson), has taken photos of his own family and others in amusing, unconventional -- and yes, extreme -- poses.
Some images show whimsical scenes from his life as a stay-at-home dad ("I'm doing these WHILE taking care of my kids, so processing is an interesting endeavor whilst holding a one-year-old," Van Leeuwen explained in a post on his site last year). Other stylized shots show families playing hide-and-seek, frolicking by the pool and fooling around on the monkey bars.
On Flickr and his website, the photographer provides technical details about the setup of many of his shots -- detailing, for instance, his use of composite photography (a style also favored by "World's Best Father" Dave Engledow).
Over email, Van Leeuwen told HuffPost that he started taking "extreme" photos because he was "bored."
"I had just been laid off from my job, my wife was going back to work after maternity leave, and I was sort of 'stuck' at home, not working, taking care of the kids. I had an idea for our family Christmas photo and I just figured the best way to do it was to piece it all together one or two people at a time and, of course, toss the baby around a little. Kids love that stuff." You can see the ultimate product of Van Leeuwen's boredom (and photographic resourcefulness) here.
How do other clients decide on the settings and themes for their photographs? It's a collaborative effort, he explains. He asks for information about the family members before getting started -- "nothing too taxing, just enough for me to imagine possible scenarios" -- and then comes up with an idea; "I'll often propose one idea and the family scales it back to their own comfort zone, which is why some extreme photos are a little less extreme."
Entrepreneur and mother of six Julie Cole -- whose family is featured on the last slide in the gallery below -- wrote a post about her own "extreme photo" experience last year. For her family, Van Leeuwen's portraiture is more than a zany curiosity. "We've used our Extreme Family Photo in many ways -- from PR purposes to holiday cards, and now a giant version of it ... hangs proudly in the foyer of our home and gets a great reaction from all of our guests," she says. Since "[g]etting a cool photo of a big family can be challenging at best, impossible at worst," that's quite something.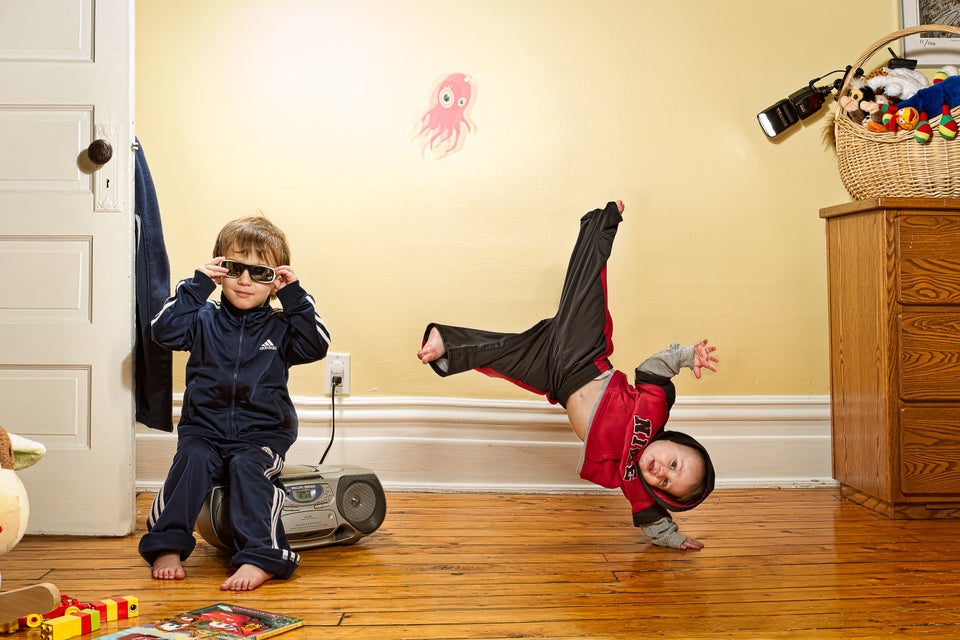 Justin Van Leeuwen's Extreme Family Photos