WASHINGTON — As climate change drives up global temperatures, sweltering summer heat is becoming increasingly dangerous. And for thousands of city-dwelling Americans, world leaders' willingness to meet the targets of the historic Paris climate pact could mean the difference between life and death.
That's according to a new analysis by the Natural Resources Defense Council that describes some potential local effects of the world failing to drastically cut carbon emissions, as nearly 200 countries committed to doing when they signed the 2015 Paris accord. 
"If we continue to emit climate-changing pollution at our current rate, our largest urban areas like New York, Philadelphia, and St. Louis will see many more summertime deaths," says the report, released Thursday and authored by the environmental nonprofit's special projects director Juanita Constible.
In 45 of the nation's largest urban centers alone, by the mid-2040s, the number of heat-related fatalities could total 13,860 every year — or roughly 150 people dying every day for an entire summer. By 2090, according to the findings, extreme heat-related deaths in those cities could soar to nearly 30,000 per year — more than 300 deaths per summer day.
By the 2090s, summer heat waves could kill an average of 7,370 people each year in New York alone. Philadelphia, Chicago and Boston would also be hit hard under a business-as-usual emissions scenario, with 5,040, 2,440 and 1,340 annual deaths, respectively.
In a call with reporters Thursday, Constible said the report "underscores some of the most dire consequences" of President Donald Trump's climate agenda. 
"The Trump administration is doing everything it can right now to roll back climate and health protections," she said. "Instead of accelerating our nation's transition to a cleaner, safer future, President Trump and his Cabinet are driving in reverse with their eyes closed."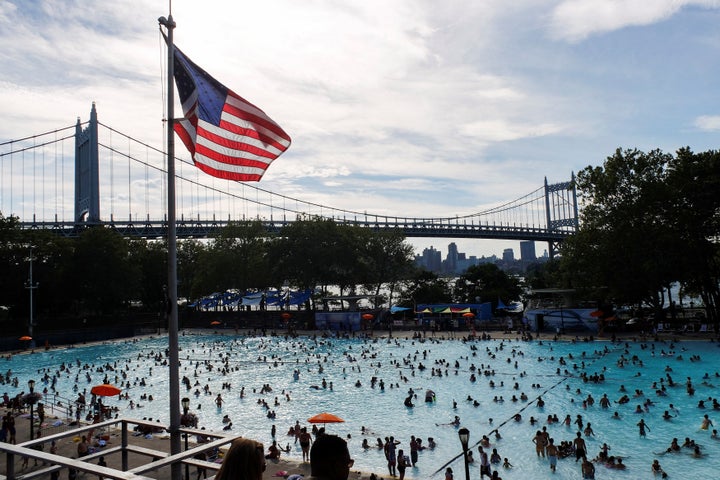 These future estimates dwarf historic figures. Between 2006 and 2010, about 620 people in the U.S. died annually from heat-related causes, according to a 2014 report by the Centers for Disease Control and Prevention.
Thursday's report also estimates the number of lives that could be saved in America's largest cities if countries around the world meet the goals of the Paris accord. By the 2090s, more than 3,100 lives could be saved per year in New York alone. And around 1,600 people could be spared in both Philadelphia and Chicago. 
By the 2090s, in the 45 metropolitan areas analyzed in the report, a total of 12,820 lives could be saved each year if the goals of the Paris pact are met, the NRDC says.
In signing the Paris accord, countries, including heavy polluters like the U.S., China and India, committed to slashing carbon emissions in an effort to prevent global temperatures from increasing by 2 degrees Celsius ― the "magic number" that scientists say the world must stay below to ward off the very worst effects of climate change. This month, however, Trump announced plans to pull the U.S. out of the agreement.
In its report, the NRDC writes that Trump is "leading the United States in entirely the wrong direction" — one that will likely prove deadly.
"To minimize needless and preventable American deaths from heat-related causes, the Trump administration must cease these rollbacks of vital health and environmental protections and immediately recommit to the Paris Agreement," the report states.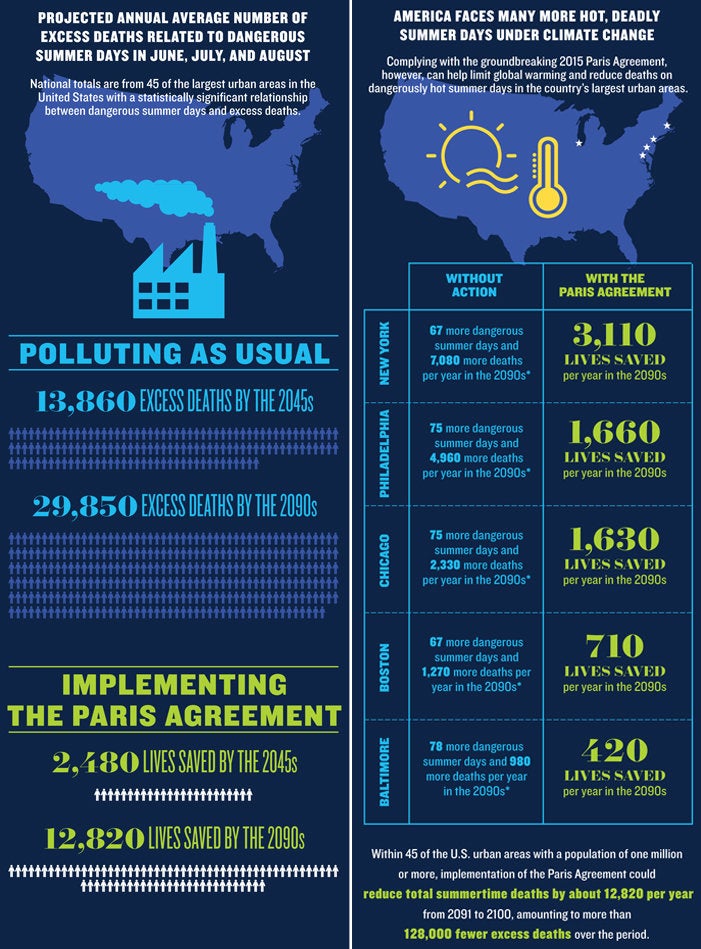 Extreme heat can lead to a number of dangerous and even fatal health conditions, including heatstroke and cardiovascular and respiratory disorders. Children, the elderly and low-income populations are most at risk. U.S. cities including St. Louis, Philadelphia and Chicago have seen "large increases in death rates during heat waves," according to the CDC.
Last week, as brutal heat scorched the southwestern U.S., a University of Hawaii study found that without global action to reverse climate change, 3 in 4 people on the planet could be exposed to deadly heat waves by 2100. And even with aggressive emission reductions, up to 48 percent of the global population will likely be plagued by at least 20 days of lethal heat per year by the end of the century.
This story has been updated with Constible's remarks to reporters.
Calling all HuffPost superfans!
Sign up for membership to become a founding member and help shape HuffPost's next chapter
BEFORE YOU GO
PHOTO GALLERY
Climate Visuals For The Climate Change Denier In Your Life