Last weekend, in the course of an hour, I encountered marauding gangs of Santa Clauses hitting the bars, a fleet of caravan Christmas-light adorned motorcycles cruising Market Street, and a fleet of cyclists who had tricked out their ten-speeds with glowing adornments. Somehow I was under the impression that tough times call for more belt-tightening measures, even when it comes to visual displays. But from this brief outing, the dominant attitude was that visual exploits trump downbeat resignation. The gracious power of twinkling lights and yuletide visual tropes are not to be underestimated.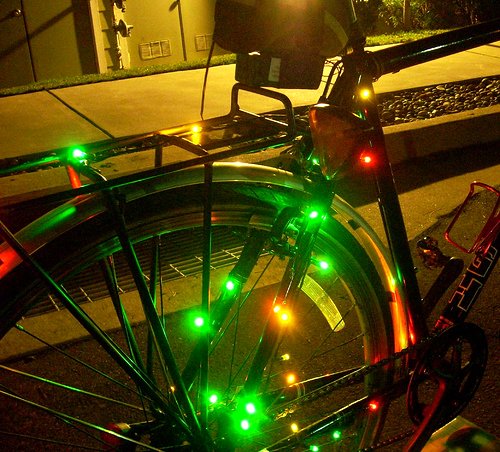 Photo credit: Richard Masoner/Cyclelicious
These holiday street gatherings seemed to draw inspiration from Burning Man pageantry, Flash Mob goofiness, Occupy energy, which temporarily dispersed, transferred to holiday expression. These were communities of people bound together to spread cheer, and they looked fabulous doing it. That sea of Santas who started their bar crawl at the San Francisco Civic Center as part of SantaCon, an ad hoc Kris Kringle confab, was a glorious display of crimson and fluffy white. On their website FAQ they highlight a freewheeling egg-noggy spirit: "Q: Is this some kind of political statement? A: No. It's fun and only fun."
Holiday lights have a way of quickly masking the mundane in something glittering, at least at night. Apparently it's something that people still believe in this time of year, in this moment in history. The president presides over the lighting of the giant pine in D.C., and there's some kind of collective joy that drowns out the cultural anxiety that's everywhere else. In November, I crossed paths with the tour of the National Tree as it wound its way to Washington. Who knew that the evergreen was packed into a long rectangular box and trucked around the country, stopping in parking lots for people to admire the scale. Is this something to cut from the national budget, or would the pride in our forests be damaged? (Alas, it's privately funded.) Is the expression of seasonal sentiment more worth investing in when times are rough?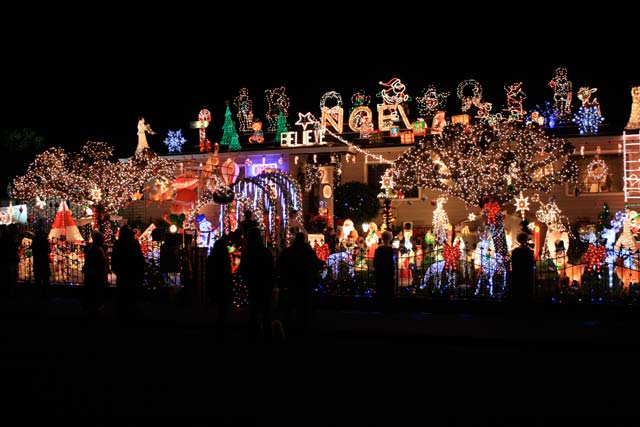 The Rombiero House, exterior
I've been too much of a non-Christian Grinch the past few years to notice, but cutting back on displays doesn't seem to be an option. If anything, holiday expression has gotten bigger, in a glitzy, homemade way. Nowhere is this more apparent than on suburban front lawns, where technological advances in holiday technologies are more energy efficient, programmable, and adaptable enough to go mobile. I joined a group of artists on a décor pilgrimage to Novato, CA to witness the privately funded public display known as The Rombiero's Christmas House, a humble abode given a Las Vegas dose of seasonal cheer. There are homes like this peppered all over the country -- that notorious house in the neighborhood with bigger, better, more glittering adornments and speakers blaring country versions of carols. Driving through this middle class Marin suburb it seemed the Rombiero house's existence bumped up the quality of decorative illumination on adjacent blocks.
I knew we'd arrived when we passed light-covered horse drawn carriages padding down these sleepy subdivided streets. Traffic began to thicken on Devonshire Drive, and pedestrians in colorful sweaters convened. In the way that McMansions were known for being buildings out of scale for their lots, the front yard here is packed to the white picket fence with twinkles, animatronic and inflatable snowmen, polar bears, and all manner of Santas. There's even a live Santa, who turns out to be the bearded family patriarch, greeting visitors at the faux-icicle covered entrance to the house.
The exterior is a delight, tapping into the physiological attraction to glitter, but it's nothing compared to the interior. The modestly scaled domestic rooms are lovingly crammed with yuletide tchotchkes. Each of these spaces is theme driven -- there's a dazzling train room adorned with photo backdrops and an intricate use of miniature trees, a snowy angel room, and even a space devoted to a beloved grandmother who passed away in that very room. As a group of thinkers and artists, we of course approached this place as a cultural phenomenon. We noted the approaches in which each room was aesthetically constructed, particularly how chests of drawers were converted to sweeping hillsides.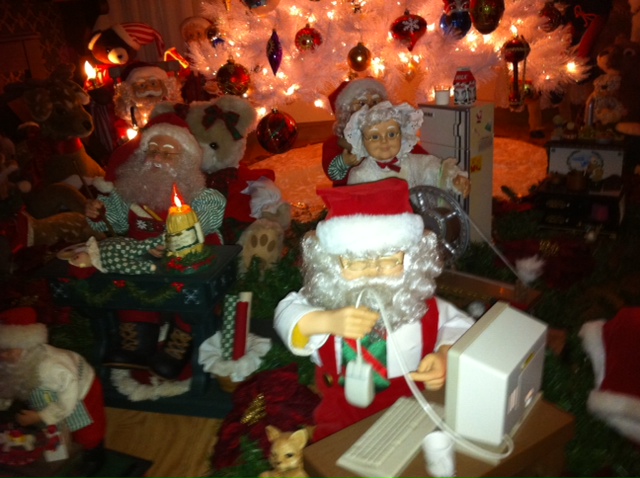 Rombiero interior, animatronic cyber Santa
We speculated that this project, which has been going for the past twenty years and attracts tens of thousands of visitors during the holiday month it's open to the public, was perhaps a benevolent form of hoarding. Every room is decorated save for the master bedroom (we didn't dare ask to use the bathroom, but we all were curious). From talking to the family members who host the event, and a fact sheet distributed on the kitchen table, we learned the Rombieros start the process of decorating in August, and take three months to deinstall. They told us the attic, garage and a huge storage shed in the backyard contain enough theme objects to create three houses as densely adorned as this one. The delight in sharing this extravagance is palpable, and it was difficult to be critical in the way artists tend to be with each other.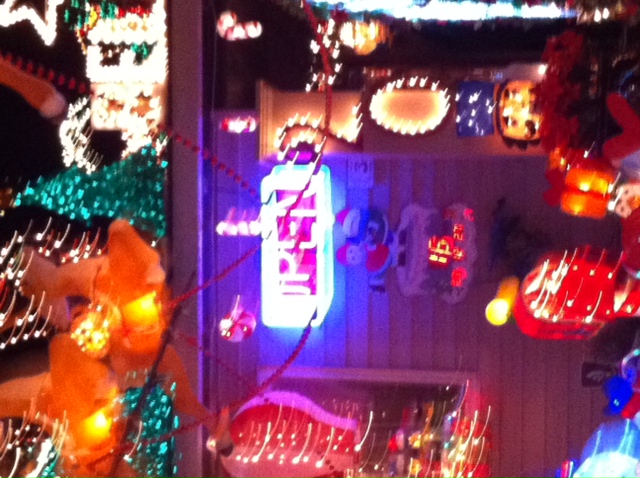 Rombiero's, open for business
I did wonder about the eco-ethics of using all that electricity to power up each night, but that argument doesn't go far when you're bathed in warm holiday glow and the fun fact that their electrical bill is $4,000 a month this time of year. The Rombieros even keep count of visitors in a gracious way, handing out mini candy canes from an enormous bowl. This is a small business operating on an alternative economy, one fueled, we presume, on a deep belief in Christmas and holiday cheer. We didn't dare ask how they paid for it all, just basked in the glow.

REAL LIFE. REAL NEWS. REAL VOICES.
Help us tell more of the stories that matter from voices that too often remain unheard.