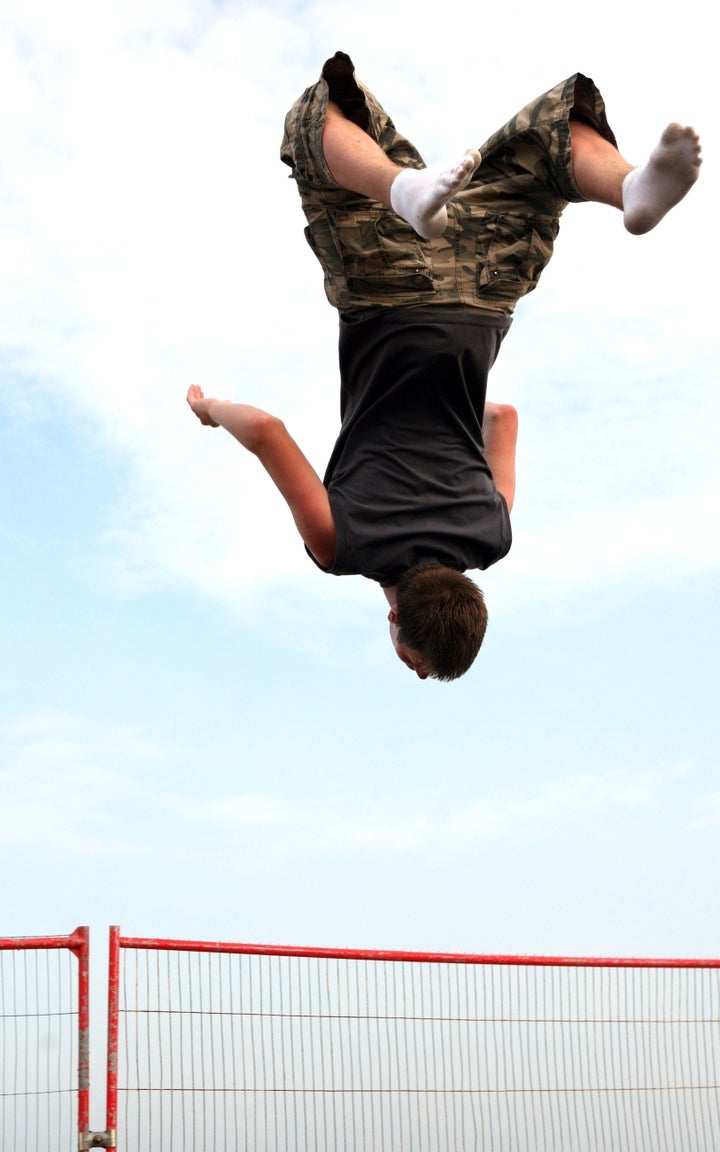 The sport of trampolining has taken new heights. The act of jumping on a trampoline in someone's backyard is now considered old school and the newest craze allow teens to fly across a room filled with trampolines -- though a rash of injuries in the past year show there are risks.
Indoor trampoline parks are sweeping the nation with about 50 parks operating in a dozen states, according to USA Today, and they are slowly bouncing their way into the Chicago area.
Xtreme Trampolines is an indoor trampoline center decked out wall to wall with trampolines and foam. According to their website, teens can host parties, play dodgeball, exercise or just have a good time.
"I decided to go into this business because I saw it in Seattle and I thought it was a fantastic idea," owner Eric Beck said.
The first local indoor trampoline center opened in Carol Steam in November 2010 and is comprised of a large warehouse filled with commercial-grade trampolines. It includes five separate trampoline courts, a dodgeball court and a giant foam pit. Customers pay $11 for the first hour and $5 for each additional hour.
"It's definitely the funnest way to get tired," Prospect junior Bryan Quesea said. "It's well worth the money."
Since the opening, Beck estimates that it has had approximately 200,000 visitors with the average age being 15 years old.
"We get kids from three to five years old all the way to 50 years old," Beck said.
However, in recent months, Xtreme Trampolines' early success has been tempered by growing concerns over safety.
"I want to go to Xtreme Trampolines but my parents won't let me go," Willowbrook junior Nick Wesling said. "They're wary of signing the waiver because they've heard of other people getting injured."
The facility was averaging 3.4 ambulance calls per month between November 2010 and mid-April, said Carol Steam Fire Chief Rick Kolomay.
"It's too soon to tell our average right now but this number has decreased since June this year," Kolomay said.
The majority of the injuries were for compound fractures and the worst one someone suffered was a broken neck, he said.
In attempt to combat the safety concerns, the Carol Stream Fire Assistance Bureau teamed up with Xtreme Trampolines to ensure safety in the facility.
"We had a very aggressive and cooperative session with the company," Kolomay said. "We have seen an incredible decrease in the number of injuries."
The Fire Assistance Bureau inspected the facility this summer, put up signs to help prevent injuries and trained the staff on how to better respond in an emergency situation.
While the facility does require that customers under 18 years old have a parent or legal guardian sign a waiver, teens like Quesea had no trouble with their experience.
"I felt safe," Quesea said. "There were pads everywhere and you had to have a parent waiver and my parents didn't care at all."
Beck is set to open a new facility in Buffalo Grove on Dec. 16. It's 50,000 square feet with 140 to 170 trampolines.
"Our department reviewed the plans for the project and (Beck) went through the construction and it's ready for final inspection," Buffalo Grove Deputy Building Commissioner Carol Burman said. "We also teamed up with the Fire Assistance Bureau for inspections and everything is running smoothly."
With the city's approval, Beck has high hopes for the new facility. "The proposal dragged on for months," Beck said about pitching the business to Buffalo Grove officials. "It was a long process but we eventually came to an agreement and I'm excited about its opening."
REAL LIFE. REAL NEWS. REAL VOICES.
Help us tell more of the stories that matter from voices that too often remain unheard.