Between 2005 and 2015, the Federal Emergency Management Agency, or FEMA, provided more than $67 billion to individuals and local governments in response to major weather-related disaster events, said CAP. This amount included more than $22 billion in assistance following Hurricane Katrina in 2005 and $16 billion after Hurricane Sandy in 2012.
The FEMA figure is just the tip of the iceberg, however. As CAP notes, its findings were likely an "underestimate … of the true cost to taxpayers," as they did not include the costs of smaller storms and other government spending.
Costs borne by private insurers were also not taken into account, nor was the economic fallout that may have stretched for months or even years after a catastrophic event.
"Even after a storm passes or a wildfire is extinguished, displaced people and shuttered businesses impose ongoing financial burdens on communities," CAP said.
In the 10 months after Hurricane Katrina, for instance, 95,000 jobs and almost $3 billion in wages were lost in New Orleans, according to the U.S. Bureau of Labor Statistics. Following Hurricane Sandy, tens of thousands of people in New York and New Jersey lost their jobs.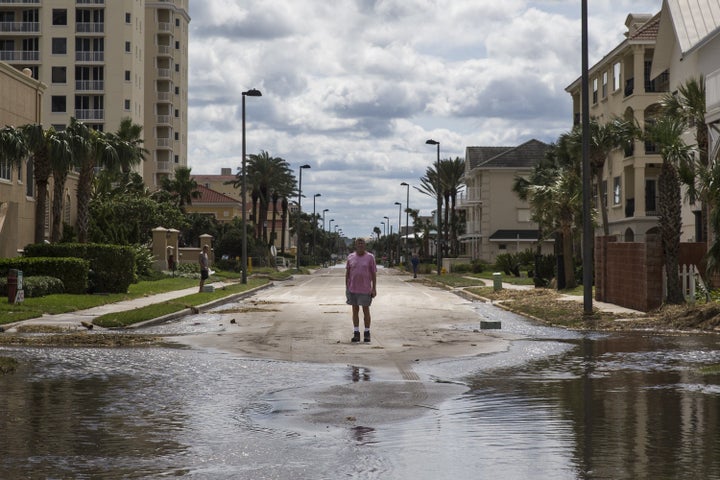 As the climate continues to warm, experts warn that extreme weather events and wildfires are predicted to increase in frequency and intensity across the U.S. and in countries worldwide.
Tropical hurricanes, for instance, are expected to become 2 to 11 percent more intense because of global warming by the end of the century, according to the National Oceanic and Atmospheric Administration (NOAA). The exacerbation of extreme weather disasters will mean not just a heightened risk to lives and property, but financial losses too.
The NOAA said last week that the U.S. has already suffered 12 extreme weather-related disasters with losses exceeding $1 billion this year. These include the flooding events in Louisiana, West Virginia and Texas.
But the true cost could be far higher. California-based CoreLogic told USA Today over the weekend that the estimate was based only on insured property losses for residential and commercial properties, and did not include insured property losses related to additional flooding, business interruption or other factors.
"Climate change is causing more and more extreme weather events, putting at risk not only the lives and livelihoods of Americans but also significant taxpayer funds," Erin Auel, a CAP research assistant and co-author of the recent paper, said in a news release.
"As global temperatures continue to climb, these events are going to become more frequent, more powerful, more deadly, and more costly," Auel continued. "Taking steps to address climate change and better prepare for the changes that are currently irreversible will save the United States significant amounts of money in the long term and reduce the devastation we have seen from natural disasters in recent years."
This sentiment applies to countries worldwide. Extreme weather disasters now affect over 170 million people every year, up from 60 million just three decades ago, according to a May report by the World Bank's Global Facility for Disaster Reduction and Recovery. The total cost of destructive storms, floods and droughts has similarly jumped — from $14 billion to $40 billion annually.
"We are woefully unprepared for the climate and disaster risks that are rapidly changing our world," said John Roome, senior director for climate change at the World Bank, commenting on the May report. "Without changing decision-making today, we'll only increase the disaster risk for the future. But if we make the right decisions now, we'll be able to avoid a large number of these risks."
Hurricane Matthew Damage In The U.S.
Popular in the Community