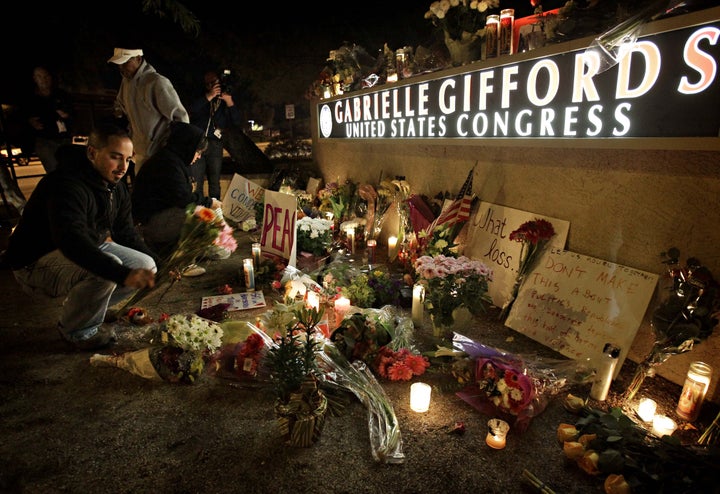 WASHINGTON -- Mary Rose Wilcox, a member of the Maricopa County Board of Supervisors in Arizona, was sitting in her car on Saturday when her husband called her back into their restaurant. Inside, he pointed to the television, where news stations were reporting that Rep. Gabrielle Giffords (D-Ariz.) and 20 others had been shot in what police are now calling an assassination attempt.
Wilcox said she was devastated. She also said she was frightened: Wilcox herself was shot in 1997, while walking out of a board meeting, by a man who later said he was angry at her support for a baseball stadium tax. The first Hispanic woman elected to the board, Wilcox, a Democrat, had been the target of talk-radio tirades telling Maricopa County residents to "take her out."
"I knew at the time that the hate had been caused by a lot of the rhetoric that had gone on," Wilcox told HuffPost. "At the trial, the man actually said, 'I shot her because the radio said I should take her out.'"
When she heard what happened to Giffords, she said, she felt a tinge of familiarity. "That's what we have come to," Wilcox said. "If you disagree with someone in Arizona, you demonize them."
A few hours after Saturday's shooting, Pima County Sheriff Clarence Dupnik criticized the media and politicians for the tone of political rhetoric in Arizona, calling the state "the mecca for prejudice and bigotry."
"I'd just like to say that when you look at unbalanced people, how they are -- how they respond to the vitriol that comes out of certain mouths about tearing down the government, the anger, the hatred, the bigotry that goes on is getting to be outrageous," Dupnik said. "And unfortunately Arizona, I think, has become sort of the capitol."
No one is certain exactly why alleged shooter Jared Lee Loughner opened fire on Saturday. But Arizona officials and residents say the political climate is becoming steadily more extreme.
As the state faces a budget crisis, a flailing economy and a poor jobs market, the government has cracked down with a new law, SB 1070, meant to drive out undocumented immigrants. State legislators banned ethnic studies classes in a bill that criticized courses that "advocate ethnic solidarity," specifically prohibiting classes that encourage "the overthrow of the United States government." Maricopa County Sheriff Joe Arpaio, who calls himself the "toughest sheriff in America," gathers civilians to carry out raids of immigrant-heavy neighborhoods while militiamen patrol the border.
And that was all last year. In the coming session, the state Senate will be led by Russell Pearce (R), who wrote SB 1070 and is now pushing for a bill to end birthright citizenship.
Arizona may not be uniquely conservative, but it has become far more so in recent years. During Republican primaries, candidates jockey for who can take a harder line on illegal immigration and spending issues, prompting a notable rightward shift by Sen. John McCain (R-Ariz.) when he faced a primary challenge by talk-radio host and former U.S. Rep. J.D. Hayworth. After dispatching Hayworth in the primary, McCain had no serious opponent and instead spent heavily trying to unseat Giffords and Rep. Raul Grijalva (D-Ariz.), a highly unusual move for a senator.
Town-hall gatherings and political rallies became dangerous for Grijalva and Giffords. Opponents threw a rock through Giffords' campaign office window and one constituent left a gun on a meeting-hall floor. Giffords herself warned that some of her opponents were creating a toxic climate that could turn violent, while Grijalva said that even after November's midterms were over there was no rapprochement, no mending of fences coming from those who had bitterly opposed their reelection.
"What was left at the end of something like that is not the satisfaction that you won, and the other side congratulates you and you move forward, but the ire continues and it doesn't go away," he told HuffPost.
"We have quite a high level of hate," Grijalva said of Arizona after the shooting on Saturday. In his home state, he said, "you've stirred the cauldron with immigration and you have a real intensity. They're driven by that issue as much as anything else."
When Grijalva heard the news, he said, he shut down his office and sent his staff home, worried for their safety. His family was provided government security, a precaution he thinks should become standard for targeted lawmakers.
Brint Milward, director of the University of Arizona's School of Government and Public Policy, told HuffPost that economic strife, in conjunction with immigration, likely has a lot to do with Arizona's political climate. The state, whose economy had depended on construction and the housing boom, set its third-straight record for annual foreclosures recently, with its unemployment rate hitting 9.4 percent in November -- below the national unemployment rate of 9.8 percent, but hardly healthy.
"When the economy isn't doing well, you look for people to blame," Milward said. "It's very clear that we have not as a country dealt with immigration in the last 20 years or so. When the economy was booming, who cares? There are jobs. When the jobs dry up, it's a very different story."
Although SB 1070 has led to costly legal battles and boycotts for Arizona, it was partly intended to bolster the economy by driving out undocumented immigrants to save taxpayers from funding their health and education costs. "A lot of it does come down to dollars and cents," Maurice Goldman, an immigration attorney who works close to where the shooting occurred, told HuffPost. "It seems like most of the rhetoric that comes out this is that immigrants come here, then use our system and our hospitals and education system."
At the same time, violence across the border in Mexico has grown worse as the U.S.-backed drug war has spiraled out of control, with a death toll estimated at 30,000 people in the past four years.
Politicians magnified that issue. Gov. Jan Brewer (R) warned of numerous beheadings along the border -- she later admitted she was wrong -- and McCain shot ads walking along the border in which he said the government should "complete the danged fence." Although officials say that very little drug-war violence has spilled over into the United States, Milward said the perceived threat of violence amps up fear of immigrants.
Fear of immigrants, in turn, has led to threats for immigration activists. "There's a culture of immigrant-bashing that's metastasized to such a degree that immigrant-rights activists must recognize a degree of danger," Chris Newman of National Day Laborers Organizing Network told HuffPost.
Salvador Reza of the immigrant-advocacy group Puente told HuffPost he was been targeted by opponents of illegal immigration following his work against the 287(g) program, which deputizes local police to enforce immigration. Reza discovered that groups were printing posters with a large target on his face -- underneath were the words "start shooting, dammit."
Politicians have also seen a shift toward extremism and violence. "I think that angry rhetoric is kind of the rule instead of the exception and even before the violence, I think it was a problem," Kyrsten Sinema, an Arizona state senator and friend of Giffords, told HuffPost.
Sinema, a Democrat and a vocal supporter of immigration reform and gay rights, has received threats of violence referencing her political views. While talking to HuffPost, she paused as a car drove slowly past her house -- "Sorry, I got scared for a second," she said -- but said she would not let fear keep her out of politics.
"I think I'm targeted because I speak out," Sinema said. "I say what I believe and I'm not afraid of that, and Gabby is like that too."
Ryan Grim contributed reporting.
Popular in the Community