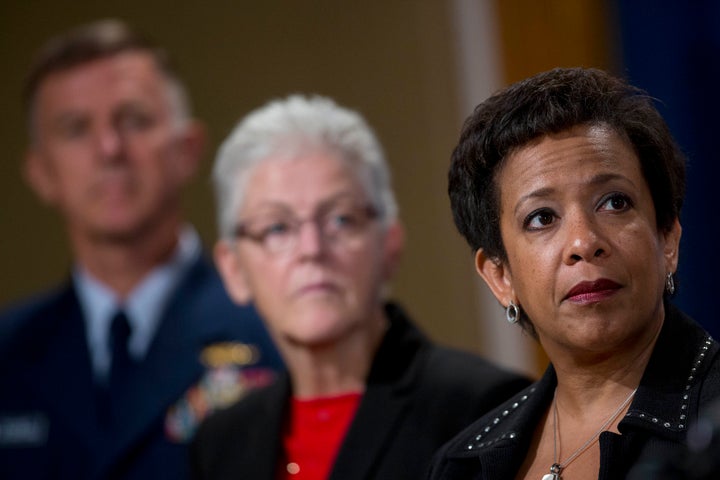 WASHINGTON -- Democratic presidential candidates and environmental groups are calling on the Department of Justice to investigate whether ExxonMobil has been deliberately covering up the truth about climate change for years. 
Former Secretary of State Hillary Clinton this week said she supported an investigation into the company. "There's a lot of evidence that they misled," she said at a campaign stop in New Hampshire. 
The outrage began last month, when InsideClimate News and the Los Angeles Times reported that Exxon scientists knew decades ago -- as early as 1977 -- that fossil fuels contribute to global warming. Nevertheless, the company has sowed doubt about man-made climate change since then.
Exxon has denied suppressing climate research and publicly acknowledged the need to address the problem. But the company has also contributed to organizations like the American Petroleum Institute and the Heartland Institute, which promote climate-change denial.
On Friday, a coalition of civil rights and environmental leaders sent a letter to the DOJ, asking the government to investigate Exxon.
"Given the damage that has already occurred from climate change -- particularly in the poorest communities of our nation and our planet -- and that will certainly occur going forward, these revelations should be viewed with the utmost apprehension," they wrote. "They are reminiscent -- though potentially much greater in scale -- than similar revelations about the tobacco industry."
Clinton's competitors for the Democratic presidential nomination, Sen. Bernie Sanders (I-Vt.) and former Maryland Gov. Martin O'Malley (D), both previously said they support an investigation.
A spokesman for the Justice Department confirmed receipt of the letters but declined to comment further.
The strategy to pressure the DOJ gained steam earlier this month when a George Mason University scientist wrote to Attorney General Loretta Lynch. The scientist, joined by 20 of his colleagues, asked her to investigate energy companies under anti-racketeering laws for propagating climate change misinformation. These laws were successfully used against tobacco companies for misleading the public about the dangers of cigarettes.  
Rep. Lamar Smith (R-Texas), chairman of the House Science Space and Technology Committee, got wind of the letter and all but threatened to investigate the lead scientist in the group for what Smith called an inappropriate use of public funds. Reps. Ted Lieu (D-Calif.) and Mark DeSaulnier (D-Calif.) later took up the scientists' cause and sent their own letter to Lynch.
PHOTO GALLERY
Climate Change Denials Make More Sense As 'Sharknado 3' Reviews
Calling all HuffPost superfans!
Sign up for membership to become a founding member and help shape HuffPost's next chapter