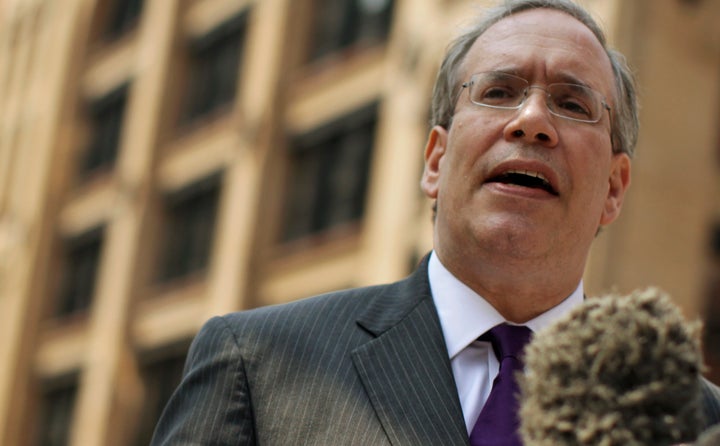 Pension funds are putting pressure on ExxonMobil to start telling its shareholders how climate change will affect the oil giant's business.
The California public employee pension fund and the New York City pension fund, which together manage $433 billion in investments, told fellow shareholders in a letter to support a resolution calling for the company to disclose in detail how it could be harmed by new government policies limiting carbon emissions and other shifts due to climate change.
ExxonMobil, hurting from low oil prices, was recently stripped of the top credit rating by Standard & Poor's for the first time since the 1930s. The company has also been dogged by reporting from the Los Angeles Times and the Columbia University Graduate School of Journalism showing that it knew for far longer than it publicly acknowledged that climate change was caused by emissions from burning fossil fuels.
In a letter filed with the Securities and Exchange Commission, New York City Comptroller Scott Stringer and CalPERs Investment Director Anne Simpson said, "We believe investors would benefit from an assessment of Exxon Mobil's oil and gas reserves under a scenario consistent with the global emissions reduction target defined in The Paris Agreement." The agreement asks countries to commit to keeping climate change below 2 degrees Celsius.
On Wednesday, a group of about 1,000 academics signed a letter supporting the ExxonMobile resolution, along with a similar measure at Chevron.
ExxonMobil's board does not support the resolution and fought unsuccessfully to have it dismissed by the SEC. Asked for comment, ExxonMobil spokesman Scott Silvestri referred The Huffington Post to the company's proxy statement, which argues against the resolution.
In its annual report released in February, the company included a limited recognition that "governments will enact policies that impose rising costs on energy‑related CO2emissions." ExxonMobil also said in the report that it assumes carbon emissions will be priced at $80 per ton in 20 years. Currently, there is no stated, national price on carbon in the U.S., but some states have implemented carbon pricing plans, and hundreds of companies are using internal carbon prices to make investment decisions.
U.S. companies are not currently required to disclose climate change risks to investors. Global regulators are examining a set of voluntary guidelines to standardize disclosure of climate risks.
In April, the company told HuffPost that its climate disclosure is adequate. "ExxonMobil believes the risk of climate change is real and warrants action. ExxonMobil is taking action by reducing greenhouse gas emissions in our operations, helping consumers reduce their emissions, supporting research and participating in constructive dialogue on policy options," said spokesman Alan Jeffers.
Calling all HuffPost superfans!
Sign up for membership to become a founding member and help shape HuffPost's next chapter
BEFORE YOU GO
PHOTO GALLERY
7 Green Transportation Projects To Invest In