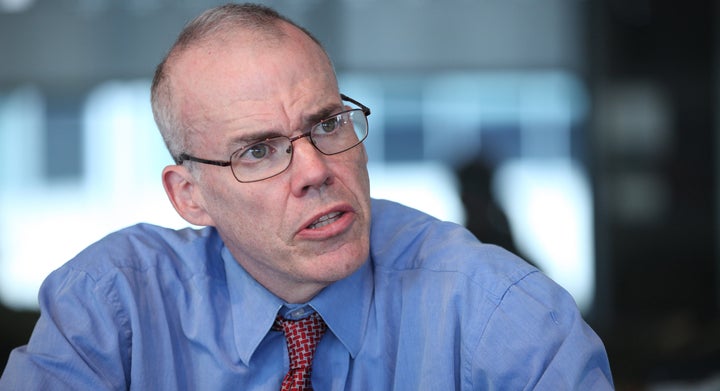 Exxon Mobil's decision to hide research that confirmed fossil fuels' role in global warming for decades amounts to "unparalleled evil," environmentalist Bill McKibben said.
In an op-ed published Wednesday in The Guardian, the activist once called "the nation's leading environmentalist" said the oil giant set back by decades any effective action to curb climate change when it publicly disputed the very facts its research confirmed.
"To understand the treachery -- the sheer, profound, and I think unparalleled evil -- of Exxon, one must remember the timing," he wrote. "Global warming became a public topic in 1988, thanks to Nasa scientist James Hansen -- it's taken a quarter-century and counting for the world to take effective action."
The evidence was damning.
By 1978, Exxon's senior scientists told management that carbon dioxide emissions from burning fossil fuels warmed the planet, according to the investigations. By 1982, the company's own analysis of climate models found temperatures could rise up to 5 degrees from the "connection between Exxon's major business and the role of fossil fuel combustion in contributing to the increase in atmospheric CO2." By 1991, a senior researcher at the company's Canadian subsidiary said such temperature rises "will clearly affect sea ice, icebergs, permafrost and sea levels."
"If at any point in that journey Exxon -- largest oil company on Earth, most profitable enterprise in human history -- had said: 'Our own research shows that these scientists are right and that we are in a dangerous place,' the faux debate would effectively have ended," McKibben wrote. "That's all it would have taken; stripped of the cover provided by doubt, humanity would have gotten to work."
Yet, publicly, Exxon funded institutes to cook up reports denying the overwhelming consensus of the scientific community and, as it happens, its own researchers.
"[T]his company had the singular capacity to change the course of world history for the better and instead it changed that course for the infinitely worse," McKibben wrote. "In its greed Exxon helped -- more than any other institution -- to kill our planet."
Exxon did not return a call requesting comment.
Related
Popular in the Community